Nurse Practitioner Schools in Kansas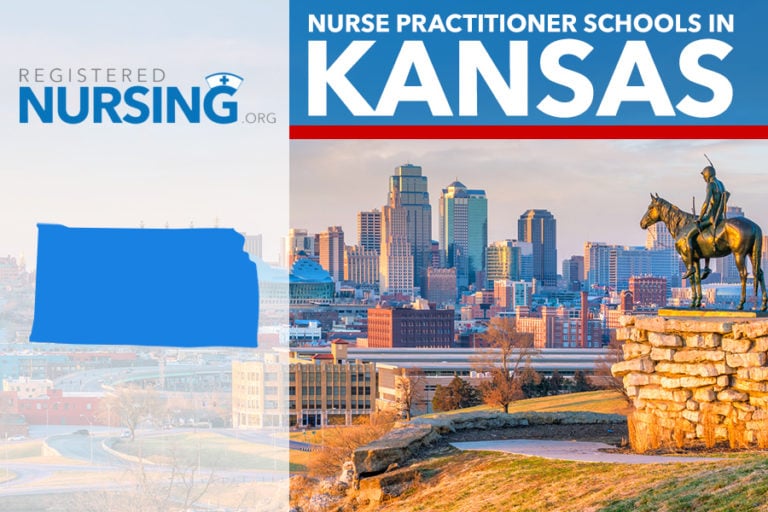 Advanced-practice nurses, including nurse practitioners, are currently in high demand in the United States. Registered Nurses who enjoy independence, autonomy and the challenge of the ever-changing world of healthcare would make excellent nurse practitioners. After earning either a master's degree in nursing (MSN) or doctorate in nursing practice (DNP), nurse practitioners can work in the following clinical areas:
Adult-Gerontology (acute and primary care)
Pediatrics (acute and primary care)
Women's Health/ Nurse Midwifery
Family Practice
Additionally, nurse practitioners can work in sub-specialty areas of their choice such as neurology, orthopedics, neonatal care, etc.
In Kansas, nurse practitioners can work as primary care providers, but physicians must provide oversight. To prescribe medications, they must have a collaborative agreement with a physician.
Choosing a Nurse Practitioner Program
When selecting a graduate program, whether pursuing an MSN or DNP, several essential items should be taken into consideration:
Accreditation- The Kansas state board of nursing lists five graduate schools accredited by either the Commission on Collegiate Nursing Education (CCNA) or the Council on Accreditation (COA) for prospective nurse practitioners. This ensures the NP has met the minimum educational standards required to practice in the state of Kansas.
Program Cost- MSN programs typically require students to complete 45 credits (on average). The cost of MSN programs can vary between schools, but the average cost per credit is around $400 for in-state residents and $700 for out-of-state residents. Books, supplies, additional course fees, living expenses and travel expenses are not included in these figures.
Program Length-If attending full-time, MSN programs can take about two years to complete, and DNP program can take three to four years to complete. A minimum of a BSN is required before enrollment, so associate's degree nurses should plan on a slightly more extensive career path.
Internship/Externship Opportunities- There is an internship program in the Johnson County Department of Health and Human Services, which offers unpaid clinical internships for various disciplines including MSN students. Additionally, the have internship agreements with Kansas state schools and universities. According to the American Association of Colleges of Nursing (AACN), there are three nurse residency programs in Kansas. However, these are post-baccalaureate programs-which may benefit nurses on the BSN to DNP track.
Online/Campus Options- According to the American Association of Nurse Practitioners (AANP), there are three accredited schools with more than 50% distance learning available. While this offers convenience and flexibility, programs are more self-paced so the program may take longer to complete.
Admission and Certification Requirements
 While specific prerequisites to MSN/DNP programs may differ slightly between schools, students may be required to:
Hold either a BSN or MSN (for DNP program)
Hold a valid RN/APRN license
Meet the minimum GPA requirements
Provide letters of recommendation
Provide transcripts/ documentation of clinical hours
Complete the GRE
Have prior work experience as an RN
There may be variability between schools with the above requirements- students are encouraged to research schools thoroughly to ensure criteria are met before applying.
Licensing/ Certification
Nurse practitioners usually obtain certification in their chosen specialty upon completion of the graduate program. However, other credentialing agencies offer certification:
The American Nurses Credentialing Center (ANCC) offers certification in:

Adult-Gerontology acute or primary care
Pediatric acute or primary care
Family NP
Psychiatric-Mental Health NP
Emergency NP
Emergency
Informatics Nursing
Public Health
Nurse Executive

The National Certification Corporation (NCC) offers certification in Women's Health and its sub-specialties
The American Midwifery Certification Board (AMCB) provides certification for Nurse Midwives
To practice as a nurse practitioner, graduates must apply to the Kansas State Board for licensure. Kansas does permit NPs to practice with a temporary permit. Additional requirements include:
Hold a current RN license
Must meet the following education requirements:

Complete advanced pharmacology and advanced physiology
Complete a formal MSN program that is approved by the Kansas Board

Transcripts must be sent by the college or university
Undergo a criminal background check/ submit fingerprints
Kansas Nurse Practitioner Agencies and Organizations
Schools That Offer Nurse Practitioner Programs in Kansas
Kansas has a handful of accredited schools with MSN/ DNP programs available. Online/ distance learning is also available, which is beneficial to those living in more rural areas.
Kansas City, KS
Graduate Certificate Programs
3901 Rainbow Blvd.
Kansas City
,
KS
66160
(913) 588-1619
Lawrence, KS
1246 West Campus Road Room 153A
Lawrence
,
KS
66045
(785) 864-6414
Topeka, KS
DNP ProgramsGraduate Certificate Programs
1700 SW College Ave
Topeka
,
KS
66621
(785) 670-1010
Are we missing your school's program or need to update information listed? Please contact us so we can make the necessary changes.