Nurse Practitioner Schools in Louisiana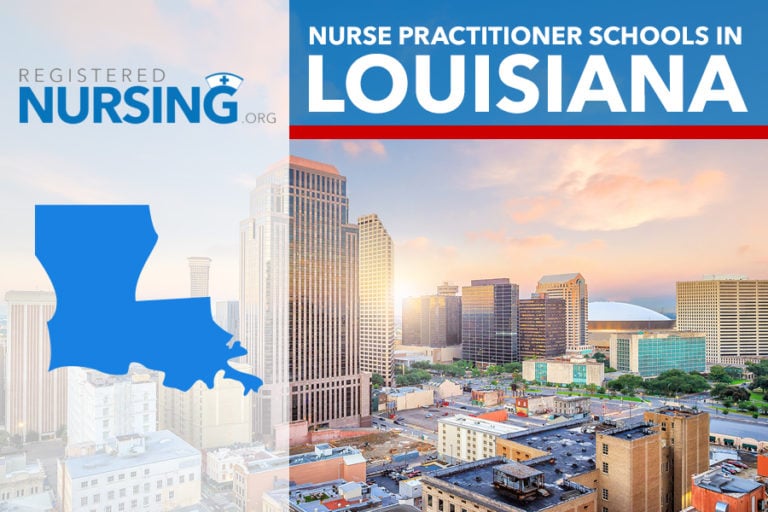 Advanced-practice nursing, specifically nurse practitioners, are careers that are in high demand. According to the Bureau of Labor Statistics, the job growth for nurse practitioners is expected to rise 31% by the year 2024, which is much faster than other professions.
Some states allow for the full independent practice of nurse practitioners. In Louisiana, nurse practitioners are required to have a collaborative agreement with physicians to practice as well as prescribe medications. However, state regulations imply they can act as primary care providers for patients.
Choosing a Nurse Practitioner Program
Deciding to advance one's career to a higher degree level is a major decision. As such, prospective students should consider the following when choosing a master's degree (MSN) or doctoral (DNP) program:
Accreditation-The Commission on Collegiate Nursing Education (CCNE) is an accreditation agency for nursing programs. According to their website, there are nine accredited advanced-degree programs in Louisiana. Accreditation ensures graduate programs adhere to the highest standards of education to prepare students for advanced-practice nursing. Another accreditation agency students should look for is the Accreditation Commission for Education in Nursing (ACEN).
Program Cost-The average cost per credit is around $400 for in-state residents, $700 for out-of-state residents. MSN students typically must complete 30-55 credits to graduate. However, some schools may run over $1000 per credit. Since tuition tends to increase over time, students are encouraged to visit each school's website to find the latest tuition rates. It's also important to recognize that the cost per credit does not include books, supplies, and living expenses.
Program Length- MSN students should plan on about two years to complete their education. For those on a DNP track, students can expect to complete their degree in three to four years. This is if the student already has a BSN, and if attending full-time.
Internship/Externship Opportunities-Clinical practicum is a requirement in MSN/ DNP programs and is always included. This allows the future nurse practitioner to gain real-world experience and learn "on the job." There are also NP residency programs throughout the United States which help build upon the skills learned in graduate school. However, as of February 2017, there are no formal residency programs in Louisiana for nurse practitioners.
Online/Campus options- Of the nine accredited graduate programs in Louisiana, five offers over 50% distance learning. This can be beneficial to students who must balance home, work and school as online learning allow for self- paced curriculum.
Admission and Certification Requirements
While MSN/DNP program requirements may vary between educational institutions, applicants may be required to:
Hold a BSN degree
Hold a valid RN license
Have prior RN clinical experience
Provide evidence of a minimum GPA (requirements may vary between schools)
Complete the Graduate Record Exam (GRE)
Submit letters of recommendation
Provide a written statement of purpose
Complete interviews
Because requirements may vary based on the program, students are encouraged to research each school's specific prerequisites thoroughly.
Licensing/ Certification
For specialty certification, graduate programs may offer certification upon graduation. Otherwise, graduates can become certified through agencies (which are approved by the Louisiana State Board) such as:
It is important to note that the Louisiana State Board of Nursing requires certification before granting licensure. Additional requirements for licensure include:
Possession of a valid RN license
Providing information on any arrest/ criminal history
Completion of an accredited graduate program
Submission of transcripts by the college or university
Completion of a background check and fingerprinting
Completion of an application for prescriptive authority, if prescribing medications*
*To prescribe controlled medications, nurse practitioners must complete a secondary request. Details can be found here.
Louisiana Nurse Practitioner Agencies and Organizations
Schools That Offer Nurse Practitioner Programs in Louisiana
Louisiana has nine graduate programs for registered nurses to advance their practice-providing many options throughout the state. The availability of online courses allows students in more rural areas expand their practice as well. Additionally, the BSN to DNP tracks allows for students to reach the highest degree level in nursing in one streamlined program.
Baton Rouge, LA
Grambling, LA
Hammond, LA
Lake Charles, LA
Monroe, LA
Natchitoches, LA
New Orleans, LA
Thibodaux, LA
Are we missing your school's program or need to update information listed? Please contact us so we can make the necessary changes.