Best Post-Master's Certificate Family Nurse Practitioner (FNP) Programs – 2023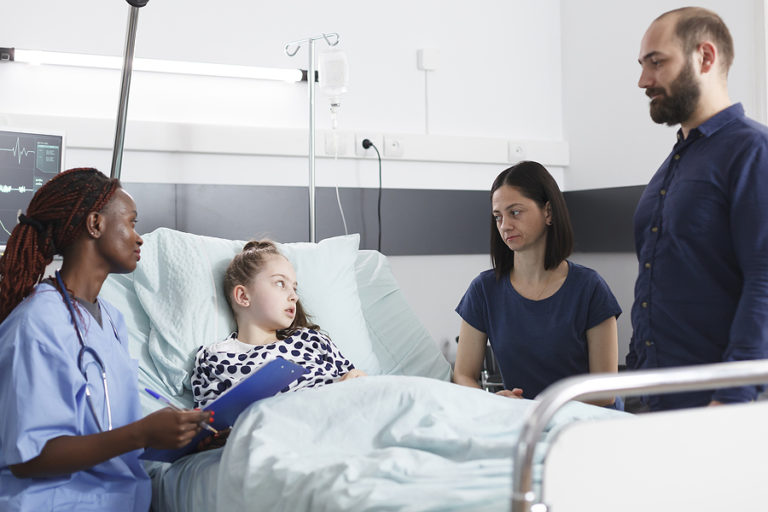 Master's-prepared nurses interested in the care of patients across the lifespan have several academic options available to them. They can enroll in a DNP program, or they can choose a shorter, more streamlined path by enrolling in a Family Nurse Practitioner (FNP) post-master's certificate program. Practicing Nurse Practitioners (NPs) can also enroll in a post-master's program if they are looking to change their specialty. For example, NPs practicing adult-gerontology can earn an FNP post-master's certificate, therefore caring for patients of all ages.
2023 - Best FNP Graduate Certificate Programs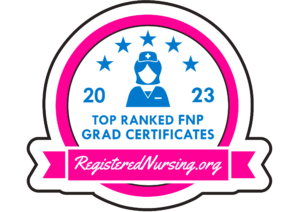 Advanced practice RNs who wish to enter a new specialty are excellent candidates for graduate certificate programs. The Family Nurse Practitioner (FNP) is a popular and highly sought-after specialty for RNs. Choosing the right graduate certificate program can be daunting, and students considering an FNP certificate program will undoubtedly want to choose the best one available to them. That's why we have ranked the top FNP Graduate Certificate programs. These programs have the extra advantage of delivering the curriculum in an online/hybrid method to accommodate busy RNs.
For more information on our rankings, check out our Methodology Page (https://www.registerednursing.org/rankings-methodology/)
Choosing a FNP Post-Master's Graduate Certificate Program
Nurses and nurse practitioners looking to change their specialty or expand their practice to include the FNP discipline may not know quite where to start when searching for a post-master's certificate program. Some may have been out of academia for years, and new programs and technology have changed the way education is delivered; for example, online programs are becoming more prevalent. The following serves as a starting point that nurses can use as a starting point on their educational journey.
Accreditation– One essential consideration when choosing to return to school is to ensure that the school has valid and nationally-recognized accreditation. If a post-master's program does not have proper accreditation, it may affect state licensure. The two nationally-accredited agencies for post-master's certificate programs (and other nursing programs) are the Commission on Collegiate Nursing Education (CCNE) and the Accreditation Commission for Education in Nursing (ACEN).
Cost– The cost to attend a post-master's certificate program can vary greatly, and can often be the deciding factor when choosing a school. Cost varies based on state, city, and resident status. Prospective students should also be prepared that tuition costs do not typically include the cost of university or school fees, technology fees, books, supplies, and living expenses.
Program Length– Many prospective students, when researching post-master's certificate programs, may come across schools boasting the quickest program. Students should be cautious of these claims, as a specific curriculum is required for licensure as a family nurse practitioner. The shortest program is not always the best choice. However, students should be aware that post-master's programs are often shorter than DNP programs, which is why some students choose this path.
Online Options– Master's-prepared nurses are often working; some full-time, some on night shifts, and some on holidays (and some work all three!). Because nurses and nurse practitioners may not always have the option of not working when returning to school, online programs are a fantastic choice. Online learning offers the flexibility and self-paced study that is so valuable to working nurses and therefore can be a deciding factor when choosing a post-master's certificate program.
Internship/Externship Options– Family nurse practitioner post-master's certificate students need to complete a specific number of clinical hours in order to graduate and become licensed as an FNP. Prospective students should consider the clinical practicum part of the program -determining if the school assigns students to preceptors or if the student must find one is critical and can also be a deciding factor when choosing a program. Additionally, many programs are contracted with nearby healthcare facilities; students may choose a program which is contracted with a facility that specializes in certain areas. For example, an FNP post-master's student may wish to work with pediatric diabetes patients, and therefore may look for a program that contracts with a pediatric hospital or clinic.
Online FNP Post-Master's Certificate Programs
Many academic programs are now available online, and nursing programs are no exception. When considering an online FNP post-master's program, there are many factors that students need to consider to determine whether it is the best pathway for them.
Online vs. Classroom-Based FNP Post-Master's Certificate Programs
One of the main advantages of an online program is the flexibility. Many nurses seeking an advanced degree are already working-some even nights and weekends, and some twelve to twenty-four-hour shifts. For this reason, flexibility is critical for the student's success. Being able to study when possible and learning at one's own pace ensures a healthy work-life balance. Additionally, students may save on the cost of commuting and parking, as well as save valuable time spent attending in-person classes.
However, for online learning to take place, students need to have a computer, internet access, webcams, and other technological equipment. This translates to extra costs for the student. Those who struggle with technology may also have difficulty with online learning. Also, some students perform better when taught face-to-face, and with in-person peer support. Learning styles differ among students, and sometimes online learning isn't the most effective method.
As stated earlier, many online educational programs advertise quick completion and lowest rates. However, students need to always check the accreditation status. The ACEN and CCNE also accredit online programs, so students should always check which entity has approved the program.
Family Nurse Practitioner Post-Master's Certificate Admission Requirements
Each family nurse practitioner post-master's certificate program sets forth specific admission requirements. While admission criteria can vary between schools, general requirements may include:
A master's degree from an accredited school
Current RN/APRN license
Provide letters of recommendation
Submit a resume/CV
Provide a written goal statement or statement of purpose
Have completed a specific number of clinical hours
Have completed advanced pharmacology, physiology, and health assessment courses
Family Nurse Practitioner Post-Master's Certificate Curriculum
The FNP post-master's certificate program curriculum must follow a strict set of requirements to ensure students are prepared to practice upon graduation and licensing. Although course title and content may vary slightly, students can expect to study the following:
Advanced pharmacology (if not already completed)
Advanced physiology (if not already completed)
Advanced physical/ health assessment (if not already completed)
Primary care of the family
Primary care of infants, children, and adolescents
Primary care of the older adult
Role development/professional issues for advanced practice nurses
In addition to core courses, students must complete a specific number of clinical practicum hours to apply advanced practice nursing theory to the clinical setting.
Helpful Resources
Other Degree Programs
List of Post Master's Certificate FNP Programs
Jump to Your State Listings
Alabama
Alaska
Arizona
Arkansas
California
Colorado
Connecticut
Florida
Georgia
Hawaii
Illinois
Indiana
Iowa
Kansas
Kentucky
Louisiana
Maine
Massachusetts
Michigan
Minnesota
Mississippi
Missouri
Nebraska
Nevada
New Hampshire
New Jersey
New Mexico
New York
North Carolina
North Dakota
Ohio
Oklahoma
Pennsylvania
Rhode Island
South Carolina
South Dakota
Tennessee
Texas
Utah
Vermont
Virginia
Washington, DC
West Virginia
Wisconsin
Are we missing your school's program or need to update information listed? Please contact us so we can make the necessary changes.