Massachusetts Post-Graduate Certificate in Nursing Programs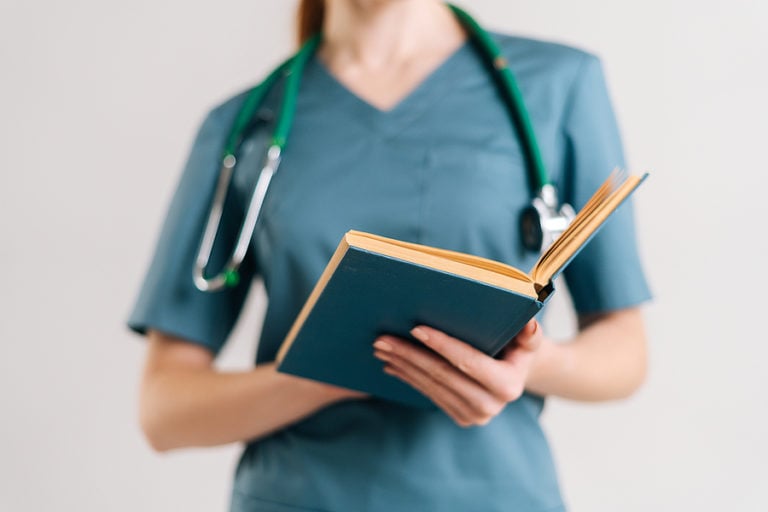 Registered nurses and nurse practitioners may consider post-graduate nursing certificate programs in Massachusetts if they want to elevate their careers or earn more money. Each program focuses on a nursing specialty, so nurses should select the right program for their professional goals. Upon completion of a post-MSN nursing certificate, nurses may offer transition into careers as educators or administrators or apply for positions in secondary career fields.
Some of the highest-paid nursing careers in Massachusetts require advanced study in nurse education or a specialty. Completing a certificate while in graduate school or as a post-graduate student is a good first step to qualifying for those competitive nursing jobs.

Post-Graduate Certificate in Nursing Admission Requirements in Massachusetts
Students applying to post-graduate nursing certificate programs in Massachusetts can expect to submit an application and fee along with transcripts from an accredited MSN program. Some programs may allow students currently enrolled in a master's program to complete a certificate simultaneously. In most cases, a minimum GPA of 3.0 is required for all post-grad certificate nursing students.
Every program will have its own list of admission requirements, but consider the following list of requirements for the Post-Master's Certificate in Nursing Education program offered by Worcester State University:
Career essay
2 letters of recommendation
Current, unencumbered nursing license
It's common for post-graduate certificate in nursing programs to require an interview with a faculty member. Some programs may also require additional test scores or some previous clinical experience.
Post-Graduate Certificate in Nursing Classes and Courses
Every post-grad nursing certificate program in Massachusetts will require different coursework, depending on the specialty of focus and intended student outcome. To give potential students an example of curriculum requirements, consider this list of required courses for the Neonatal Nurse Practitioner post-graduate certificate in nursing program offered by Northeastern University:
NRSG 6232 Neonatal Pharmacology
NRSG 6230 Nursing Management Critically lll Neonatal l
NRSG 6231 Nursing Management Critically lll Neonatal ll
NRSG 6116 Advanced Health Assessment of the Neonate
NRSG 6430 Neonatal Clinical Practicum l
NRSG 6431 Neonatal Clinical Practicum ll
NRSG 6432 Neonatal Clinical Practicum lll
Program Length
Most post-grad nursing certificate programs in Massachusetts will require between 12 and 21 credit hours. Some may also require clinical hours for completion. Most post-grad students attend the program part-time because they have active careers, families and other responsibilities. Some programs are easily completed within two years while others may take up to four years for part-time students.
Tuition and Cost of Attendance
Massachusetts nurses completing post-graduate nursing certificates should expect to pay an application fee followed by tuition and a variety of school fees in addition to the cost of books and supplies. Depending on location and circumstances, nurses may also need to consider the cost of commuting or traveling to and from the program's campus.
In general, post-graduate certificate in nursing programs can charge up to $1,000 or more per credit hours. Some programs may go as low as $400 per credit hour. Nurses in Massachusetts should contact the school offering their preferred program for specific tuition prices and other expenses.
Online Post-Graduate Certificate in Nursing Programs in Massachusetts
Online post-grad nursing certificate programs are great, because they give students the advantage of studying at any time of the day or night in the location of their choosing. Some programs may still require clinical experience, but online students often have flexibility when selecting qualified settings for completion of those hours.
Featured Online School
Northeastern University has a reputable Certificate of Advanced Graduate Study program that is available in the following specializations and areas of concentration:
Neonatal Nurse Practitioner
Acute Care Nurse Practitioner
Primary Care
Psychiatric/Mental Health
Nursing Administration
Nurse Anesthesia
At least some of these programs are available for online study.
Post-Graduate Certificate in Nursing Career Pathways in Massachusetts
Not all nurses will compete post-graduate nursing certificate programs with the intention of earning new job titles. Many nurses work as nurse practitioners and intend to increase their earning potential. It is common for Massachusetts nurses to transition into new career fields or specialties after completing a certificate program.
Some job titles that nurses may assume after completing a certificate program include Pediatric Nurse Practitioner and Nurse Educator. Some may transition into administrative roles as well.
Post-Graduate Nursing Certificate Salary and Job Outlook
As of January 2020, nurse practitioners in Massachusetts earned an average of $117,984 annually. That's higher than the national average for nurse practitioners, which is less than $115,000 per year. NPs who earn a post-graduate nursing certificate may make more than average each year, especially if they go into nurse education or administrative duty.
List of Massachusetts Post-Graduate Certificate in Nursing Programs
Massachusetts nurses interested in elevating their careers through advanced post-graduate studies can consider programs from the following accredited nursing programs.
Amherst, MA
Beverly, MA
Boston, MA
Chicopee, MA
Fitchburg, MA
North Worcester, MA
Weston, MA
Worcester, MA
Are we missing your school's program or need to update information listed? Please contact us so we can make the necessary changes.