Post-Master's Nurse Midwife Certificate Programs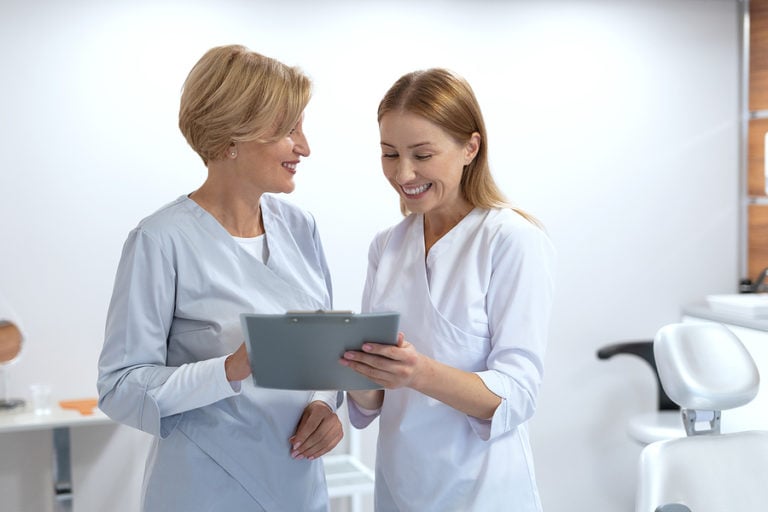 Once a nurse has earned a master's level degree in nursing, there may be a point where he or she considers obtaining a higher level of education or switching specialties. While some opt for a Doctor of Nursing Practice (DNP) degree, others may want something that takes less time and money. Enter the post-master's certificate programs. These programs are designed to allow MSN-educated nurses to earn a specialty certificate in a number of different areas, including nurse midwifery. For example, a pediatric nurse practitioner who finds they have a passion for maternal, infant, or labor and delivery care may wish to pursue a post-master's nurse midwifery certificate in order to practice in this field.
Choosing a Post-Master's Nurse Midwifery Certificate Program
Deciding to change specialties or enter a niche area as an NP can be a big decision. Many nurses don't quite know where to start when looking for a post-master's nurse midwifery certificate program. Much like undergrad and grad programs, however, there are a few key factors to consider when researching and choosing a certificate program.
Accreditation– Simply put, choosing an accredited post-master's nurse midwifery certificate program is essential. These programs are held to rigorous standards and are regularly re-evaluated to ensure quality. Most programs are accredited by either the Accreditation Commission for Nursing in Education (ACEN) or the Commission on Collegiate Nursing Education (CCNE). Local accreditations may also be available.
Cost– The total cost of a post-master's certificate program can vary, and may also be a big deciding factor for prospective students. Location, type of school, and resident status can all affect rates. Aside from tuition, students must also consider mandatory fees, supplies, commuting expenses, and more. Online programs may have certain technological requirements, including a computer, webcam, and internet access. Prospective students are encouraged to consider all costs associated with their school and program of choice before committing to enrollment.
Program Length– Post-master's nurse midwifery certificate program lengths can vary, but students can expect to complete around 30-36 credits. The curriculum will include both didactic and clinical portions. While some schools boast quicker completion times, students should take care to thoroughly vet these programs to ensure that they are accredited and legit.
Online Options– More students are opting for online options to complete a post-master's certificate program. These programs are geared toward nurses who are currently employed or have otherwise busy schedules that they will need to work their education around. Another popular option is the "hybrid" program, which combines classroom learning with online courses. Students should check with their school of choice to see what program options are available. Keep in mind that clinical hours will need to be completed in-person.
Internship/Externship Options– Many schools have relationships with area hospitals and healthcare facilities at which students can complete their required preceptorships. However, some programs require the students to find and arrange their own internships for approval by the faculty. Finding out what these requirements are before enrolling is a smart idea, as the clinical portion of the curriculum is crucial to a student's educational success.
Online Post-Master's Nurse Midwifery Certificate Programs
With their emphasis on flexibility and self-paced learning, online post-master's nurse midwifery certificate programs are growing in popularity. However, students who have never experienced online learning should consider all aspects of these types of programs before deciding if it's right for them.
Online vs. Classroom-Based Post-Master's Nurse Midwifery Certificate Programs
Most students cite the convenience of online programs among the top advantages. With master's-prepared nurses typically employed, some working odd hours or schedules, online programs are the only way to make earning their certificates feasible. For those with kids and families, it means that they are able to spend time together and fit in studying when they are able, something that is much more challenging to do with traditional programs. Online programs also essentially eliminate any commuting costs, such as gas, public transportation, and/or parking passes.
However, online certificate programs aren't for everyone. Some students need the face-to-face interaction that professors and other students provide in a classroom setting. For those who struggle with time management, a set classroom schedule can be much easier to stick to. Online programs also require students to be self-starters, so being disciplined about coursework is a must. In addition to this, students must be sure they have the right equipment to complete online courses, such as a laptop computer, which are additional expenses if not already owned.
Post-Master's Nurse Midwifery Certificate Admissions Requirements
While each post-master's nurse midwifery certificate program will have slightly different admissions requirements, most include the following:
MSN degree or higher from an accredited institution
Be a current APRN with a national certification
Master's-level GPA of 3.0 or higher
Hold a current, unencumbered RN license
Students must have completed prerequisite courses which may include advanced pathophysiology, advanced physical assessment, and advanced pharmacology
Personal essay or goal statement
Current resume or CV
Post-Master's Nurse Midwifery Certificate Curriculum
In addition to a number of clinical hours, students can expect to take courses such as the following:
Women's Health
Midwifery Care During Pregnancy
Skills for Nurse-Midwifery Care
Midwifery Care During Labor and Birth
Midwifery Care of Postpartum Women and Newborns
Helpful Resources
Other Related Degree Programs
List of Post Master's Certificate Nurse Midwifery Programs
Jump to Your State Listings
California
Colorado
Kansas
Kentucky
Michigan
Minnesota
New Jersey
New Mexico
New York
North Carolina
Ohio
Pennsylvania
Texas
Virginia
Washington
Wisconsin
Are we missing your school's program or need to update information listed? Please contact us so we can make the necessary changes.