Post-Master's Women's Health Nurse Practitioner Certificate Programs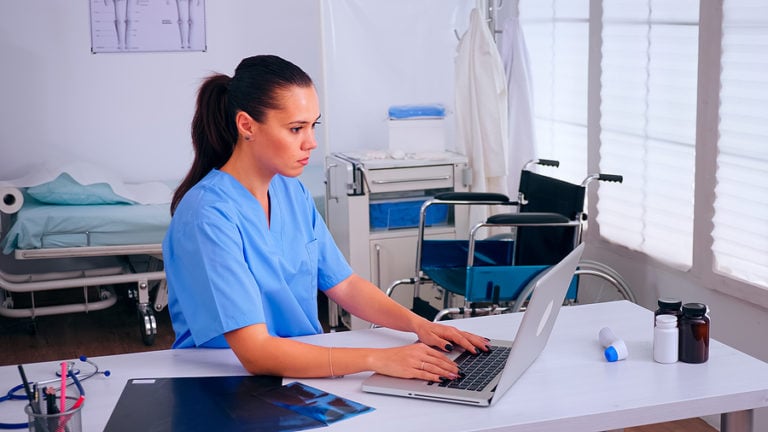 One of the perks of being a nurse is that one does not always need to remain at the bedside. There are many career options for nurses including ADN and BSN degrees, master's degrees, and doctorates in nursing.
One option nurse practitioners (NPs) may choose is earning a post-master's certificate. This option comes after earning a master's degree, but is not at the "terminal" level like a doctorate. It sits somewhat in the middle. Nurses may select the post-master's option if they are looking to widen their knowledge base in their current area of expertise, or if they hope to change the population they care for completely. For example, a Family Nurse Practitioner may opt to focus on women's health and may earn a post-master's certificate in that field. Then, they may become certified in that area and begin a new chapter in their career.
Choosing a Post-Master's WHNP Certificate Program
Changing careers or simply going back to school can be a momentous step in a nurse's life. Some might feel overwhelmed with the options available to them and know quite know where to start. The following are some items nurses should take into considerations when researching women's health post-master's certificate programs:
Accreditation– To ensure nursing program graduates meet strict educational criteria for licensure, schools should be accredited by either The Accreditation Commission for Education in Nursing (ACEN) or the Commission on Collegiate Nursing Education (CCNE). Some programs might be locally accredited, but to meet many state licensure requirements, nurses should make sure the CCNE or ACEN nationally accredit the program.
Cost– One of the most significant considerations for nurses is the cost to attend advanced certificate programs such as the post-master's certificate program in nursing. Prospective students should be prepared for other types of fees aside from tuition; university fees, technology fees, and supplies are all additional costs that add up. However, most schools have financial aid options and offer part-time learning to help manage the cost of higher education.
Program Length– Depending on the student's starting point and which classes they completed in a master's program, women's health post-master's certificate programs are usually around 36 credits to complete (depending on the school). The exact time to complete the program also depends on if a student attends full or part-time. Additionally, online programs can be self-paced which can mean more or less time needed to complete.
Online Options– Many schools offer online women's health post-master's certificates. While some advertise 100% online learning, students should be aware that clinical hours in a healthcare setting will be required. Additionally, some schools require minimal campus visitation for orientation, presentations, or intensives. Most school websites are very transparent about their campus visitation requirements.
Internship/Externship Options– Students must complete a specified number of supervised clinical hours to earn a women's health post-master's certificate. When selecting a program, students should determine which local healthcare facilities are affiliated with the school to determine if the student's learning needs will be met. For example, a women's health NP student should choose a program that would allow him or her to complete clinical time in a women's health facility or a hospital with a strong women's health focus (if possible). However, some schools have the students find preceptors on their own. If this is the case, students should find an experienced women's health provider to get the most out of their clinical time.
Online Post-Master's Women's Health NP Certificate Programs
To assist students in achieving their goals, many schools offer online programs. There are more and more online programs available for nurses; however prospective students should ensure the programs are properly accredited by the ACEN or CCNE. Additionally, students should weigh the advantages as well as disadvantages of online programs before selecting a school.
Online vs. Classroom-Based Post-Master's Women's Health NP Certificate Programs
Online learning offers the flexibility that many advanced-level students need. For nurses, flexibility is especially valuable. Nurses often work long shifts and at odd times. When their work hours cannot be flexible, their schooling should be. Students can study anywhere and anytime. Moreover, students can study at their own pace which increases the chance of success.
Some nurses returning to school, however, have been away from academia for a while, and times have changed. Some nurses struggle with technology and online studying, presentations, lectures, and submitting electronic assignments can be challenging. Additionally, some do not wish to spend the extra money on the electronics that they need such as a laptop, webcam, and printer. Moreover, some nurses prefer the structure and camaraderie between peers that classroom instruction provides.
As stated earlier, ensuring proper accreditation is critical when selecting a school. Accreditation can affect specialty certification and licensing, so looking for ACEN or CCNE certification is a necessity. The problem with online programs that prospective students may face is that many online NP certificate programs, women's health included, are private schools and are locally accredited. Thorough research of online programs is paramount.
Post-Master's Certificate Women's Health NP Admission Requirements
Each school has specific admission requirements for entry into a women's health post-master's certificate program. While they may vary slightly between schools, standard admission requirements may include the following:
Master's degree in nursing from an accredited school (CCNE or ACEN)
Current RN/APRN license
GPA of 3.0 or higher (may vary between schools)
Submission of a resume or CV
Written goal statement
Prior experience as an RN or APRN
Carry professional liability insurance
Up to date on immunizations and TB screening
Post-Master's Certificate Women's Health NP Curriculum
As with admission criteria, the curriculum for a women's health post-master's certificate program may vary slightly between schools. Students must complete an demonstrate competency in concepts such as:
Advanced pharmacology, physiology, and physical assessment (if not completed in a master's program)
Professional issues for nurses
Women's health primary care
Women's health-specific pharmacology
Care and management of the GYN patient
Obstetric care
Additionally, students are required to complete a specific number of supervised clinical hours to apply what they have learned in the real-life care of women's health patients.
Helpful Resources
Other Degree Programs
List of Post Master's Certificate Women's Health Nurse Practitioner Programs
Jump to Your State Listings
Arizona
Colorado
Illinois
Kentucky
Massachusetts
Minnesota
Missouri
Nebraska
New York
Ohio
Pennsylvania
Are we missing your school's program or need to update information listed? Please contact us so we can make the necessary changes.