New Hampshire RN to BSN Programs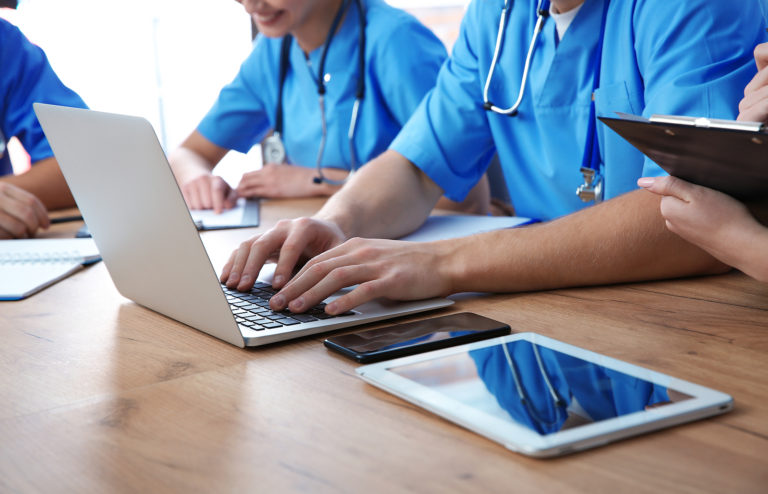 With kindness and compassion as hallmarks of their profession, nurses exude these characteristics – along with a keen listening ear and evaluative brains. Nurses are staunch advocates of health amongst all populations and work with patients in hospitals, clinics, or in the community.
2023 - Best Online RN to BSN Programs in New Hampshire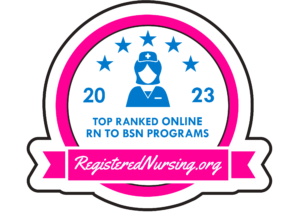 As hospitals and healthcare employers move to hire RNs with BSN degrees or higher, many ADN and diploma-holding RNs in New Hampshire are considering going back to school to increase their marketability and earn higher salaries. RN to BSN programs are the perfect route for these nurses, as they are a quick and affordable way for RNs to earn a baccalaureate nursing degree. Schools are increasingly offering online and hybrid program options to make it even more convenient for these nurses to advance their education. To help you find the right RN to BSN program in New Hampshire, we have ranked the top offerings in the state below.
For more information on our top nursing school rankings, visit our Methodology Page (https://www.registerednursing.org/rankings-methodology/).
Vital RNs can have a greater impact on patient care when they complete the online RN to BSN program at Rivier University in New Hampshire. By gaining an in-depth understanding of clinical decision-making, patient education, and care coordination, nurses can advance their careers or specialize.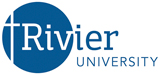 Quick Facts:
Courses are 7-weeks in length

A private, Catholic college

State residency restrictions may apply

Working nurses who are committed to their profession can gain a competitive advantage by enrolling in the online RN to BSN program at Colby-Sawyer College in New Hampshire. The program focuses on healthcare research, community and public health nursing, and quality care delivery.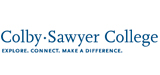 Quick Facts:
Individualized academic plans

Scholarships available for rural healthcare RNs

Convenient classes and online tutoring
Franklin Pierce University
More opportunities are available to RNs who hold bachelor's degrees. By enrolling in Franklin Pierce University's RN to BSN online program, RNs gain knowledge and skills in evidence-based care, community health, patient care across the lifespan, and leadership.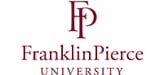 Quick Facts:
No minimum GPA required

Credit may be granted for on-the-job training

A private university in New Hampshire
Admissions Requirements for New Hampshire RN to BSN Programs
With a complete 'bridge' education from RN to BSN – or Bachelor of Science in Nursing -status, many of today's programs offer a full education with minimal time on campus. The application process is similar to when you first applied to school; however, make sure you read the list of specific admission criteria on your school's website. Below we've listed some of the requirements you can expect to find:
Gain general admittance to the university of your choice
Submit official transcripts to support your educational background and pre-requisite courses
GPA of 3.0 or what is considered 'competitive' from year to year
Provide your RN licensure data; be prepared to produce a copy of your certificate and renewal information to ensure your license is in good standing
Provide evidence of current immunizations and any other health issues that may affect your safety or those of patients
Provide proof of ongoing health and professional liability insurance
RN to BSN Classes & Courses
At Southern New Hampshire University, RN to BSN coursework covers an array of general education courses as well as nursing-specific courses in order to broaden an RN's perspective on matters that concern a deeper specialty or an understanding of leadership. Some examples from the curriculum are:
NUR 315 – Pathophysiology for Nurses
NUR 400 – Systems Leadership for Continuous Quality, and
IDS 400 – Diversity
Online RN to BSN Programs in New Hampshire
With less focus on the inpatient environment and a perspective shift to prevention and primary care, RNs who complete their BSN are well able to meet this industry-driven change. Completing an RN to BSN program on your terms – perhaps in one of the state's available online university programs – positions you well to adapt to future changes in the field.
Admissions and Program Length
Generally, the RN to BSN program is 2 years in length, but the exact number of credits that a candidate needs to graduate varies from school to school. At Saint Anselm College, for example, students may complete the 120 requisite credits for a BSN through a combination of transfer credits that are reviewed on their individual criteria, online courses, and challenge exams where nurses are able to prove that they possess the knowledge in a certain facet of nursing.
Tuition and Cost of Attendance
At Granite State College, the tuition per credit hour is around $300. There are a variety of fees that are applied either per-course or per term, depending on a student's course load – these range from a few dollars to several hundred dollars per course. Students should also be aware of their responsibility to buy all books and materials that are necessary for their studies.
Does an RN to BSN Increase My Salary?
Nurses with ADN qualifications have already demonstrated an understanding of the labor market in choosing an expanding career path, and many come to the RN to BSN program of their choice with an understanding that it's time to broaden their career options through additional training. With a BSN, nurses are more likely to be chosen for jobs like charge nurse, nursing in the occupational health and safety capacity at a large worksite, or possibly a nursing home nurse.
RN to BSN Salary Comparison in New Hampshire
Nursing professions in the state are experiencing about a 15% forecasted growth over the next decade, which often affects the salary that hospitals and clinics will pay for trained and qualified staff. Nonetheless, there is still a considerable wage gap between ADN-prepared RNs and BSN-prepared RNs. While data is not directly collected, we can assume that those nurses with an ADN start closer to New Hampshire's base nursing salary of $47,000, and may reach a median salary of $65,000 over the course of their career. BSN RNs on the other hand, likely start closer to the $55,000 mark, and with additional credentials, may earn as much as $90,000 by the time they retire.
2023 List of RN to BSN Programs in New Hampshire
New Hampshire hospitals have already made BSN degrees mandatory for future job prospects and the state's outlook on the need for a BSN or greater degree is not wavering. There are more than 5 RN to BSN programs in New Hampshire that can help prospective students, as well as on-the-job nurses to obtain the state's new standard. As with any profession, the more qualifications you have to offer them more money can be earned, as well as job opportunities. Nurses in New Hampshire can find job opportunities in hospitals, supervisory positions, clinic management, and similar paths - positions that offer salaries at an average of $77,000 per year, depending on the position held and location.
Find RN to BSN Programs By City:
Concord, NH
Manchester, NH
Nashua, NH
New London, NH
Rindge, NH
Are we missing your school's program or need to update information listed? Please contact us so we can make the necessary changes.