Nursing School Accreditation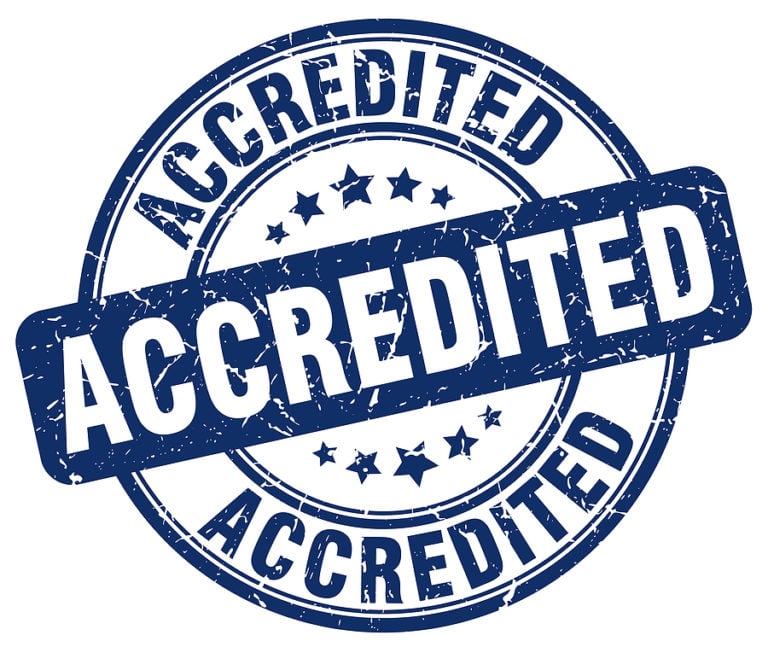 With so many nursing programs available it's hard to know which schools are best for finding a job after graduation and transferring credits to further nursing education.
Many employers require graduation from a school which has been nationally accredited while others are not as selective. Also, most, if not all, graduate programs pay special attention to accreditation and only accept transfer credits from programs with this accreditation.
Even more confusing is whether the State Board of Nursing accepts the school's accreditation for its graduates to sit for the NCLEX-RN. Many students may not realize this is an issue for their school until it's too late.
What is Accreditation?
Accreditation is defined as "…a voluntary, self-regulatory process by which non-governmental associations recognize educational institutions or programs that have been found to meet or exceed standards and criteria for educational quality" (http://www.acenursing.org/mission-purpose-goals/).
Schools who hold accreditation are required to uphold a certain standard as defined by the accrediting body. They volunteer to be held to professional standards through these accrediting organizations.
While there are major accrediting bodies which are the most widely accepted, some schools are accredited by smaller bodies. This allows the schools to boast an accreditation; however, not all accreditation is created equal.
Regional Accreditation
Nursing schools can be accredited regionally, nationally, or both.
The Council for Higher Education Accreditation (CHEA) recognizes regional accrediting organizations, which currently include:
Accrediting Commission for Community and Junior Colleges Western Association of Schools and Colleges (ACCJC)
Middle States Commission on Higher Education (MSCHE)
Higher Learning Commission (HLC)
New England Commission of Higher Education (NECHE)
Northwest Commission on Colleges and Universities (NWCCU)
Southern Association of Colleges and Schools Commission on Colleges (SACSCOC)
WASC Senior College and University Commission (WSCUC)
National Accreditation
The CHEA also recognizes national agencies, but the major organizations related to nursing schools are:
Accreditation Commission for Education in Nursing (ACEN) is a national accrediting body and is able to provide accreditation to schools offering diploma, Associate's, Bachelor's, and Post-Bachelor's degrees. Visit the ACEN website for more information.
Commission on Collegiate Nursing Education (CCNE) is a national accrediting body associated with the American Association of Colleges of Nursing, providing accreditation for Bachelor's, graduate, and residency nursing programs. Visit the CCNE website for more information.
Accreditation for Advancing Education
Transfer credits from ACEN and/or CCNE accredited colleges are widely accepted by most, if not all, graduate schools who are also accredited nationally. However, transferring credits from a regionally accredited school to a nationally accredited school, and vice versa, is less desirable by colleges. Many colleges will not accept the credits at all.
A good plan before enrolling in a nursing school is to simply ask the school's advisor which agencies they are accredited with, and then determine what your future goals are for education. If the student never plans to attend a Master's or Doctoral degree program, then it may not matter if the school is regionally or nationally accredited, as long as he or she can sit for the NCLEX-RN exam. However, plans can change, and it's a good idea to keep options open for the future. Contact advisors or go online to see applicant requirements for regional graduate schools and what kinds of accreditation they require in accepting transfer credits.
Accreditation for Employment
While no steadfast rules exist for every employer about which accreditation is accepted, many hold true to the major national accrediting bodies, the CCNE and ACEN. Many large hospitals will only accept education from CCNE or ACEN-accredited schools, but smaller hospitals or non-hospitals may not be as strict.
In some areas, accreditation may not matter with employers at all. Sadly, this information is not usually posted online, and one may only become aware of it once they start applying to jobs. Contacting the Human Resources department of a possible future employer and asking may be wise if accreditation matters to their facility. To be on the safe side, it's always best to choose a properly accredited nursing school.
NCLEX-RN Qualifications
Before starting a nursing school program, it's important to double and triple check with the State Board of Nursing that the school is accepted and that graduates are eligible to take the NCLEX-RN exam to become licensed in his or her state.
What a terrible surprise to find out that one can't obtain a nursing license after graduating from nursing school. Students need to be diligent and research nursing programs independent of what nursing school advisors may say.
The bottom line is that if a graduate attends a school not accredited by CCNE or ACEN, either they will have no issues at all with the State Board of Nursing, are able to sit for and pass the NCLEX-RN, and find a job without an issue, or they will graduate and have roadblocks with sitting for the NCLEX-RN, finding a job, and even when trying to transfer his or her nursing license to another state.
The best way to avoid any problems is to stick with schools accredited by the major national accreditation bodies, the CCNE and ACEN. Usually, one or the other is acceptable.
While accreditation issues may be confusing, it's best to find out before starting a nursing program if the credits and degree will be accepted by other schools, employers, and the State Board of Nursing. A little research can prevent a world of problems after graduation.
RELATED ACCREDITATION CONTENT: