What's the Difference Between AANP and ANCC NP Certification Exams?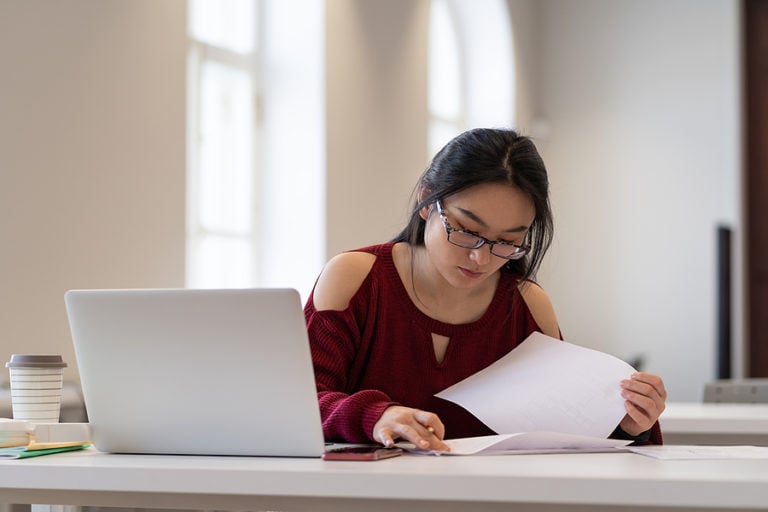 You're nearing the end of your Nurse Practitioner program and it is time to consider which certification exam to take. There are currently two recognized certifying boards for NPs: The American Nurses Credentialing Center (ANCC) and the American Association of Nurse Practitioners (AANP). Both boards offer multiple testing options for the Nurse Practitioner and other nursing specialties, often with further delineation into acute or primary care. For example, the ANCC offers board certification (BC) for the Adult-Gerontology Acute Care Nurse Practitioner (AGACNP-BC).
Graduating nurse practitioners can choose to sit for either exam as organizations have come to recognize both exams as valid certifications. Tracy Lutche, RN, FNP-BC, chose to sit for the ANCC exam after utilizing several review books and completing the Fitzgerald course review online. "I actually didn't know much difference between the two exams before I took it. A big factor for me was having the "BC" (board certified) designation in my title. The exam was really challenging. I'm usually very good at taking tests but this exam had me second-guessing the entire time. The exam I completed was very focused on research which didn't validate much of my clinical knowledge, but I understand they make changes and revamp the tests every so often."
ANCC Exam
As recently as May of 2019, the ANCC exam content has been updated to include more clinical information and less professional role and nursing theory. There are 175 questions to be considered over 3.5 hours, where 150 questions are actually scored. As opposed to the prior ANCC exam having three content domains of foundations for practice, professional practice, and independent practice, the updated exam contains 10 knowledge areas and 13 skills across four content domains:
Assessment (21%)
Diagnosis (26%)
Clinical Management (43%)
Professional role (10%)
The skill areas include:
Comprehensive health history and physical assessment
A focused history and physical assessment
Risk assessment
Functional assessment
Differentiating between normal and abnormal physiologic or psychiatric changes
Diagnostic test selection and evaluation
Pharmacotherapeutic intervention selection
Pharmacotherapeutic intervention evaluation
Nonpharmacologic intervention selection and evaluation
Therapeutic communication
Culturally congruent practice
Resource management
Research
AANP Exam
In contrast, the AANP exam is competency-based and comprised of 150 exam questions with a score based on 135 scored questions. The AANP Certification Board (AANPCB) is accredited by the Accreditation Board of Specialty Nursing Certification and the National Commission for Certifying Agencies. The AANPCB offers FNP, A-GNP and ENP certifications. Willa Espina, MSN, FNP chose to take the AANP exam after completing the Fitzgerald review as well. "I understood that the AANP exam was based more on clinical application. I believe that having a strong clinical background helped me pass the test."
There are two domain focus areas of the AANP examination:
Domain I:
Assessment
Diagnosis
Plan
Evaluation
Domain II:
Prenatal
Pediatric (both newborn and infant)
Adolescent
Adult
Geriatric
Elderly
In summary, both the ANCC and AANP exams are valid for working in a Magnet facility or meeting reimbursement guidelines for Medicare, Medicaid, and insurance companies. A strong deciding factor could be in the choice of career. As the ANCC exam has more of a research and theory flavor, those NPs seeking academic positions might consider this test more valuable. NPs who plan to work in primary care or family health centers may lean towards the clinical side of the AANP exam. Either way, NPs must choose an examining board and hit the study books!
For additional information see our overview of nursing certifications.
Are Nurse Practitioner Exams Difficult?
Yes. Both of the examinations to become a Certified Nurse Practitioner (NP) are very challenging. For example, as of 2019, the American Association of Nurse Practitioners (AANP) exam's pass rate is listed at 86% for the Family Nurse Practitioner (FNP) exam, and 84% for the Adult-Gerontology Primary Care NP (AGPCNP) exam. The American Nurse Credentialing Center (ANCC) NP certification exam boasts an 86.2% pass rate for the FNP exam and a 79% pass rate for the AGPCNP exam, as of 2018 data. Considering the years of commitment to the school and clinical experience, to have 14-21% of participants fail the exam would definitely list these in the "difficult" realm of certifications.
However, there are many certification exam preparation courses that guarantee the candidate to pass the exam or receive a complete refund. In addition to numerous third-party test preparation courses such as Fitzgerald Health Education Associates, each certification board offers its own test-prep programs and curriculum to support candidates in confidently sitting for the examinations. The ANCC offers free study aids to prospective NPs, while the AANP website lists many practice examinations students can use as a study guide.
No matter which certification exam the NP chooses, spending adequate quality time studying and preparing for the exam will reduce test anxiety, create an overall positive testing experience and significantly increase the chance of passing the exam on the first attempt.

Latest posts by Amanda Bucceri Androus, RN, BSN
(see all)