Top NCLEX Review Courses: Reviewing the Reviews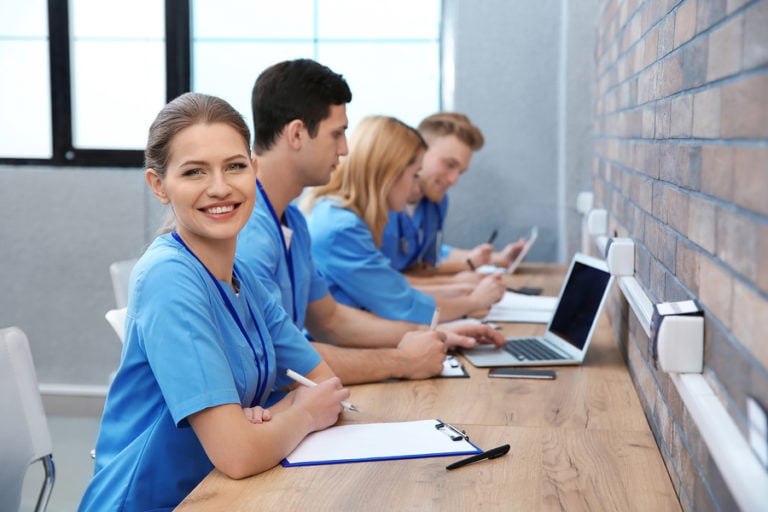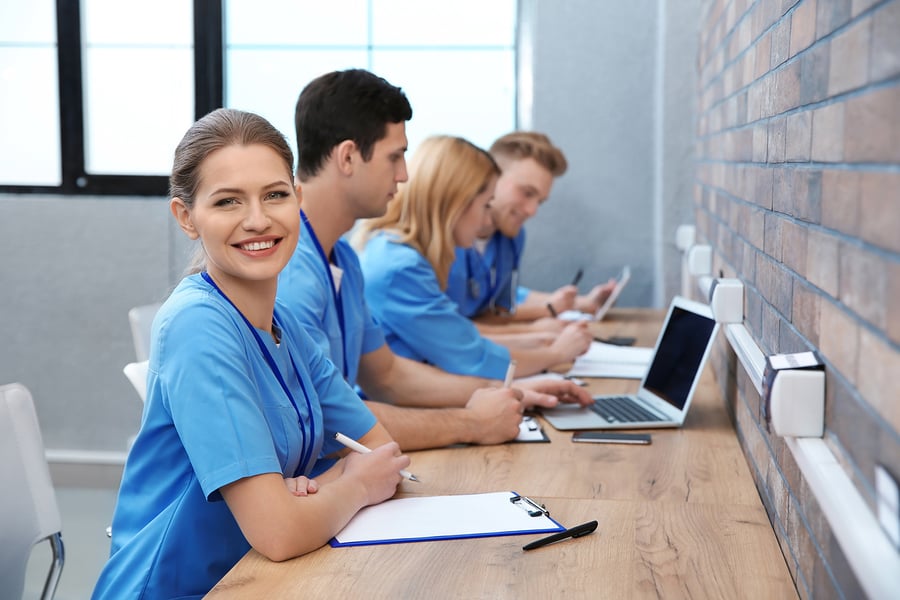 The saying "In the age of information, ignorance is a choice" (attributed to Donny Miller) has never been truer than today. This concept of easy and immediate access to information directly relates to nurses seeking to study for their upcoming National Council Licensure Examination for Registered Nurses (NCLEX-RN) exam. Yet, as is the case every time you use an internet search engine, too much information is overwhelming. Try entering a simple Google search for "NCLEX-RN review course" that provides about 1,340,000 results, and be ready for your stress level to spike like you were hit with an epi-pen. No need to grab a paper bag to calm your hyperventilation; we are breaking down this elephant for you in bite-sized chunks for easy consumption:
RegisteredNursing.org
The NCLEX-RN Exam Guide through RegisteredNursing.org is a FREE comprehensive guide (written, reviewed, and updated by RNs) of over 85 pages covering how and what you need to know to pass the exam like a boss. This site uses an accordion-style table of contents that directly relates to the categories and subcategories of the four main test classifications. Not only does this site offer background and insight into how the test is designed, arranged, and implemented, but they also offer expert advice on how to prepare for testing day. Created and validated by experienced RNs, this excellent website has over 200 free NCLEX-RN practice test questions with no strings attached.
Nursing.com
The artist, formally known as NRSNG, is now NURSING.com, with a snappy new look and fresh layout offering an incredible 200% refund for those who don't pass the NCLEX after completing their course and simulated test (terms apply, of course). They currently offer four plans starting at $99 (6 months access and access to over 6,000 practice questions), $149 (adds pass-guarantee and three simulation exams), $329 (adds a total of five simulation exams, over 300 review courses, and a review book) or an enterprise membership for schools or healthcare organizations. Some of the more impressive features of this site are the accessibility to the course through a mobile app, video rationales, a private Facebook group, and more.
EZ NCLEX Tutoring Services
If you prefer a more hand-holding and old-school approach to learning, check out EZ NCLEX Tutoring Services. Their eight or 16-week test prep courses offer weekly 1:1 online tutoring sessions with nursing experts to guide the participants through courses and tests relevant to the NCLEX categories. Using diagnostic tests, quizzes, progress reports, practice question sessions and weekly homework along with the tutoring, this program touts a unique personalized instruction for your flexible schedules. Because spots are limited, prospective students must sign up through a live chat or by calling the company directly, which was very easy. The 8-week course personalized course ($1,950) is designed to support first-time test takers (or re-takers), while the 16-week option ($2,950) is for someone who has failed the exam more than four times. This review course offers a retake of the course if you don't pass, plus easy payment options through PayPal.
Hurst NCLEX-RN Review
If you're looking for a study program offering many levels of access and learning that's been around since the 1900s ('88 to be exact), then Hurst Review Service could be your site. With a boastful 98.6% passing rate, Hurst NCLEX-RN Review has five levels of learning support and offers an additional live in-classroom intensive ($399) for that final push. According to our search, the live sessions are offered frequently across the U.S. but plan accordingly. Qualified students who complete the entire course and attempt the NCLEX-RN within three months of the course but fail to pass are offered either a full refund or a one-time 45-day remediation course. There are five-course options: Hurst QBank ($109) allows for 30 days of access and 1500+ practice questions. Hurst Now ($199) adds an on-demand review, 90-day access, and four readiness exams. In addition to the lesser plans, Hurst Now Plus ($339) is 120 days of access to the Elevate program and allows for a payment plan. Hurst N-Stream ($399) provides all of the listed services plus 3-days of live-streamed content and 9-months access to specialty lectures. The site lists many positive testimonials for the product and even includes a lovely bio of their nursing expert, Marlene. This site appears to be very NCLEX focused and only offers courses related to nursing education.
Kaplan Nursing NCLEX-RN Prep
Are you unsure which learning format is right for you? With so many choices of in-person, live streaming, online or hybrid models, knowing your ideal way to prep for the NCLEX is an important step in passing the exam. Kaplan Nursing NCLEX-RN Prep has cleverly designed a four-question quiz to identify your best learning mode, then offers time-tested courses to meet your needs. With input and instruction from over 600 nurses, this method gives students the tools to break down each question and systematically approach the correct answer. In addition to the RN course, Kaplan also offers CCRN, ATI TEAS, ISPN, CGFNS, and PN prep courses for other nursing areas. There is a link with free content, but most of their focus is paid courses. The basic course is $399 and includes over 2,100 sample questions, three adaptive computer tests, NCLEX Channel lessons, a mobile app for on-the-go studying, a unique Decision-Tree methodology, a review guide and a 500+ page ebook. There is also an option for those who desire a live or in-person review course for $499, which allows access to the above features.
Nurse Plus Academy
The initial intro to Nurse Plus Academy drew us into their no-strings-attached free practice questions (updated for 2020, according to the splash page). They even offer helpful links to a nursing career guide and one to learn how much money nurses make. Even their "7 Strategies for NCLEX Review" area is refreshingly clear and concise. Then… they draw you in with the emotional click-bait-ish question of, "What is your Time and Sanity Worth?" which worked because we totally clicked the button. Their premium lifetime program ($99) is designed to simulate the actual exam and touts simple yet effective ways to memorize and understand the key exam concepts in a unique way. With over 400 original exam questions through 18 tests, members receive detailed explanations to support the correct answers. If you only need a month of access, there is a $37 pass to access the essential features, and it also includes a money-back -guarantee if you pass their exams yet fail the official exam. Nurse Plus also offers an exam simulator to allow members an experiential taste of the full exam without hints or prompts, yet stores the incorrect answers for review and practice after completing the simulator exam. Although the website makes it challenging to know where their expert nurses come from or even more about who they are as an organization, they provide several testimonials from nurses.
Elsevier Evolve Nursing Review and Testing
With over 140 years of experience in education and publishing, Elsevier is a common name in healthcare and nursing education, making their purchase of the study and prep company Health Education Systems Incorporated (HESI) even more influential. Members can access the Elsevier Evolve Nursing Review and Testing by HESI for Nursing using a comprehensive platform. Although they are a highly respected and validated organization, the website is clunky and takes a bit of sleuthing to find what you want. When we finally located the HESI/Saunders (another Elsevier-acquired learning platform) online NCELX-RN review course, what you're getting for $110 is clearly defined. The trusted content is featured in a convenient, interactive and flexible online format with includes bulleted topic summaries, key terms and definitions, practice questions and case studies with images, animations, and video clips. While we know and trust the brands of Elsevier, HESI, and Saunders for quality products, their website produced many errors and was not consumer-friendly.
Khan Academy
Anyone who has googled how to do something, especially math problems, is familiar with the free online courses at Khan Academy, a nonprofit learning system. As their stated mission of providing a free world-class education to anyone, anywhere, it's no surprise that they have entered the space of NCLEX-RN review. The rudimentary site appears to have hundreds of practice questions for students to answer that will unlock further test questions. The questions are grouped by topics such as tachycardia, cyanotic heart disease, vasculitis, emphysema, etc. There are supporting rationales offered when you answer a question incorrectly, and be sure to create an account to sign in and track your progress.
Achieve Test Prep
The experts at Achieve Test Prep have used their years of experience in teaching students how to efficiently master concepts to challenge and pass an entire college course that has created the Achieve NCLEX-RN Review for nursing students. This live, virtual classroom course includes 15-hours of live instruction by a BSN-prepared nurse, free study materials, access to instructors for additional support outside of the class, free exam-style questions, and a discount on future Achieve Test Prep classes when you pursue your next degree. Get ready to embrace their 94% passing rate by choosing the best date and paying the $499 fee. Participants who attend all test prep sessions are guaranteed to pass the boards. If not, they are entitled to a free repeat course. Courses appear to be taught by qualified nurses who are committed to the success of the participants.
Study.com
Many non-nursing websites and learning platforms are jumping into the world of NCLEX-RN reviews and Study.com is our first review of such an animal. This website offers many study guides and online learning courses such as Business, Biology, Psychology, and Earth Science, where students can earn college credits. The test-prep arena is just as vast and includes anything from ACT, SAT to GRE, MCAT to military placement exams and teacher resources. With reported access of 30 million students per month, there are many posted testimonies from (non-nursing) students about the wonders of this site and its training methods. The NCLEX-RX study course uses engaging video lessons to break complex topics into comprehensive chapters. We found it challenging to easily see how much Study.com charges for the course as they require you to create an account and enter your credit card number to access the information. It suggests that the $59.99 monthly charge is the basic plan that allows you access to the entire library of video courses until you, "with a few simple clicks," cancel the account. They do offer a 30-day money-back guarantee, but we were unable to see if the basic plan includes the NCLEX-RN course, which offers 228 videos, 277 lesson transcripts, 1394 practice questions, and 259 flashcards (created by expert instructors) that can be accessed on all of your devices.
Varsity Tutors
If you're looking for your tutor to come to your home for private lessons, check out Varsity Tutors. This award-winning tutoring company is backed by a 100% satisfaction guarantee through individualized one-on-one service, either in person or virtually live. The website lists many companies where they are featured such as Fox, NBC, CBS and USA Today. If having a tutor from Harvard, Yale, or Stanford who will provide a personalized learning plan can help you pass the NCLEX-RN, then this is your program. Getting information on the actual costs was a bit tricky as they require you to send an inquiry, but the benefit of an intensive and focused training session could be worthwhile for those struggling in distinct subjects or concepts. From an overview of the website, it was not apparent that they also offer a live prep course over a virtual platform, which we discovered when we called and spoke with a learning specialist. The 16-hour course runs $199 and includes practice tests and resources. Private tutoring (live on a virtual platform in most areas) can be added to the prep course at $50/hr (8hr minimum) or $75/hr (12hr minimum) if not bundling with the course. Using our nursing math skills, one can get a 16hr review course plus 8hrs of personalized tutoring for $599. Not a bad deal or platform you can attend in your jammies.
My Nursing Mastery
Membership with My Nursing Mastery helps students not only pass the NCLEX-RN exam but provides users with an in-depth resource tool for terminology; nursing considerations are broken down by care areas, such as critical care and pediatrics, along with a comprehensive search program to find guidelines in blood transfusions or other procedures. Their NCLEX-RN review program includes pre-tests to evaluate your strengths and help you focus and improve in your weaker areas. With over 2,200 practice questions, participants can move between devices for a continuous learning experience and use their unique tagging system to efficiently stay on top of the areas where you need more studying. Once we signed up and answered a few test questions (and only missed one!), the membership options magically appeared as $9.99 monthly or an annual fee of $49.99 (cancel anytime). A 300% passing-rate guarantee shows they are very confident in their program and committed to the success of their students, although there is no information on their organization or experts.
PassNurse
A seemingly brand-new web-based NCLEX-RN exam prep site, PassNurse is another learning system claiming the most in-depth rationales than any competitor. While the website is clean and fresh and provides a comprehensive overview of their service, it doesn't appear to list any information about the organization or the nurses behind the platform. One unique feature to us is a customizable textbook where students can search for topics and add their own annotations to personalize their learning experience. PassNurse is a per-month subscription service starting at $25 for two months, $35 for four months, and $45 for six months. All subscriptions include full access to over 1,000 high-quality questions, detailed illustrated study notes, unlimited timed tests, a customizable textbook, and performance analytics with peer comparison.
Virtual-ATI + Board Vitals
Ever heard of a psychometrician? Neither had we, but ATI Nursing Education hires them to specialize in learning how people learn and design programs to fit the many ways. In their Virtual-ATI + BoardVitals program, participants receive personalized coaching from experts over a 12-week NCLEX-RN prep review conducted over a virtual format. Each student works with a nurse educator one-on-one to verify that you're ready for success. Only after you've completed the intensive 3-month program and received a "green light" from your coach are you deemed ready for the exam. In addition to the coaching, participants are provided access to BoardVitals, an NCLEX test prep quiz bank with more than 1,000 questions where students can build customizable quizzes focused on specific content areas or assess their comprehensive knowledge through adaptive testing. At $575 for the entire program, students are offered many variations for learning and a guarantee that includes another 12 weeks of access for those who were given the green light yet failed the exam. With a national passing rate of 90% across the U.S., Virtual-ATI students average 98% for those earning a green light during the program.
Mometrix
Although Mometrix provides over 3,500 products covering over 1,500 standardized exams, their NCLEX-RN review course, free test prep questions, and videos appear to be top-shelf products. The free practice tests with video support are an easy-access solution to quick learning. The online review course includes 340 lessons, 608 flashcards, over 800 practice questions and more than 50 instructional videos covering dozens of complex nursing concepts. They offer a one-week money-back guarantee if you don't like the program and cater to visual, reader, repetition, and practice learning styles. The subscription runs $39.99 per month and, although it's not clearly defined on the website, it does appear that you can easily cancel your membership anytime through your online account.
Ready to Pass
While they might have a good product, it's hard to get past the poorly designed and challenging website of Ready to Pass, which appears to offer individualized virtual tutoring and live classes in New York and New Jersey. Once you get through to the fast-moving and cutesy animation pages, the FAQ link did provide a comprehensive overview of what they offer. In-person review courses (costing between $499 to $599 depending on when you register) are conducted by experienced nurses with teaching certificates to not only help students understand key nursing facts and concepts but they can also instruct in test-taking strategies. The Ready to Pass online prep course ($629 or $649 depending on registration date) is a comprehensive live-stream course out of New York that offers participant interaction and the ability to ask questions, access to over 2,000 practice questions, and a 30-minute mentoring session with a master's prepared nurse educator. The personalized, individual tutoring runs $75/hr (2hr minimum) and is conducted online, in-person or over the phone. These are just a few of the hundreds of courses offered to those seeking to pass the challenging NCLEX-RN exam to earn the title of a registered nurse.
First and foremost, decide on your ideal learning style and platform, then choose a validated program that you will see to the end. These courses are a valuable resource for passing the exam, but only if you use them. Also, see our ten tips for preparing for the NCLEX-RN

Latest posts by Amanda Bucceri Androus, RN, BSN
(see all)