CNA Classes & Programs in New Hampshire
Certified Nurse Assistants (CNAs) are front-line workers and are absolutely essential to the health care team. They have many important duties including assisting patients with mobility, checking vital signs, and helping with activities of daily living when patients cannot do so independently. Because they are on the front lines, they are responsible for reporting their observations to the nursing staff. In New Hampshire, there is a projected 10% increase in employment for nurse assistants until the year 2026. Additionally, the median salary for nursing assistants in New Hampshire is $31,280.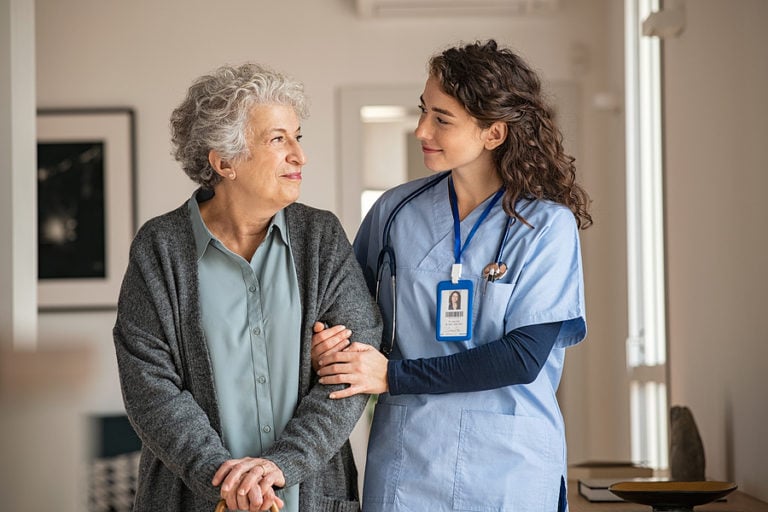 Choosing the Best CNA Programs in New Hampshire
New Hampshire residents who are interested in becoming a certified nurse assistant must take several things into consideration before enrolling in a certification program. To become a CNA, one must commit to the time requirements for the program, sit for the certification exam, and then register with their state before starting their new career. In New Hampshire, it is through the Board of Nursing, and the state mandates that nurse assistants become licensed. In fact, CNAs in New Hampshire are also referred to as "LNAs", or licensed nurse assistants. For more information on admission requirements for LNA programs, please click here.
Other factors to consider include:
Program Length: The length of an LNA program in New Hampshire depends on the school. Programs are offered at community colleges, vocational schools, and through hospitals and nursing homes. Several schools outlined the program to be around 50 hours of classroom/coursework and around 60 hours of clinical (hands-on) training.
Program Cost: Tuition cost varies between schools, but prospective students can expect to pay around $1500 for an LNA program, which includes supplies and school fees. Most schools offer some type of financial aid and payment plans which helps to offset the costs.
Board Approved Programs: The New Hampshire board of nursing determines which programs are approved for licensure. It's important to find a school endorsed by the board otherwise it could affect licensure later on down the line. A list of board-approved LNA programs can be found here. For more information, check out the CNA certification requirements for New Hampshire.
Online/In-Person Options: Some courses, especially when taken at community colleges, may be offered online. Students should be aware that while a few classroom CNA classes may be offered online, there are no 100% online CNA programs. The reason for this is that hands-on clinical experience is required for certification.
2023 List of CNA Classes in New Hampshire
To get a feel for the LNA curriculum in New Hampshire, see our list of classes and courses available in the state:
Berlin, NH
Bristol, NH
Concord, NH
Franklin, NH
Keene, NH
Laconia, NH
Lebanon, NH
Manchester, NH
Meredith, NH
Peterborough, NH
Portsmouth, NH
Are we missing your school's program or need to update information listed? Please contact us so we can make the necessary changes.