CNA Classes & Programs in Utah
Certified Nursing Assistants (CNAs) perform a valuable service to nurses, helping them care for patients young and old. CNAs bathe and dress patients, reposition them, answer call lights, and much more, working alongside the interdisciplinary healthcare team to ensure adequate care. In Utah, CNAs earn an average mean wage of $27,880 annually, according to the U.S. Bureau of Labor Statistics. With healthcare needs rising across the nation, CNAs enjoy the stability of a career in healthcare, and can easily move up to practical or registered nursing with some additional education.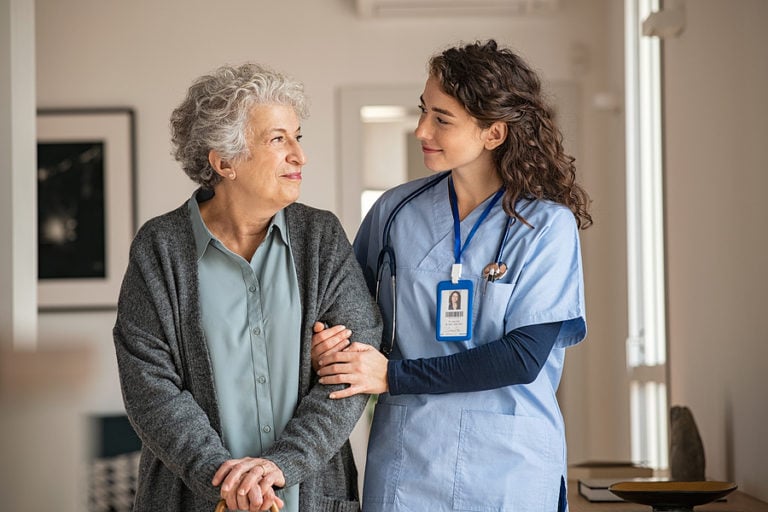 Choosing the Best CNA Programs in Utah
To enter the field as a CNA, interested parties must first complete a Utah-approved training program. These programs are much quicker to complete than an associate's degree or bachelor's degree and are typically offered at area community colleges and vocational schools. While programs are found across the state, approved online programs may also be available. For more information on eligibility requirements for schools in Utah, check out our CNA Training Programs Admissions page. When researching CNA schools and programs, prospective students should keep the following items in mind.
Program Length: Looking to finish your training as soon as possible, or trying to fit it around an already busy life? CNA programs can take anywhere from a few weeks to a semester or more to complete, depending on the school and the scheduling options offered. Assessing your own needs and availability is crucial to ensure that you pick the right program for you. Most schools offer part-time and full-time attendance options, and some may even offer night or weekend courses.
Program Cost: Budgeting costs for CNA school can be stressful. School costs can vary, so it's important to fully understand all the required expenses. Students will generally need to cover tuition, course materials, exam fees, and more. For example, the CNA program at Salt Lake Community College costs approximately $521.50. This figure includes tuition, student fees, and supplies. It does not include scrubs, background checks, and other required expenses.
Board Approved Programs: One of the most important things a CNA program should have is state approval. This ensures that the student will meet the requirements to take the certification exam and be placed on the Utah Nursing Assistant Registry (UNAR). The UNAR maintains a current list of approved programs that students can peruse to make sure they choose a quality program. To learn more, check out the CNA certification requirements for Utah.
Online/In-Person Options: Those needing flexibility so that they can work or take care of their family may wish to pursue an online CNA program. These programs allow students to take the classroom portion of the curriculum online, when and where they choose. Students will still need to take the clinical portion of the program in-person. Traditional, classroom-based programs are also available for those who like a more collaborative environment.
2023 List of CNA Classes in Utah
To get a feel for the CNA curriculum in Utah, see our list of classes and courses available in the state:
Blanding, UT
Bountiful, UT
Cedar City, UT
Cedar Hills, UT
Clearfield, UT
Ephraim, UT
Kaysville, UT
Logan, UT
Midvale, UT
Moab, UT
Ogden, UT
Orem, UT
Price, UT
Roosevelt, UT
Salt Lake City, UT
St. George, UT
Tooele, UT
West Jordan, UT
Are we missing your school's program or need to update information listed? Please contact us so we can make the necessary changes.