DNP Programs in Maryland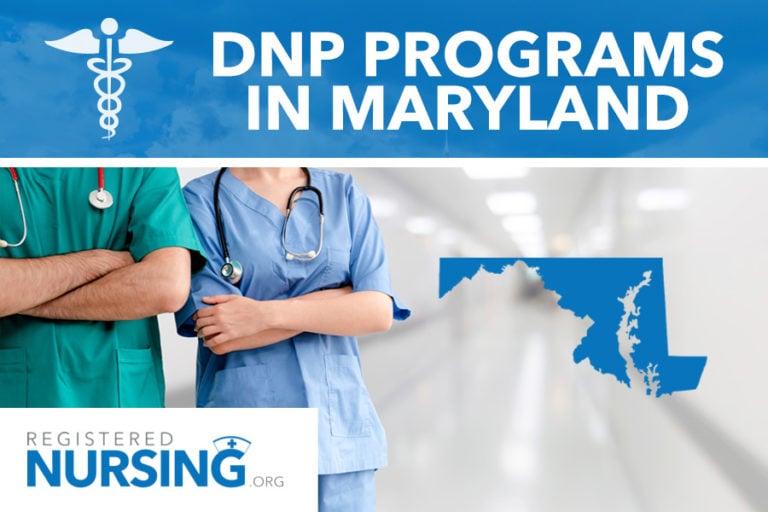 Doctor of Nursing Practice (DNPs) are 'terminal' degrees which prepare graduates for clinical nursing education and advance practice nursing. DNPs are the highest degree for clinical nursing practice. Registered nurses seeking DNP degrees are able to focus their studies on either advanced practice nursing and systems or organizational/educational leadership.
The number of unit hours required to complete a program will vary from program to program and depend on the specialty being pursued; however, BSN to DNP students are usually expected to complete between 65 and 95 unit hours with a number of supervised clinical clerkship hours. Programs are also available in tracks like executive leadership, informatics, and health policy that don't involve direct patient care. Most MSN to DNP programs will require students to complete between 28 and 39 unit hours, and offer APRNs options to advance to leadership roles in clinical practice, add an additional specialty or patient population focus, and more.
Core competencies students are expected to master during DNP programs will likely include:
Advanced nursing practice.
Advanced physiology, pathophysiology and pharmacology
Health care policy for advocacy in health care.
Scientific underpinning for practice.
Organizational and systems leadership for quality improvement and systems thinking.
Clinical scholarship and analytical methods for evidence-based practice.
Information systems/technology and patient care technology for the improvement and transformation of health care.
Inter-professional collaboration for improving patient and population health outcomes.
Clinical prevention and population health for improving the nation's health.
Choosing a Doctor of Nursing Practice Program
Choosing the right school to earn your DNP from is of crucial importance. When researching schools, there are a few important factors to be aware of.
What to Consider When Choosing a DNP Program
Program Cost— Tuition for DNP programs in the state of Maryland can range widely vary depending on whether the program is offered at a private or public institution. If attending a private university in the state of Maryland like John Hopkins University, you can expect to pay $1,671 per unit hour. However, if you plan on going to a public university, expect to pay around $653 per unit hour if you are an in-state resident and approximately $1,168 per unit hour if you're an out-of-state student.
Online Options— Three universities with in the state of Maryland offer students seeking DNPs online options:

Johns Hopkins University School of Nursing: offers an Online Doctor of Nursing Practice (DNP) program where Students are only required to attend approximately two weeks of on-site classes each semester, with the rest of the program requirements to be completed online
Salisbury University: offers a post-master's DNP program that's available online
University of Maryland School of Nursing: offers students a post-masters DNP option delivered in a blended format. The blended program consists of classes that are offered online, including synchronous and asynchronous web conferencing.
Accreditation— DNP programs in the state of Maryland are accredited by the Commission on Nursing Education (CCNE).
Clinical Residencies—
Admission & State Licensing or Certification Requirements
Admission
Gaining entry into a doctorate program is a competitive process. Standards for admission to DNP programs in the state of Maryland will vary from university to university. Prospective nursing students who will be most successful will need to have fulfilled the following prerequisite requirements:
Hold a BSN or MSN degree
Have an unencumbered RN license
Have maintained a 3.0 grade point average, based on a 4.0 system in either their undergraduate or graduate degree program (depending on the degree point from which they're entering from)
Provide GRE Scores
Provide academic transcripts
Write a Statement of Purpose
Pass a drug and background test
Provide resume or curriculum vitae (CV)
Verification/documentation of clinical hours
Provide letters of recommendation/references
Certification
In Maryland, after a student completes their DNP degree, they are able to sit for their state's certification exam. Once passed, graduates are eligible to become certified in advanced nursing specialties including, but not limited to the following:
Family Nurse Practitioner
Nurse Anesthetists
Neonatal Nurse Practitioner
Psychiatric Mental Health Nurse Practitioner – Family
Pediatric Primary Care Nurse Practitioner
Nurse Executive
Licensing
Requirements for APRN licensure in the state of Maryland include:
Completing an application
Background checks
Provide transcripts from all educational institutions
Submit verification of specialty certification
Complete fingerprinting
Drug screens
Maryland BSN to DNP Program Options
BSN-to-DNP program offer nurses with a BSN the opportunity to obtain a doctorate-level education. Three universities have programs that offer BSN to DNP pathways in the state of Maryland, giving BSN-educated nurses the opportunity to study toward a DNP degree.
Related Education Paths
Helpful DNP Agencies and Organizations in Maryland
List of Campus and Online DNP Programs in Maryland
Baltimore, MD
655 W. Lombard St.
Baltimore
,
MD
21201
(410) 706-6109
Salisbury, MD
1101 Camden Avenue
Salisbury
,
MD
21801
(410) 543-6000
Are we missing your school's program or need to update information listed? Please contact us so we can make the necessary changes.
Find DNP Programs By City: