DNP Programs in New Hampshire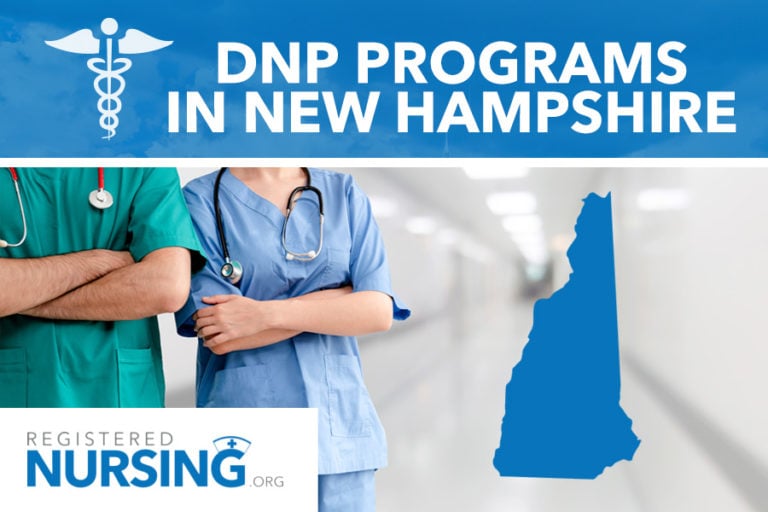 The doctor of nursing practice (DNP) is considered the terminal degree type within the field of nursing. The DNP degree is considered 'terminal' because it's the most superior nursing degree within the field. Depending on the specific pathway a nursing student chooses to take, DNPs can prepare them to work either in organizational/educational settings or in clinical settings.
The core concepts that are covered at the University of New Hampshire DNP program include:
Use translational science and analytic methods to develop, identify, implement and evaluate best practices.
Act as a practicing scholar to design, direct and evaluate system changes.
Engage in complex, evidence-based advanced nursing practice and evaluate innovative approaches to care delivery.
Partner with others to develop interactive inter-professional teams that communicate effectively.
Employ strategic leadership skills to influence health policy.
Translate knowledge into practice and policy to reduce health disparities.
Use data analytic methods, information systems, and technology to evaluate, integrate and apply knowledge.
Students are required to successfully complete DNP coursework, have 1,000 documented advanced practice clinical hours (includes up to 500 clinical hours earned in master's program), produce a publishable scholarly paper, and successfully present their DNP Project.
Choosing a DNP Program
With a little research, it's not hard to find the right DNP program. There are a few important factors to think about when considering DNP schools.
What to Consider When Choosing a DNP Program
Program Cost— The University of New Hampshire, the state's only institution with a DNP program, charges $770 for in-state students and $845 for out-of state students.
Online/Campus Options— New Hampshire's only university with a DNP program delivers it students via a dual online and on-campus format.

University of New Hampshire— The university's DNP program is delivered in a hybrid format and can be completed in 2.5 years on a part-time basis. 
Accreditation— DNP programs in the state of New Hampshire are accredited by the Commission on Nursing Education (CCNE). 
Residency— Students are encouraged to inquire with the their school of choice about clinical residency and fellowship programs, as many schools have affiliations with hospitals and health facilities in the area.
Admission & State Licensing or Certification Requirements
Admission
The nursing department encourages DNP applications from those who:
Have an unencumbered registered nurse license in the United States
Have obtained an M.S. in Nursing or equivalent degree (MBA, MHA, MPH). Plans of study will be individualized for students without a master's in nursing on a case-by-case basis. Students without a master's in nursing will be required to complete the full 1,000 clinical hours in the online DNP program and may need to complete additional graduate level courses
Three letters of reference pertaining to academic ability, professional competency, and personal character are required
Have completed satisfactorily a personal statement essay of interest in pursuing graduate education
Certification
Accredited New Hampshire DNP programs permit students to sit for certification upon successful completion of programs. DNP programs offered at universities in New Hampshire allow students to become certified in the vast majority if not all advanced practice nursing specialty disciplines.
Licensing
In the state of New Hampshire, nursing students who've completed the DNP track will need to be licensed by the New Hampshire Office of Professional Licensure—Board of Nursing. Requirements for licensure include:
Completing an application
Background checks
Provide transcripts from all educational institutions
Submit verification of specialty certification
Complete fingerprinting
New Hampshire BSN to DNP Program Options
Unfortunately, at the moment there are no university programs in the state of New Hampshire that offer students BSN to DNP pathways.
Related Education Paths
Helpful DNP Agencies and Organizations in New Hampshire
List of Campus and Online DNP Programs in New Hampshire
Durham, NH
Hewitt Hall, 4 Library Way
Durham
,
NH
03824
(603) 862-1177
Nashua, NH
Are we missing your school's program or need to update information listed? Please contact us so we can make the necessary changes.
Find DNP Programs By City: