Nurse Practitioner Schools in New Hampshire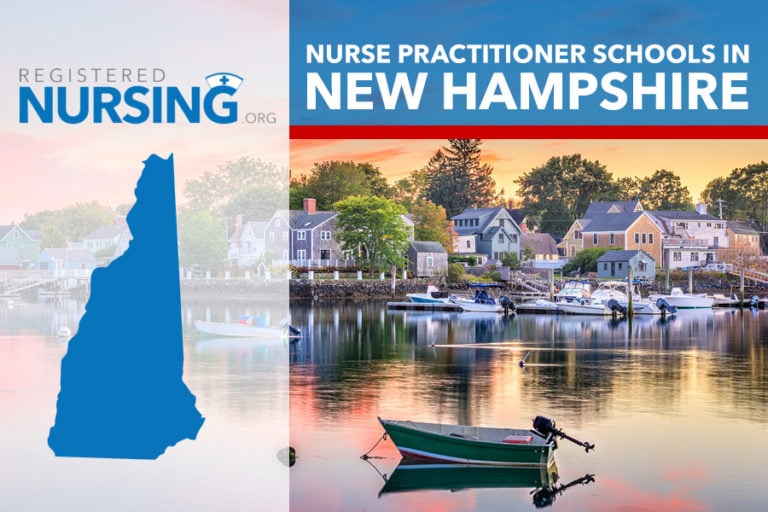 Nurse Practitioners are registered nurses who have attained advanced degrees in the field of nursing, at a master's degree (MSN) or doctoral degree (DNP) level. They provide comprehensive care to patients and help manage acute and chronic conditions as well as promote preventive health. They are valuable members of the health care team because they not only provide care to address physical symptoms, but they emphasize psychosocial health and wellness as well as education.
In New Hampshire, nurse practitioners can practice independently without physician involvement, act as primary care providers, and can prescribe medication.
Choosing a Nurse Practitioner Program
When selecting a graduate program in nursing, many nurses first look for schools that are located near them. However, other criteria should be considered, such as:
Accreditation- Graduate nursing programs should be nationally accredited by the Commission on Collegiate Nursing Education (CCNE) or the Accreditation Commission for Education in Nursing (ACEN). These agencies ensure the institutions have met the educational standards needed for advanced-practice nurses. New Hampshire has three accredited education graduate programs available for those interested in becoming a nurse practitioner.
Program Cost-The cost of the graduate program is commonly a high-priority consideration. In New Hampshire, graduate tuition for nursing can range from $700-$1000 per credit hour for state residents. Out-of-state residents can expect a higher cost. Graduate nurses must complete between 35-50 credits to graduate. It's important to note that the cost of books, supplies, fees, and living expenses are not included in the cost of tuition.
Program Length- BSN to MSN can take around two years if the student is attending full-time. For a BSN to DNP track, students can spend three to four years in school (full time).
Internship/Externship opportunities- nurse practitioner students are expected to complete a minimum number of clinical practicum hours to gain experience out in the health care field. There is a relatively new concept of nurse practitioner "residency" programs in which nurse practitioner can work as an NP "resident," which further build upon their clinical knowledge base. While New Hampshire does not currently have NP residency programs, neighboring states (Massachusetts, Maine, and Vermont) have a few available.
Online/Campus Options-Both advanced-degree programs based in New Hampshire offer online options. This option allows nurses to study at their own pace, balance a home and work life and allows for self-directed learning. Nurses are encouraged to check the schools' websites to determine specific campus-visitation requirements.
Admission and Certification Requirements
Admission requirements for graduate-degree programs may include:
Active RN license
BSN from an accredited school
Prior work history as an RN in the specialty population
GPA of 3.0 in previous collegiate coursework (GPA requirements may vary)
Completion of a statistics course
Complete faculty interviews
Provide letter of recommendation
Licensing/Certification
Certification in a specialty population can be obtained upon graduation, or obtained via a national certification agency. New Hampshire mandates that certification is valid and maintained otherwise the APRN is considered to be practicing without a license. The board accepts the following nurse-practitioner-specific credentialing entities:
Along with national certification, the board requires the following for licensure:
Current RN license
Criminal background check and fingerprinting
Completion of an accredited graduate nursing program to include both theoretical and clinical practice
Transcripts from an advanced-degree program must be sent to the board
Completion of application
Nurse Practitioner Agencies and Organizations
Nurse Practitioner Programs
New Hampshire considered a "compact" state, meaning it is one of twenty-five states in which nurses can practice if original licensure is issued from another "compact" state. For example, a nurse practitioner licensed in New Hampshire can practice in another compact state, such as Maine, without having to obtain additional licensure. This agreement allows for flexibility and opportunity with nurse practitioners, especially when it comes to furthering education and participating in post-graduate residency programs.
Durham, NH
Graduate Certificate ProgramsMSN Programs
Hewitt Hall, 4 Library Way
Durham
,
NH
03824
(603) 862-1177
Nashua, NH
Graduate Certificate ProgramsMSN Programs
420 South Main Street
Nashua
,
NH
03060
(603) 888-1311
Are we missing your school's program or need to update information listed? Please contact us so we can make the necessary changes.