DNP Programs in North Dakota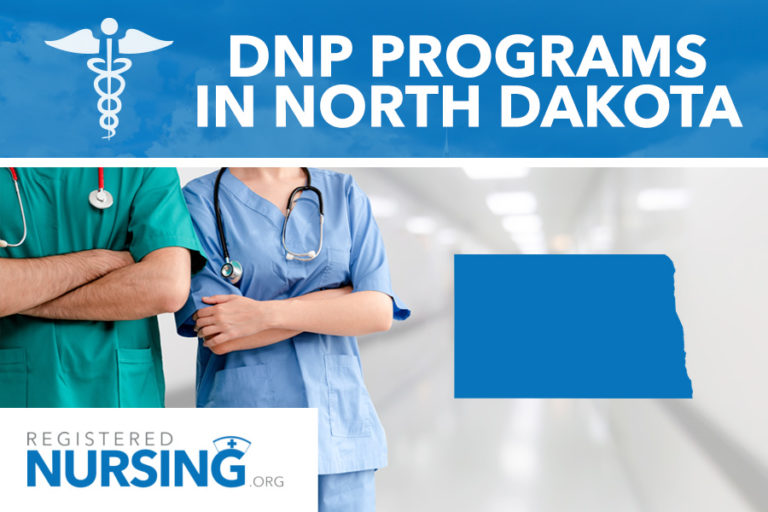 The Doctor of Nursing Practice (DNP) is the premier degree for clinical nursing practice. Nurses that graduate from a DNP program with an executive leadership track have a number of options ranging from clinical leadership to hospital administration.
In North Dakota, most of the post-master's DNP programs will require successful completion of 28 and 38 credit hours, depending on factors including the type of track selected. BSN to DNP students are expected to complete 66 to 75 unit hours with a number of clinical hours devoted to a preceptorship.
Competencies that DNP students will have mastered after completing programs will include the following:
Advanced physiology and pathophysiology
Advanced quantitative research methods and evidence-based practice
Provide leadership and inter-professional collaboration in multiple health care arenas
Health care policy for advocacy in health care
Integrate advanced knowledge of nursing theories, related sciences and humanities, and methods of inquiry
Advanced health and physical assessment
Inter-professional collaboration for improving patient and population health outcomes
Advanced pharmacology
Provide advanced nursing care to individuals, families, communities, and more
Critique and selectively translate science to guide clinical decision-making and program development
Appraise and utilize current technologies to advance the quality and accessibility of care
Choosing a DNP Program
The thought of choosing a DNP program may seem challenging, but with a bit of research and the following key factors in mind, selecting a great program can be easy.
What to Consider When Choosing a DNP Program
Program Cost— Tuition for DNP programs in the state of North Dakota can vary from program to program

If you are a resident of the state:

North Dakota State University: $347/per unit hour
University of North Dakota: $320/per unit hour

If you are a non-resident of the state:

North Dakota State University: $939/per unit hour
University of North Dakota: $855

Online Options— Of the universities offering DNP programs in the state of North Dakota, one delivers the program to students in an online format. The University of North Dakota's program follows an online delivery format. Students are, however, required to attend an intensive on-campus experience one weekend each semester.
Accreditation— DNP programs in the state of North Dakota are accredited by the Commission on Nursing Education (CCNE).
Clinical Residencies— Clinical residencies and fellowships are often a requirement of DNP programs, and many schools have relationships with area healthcare facilities that offer them. Find out more about residencies in North Dakota by consulting with the DNP faculty at the school of your choice.
Admission & State Licensing or Certification Requirements
Admission
Unencumbered licensure as a registered nurse
Baccalaureate degree in nursing from a nationally accredited nursing program with a minimum GPA of 3.0
Two of the required references are to be from professional colleagues that address clinical competence and ability to succeed in graduate study
Admission interviews with nursing faculty
Documentation of health status, criminal background check, and more
Degree requirements must be completed within seven years after admission
Certification
DNP programs in North Dakota permit students to sit for state board certification after successfully completing the programs. DNP tracks offered at universities in North Dakota allow students to become certified in the majority of advanced practice nursing specialties.
Licensing
In North Dakota, students who've successfully completed the DNP track will need to be licensed by the North Dakota Board of Nursing. Requirements for licensure include:
Completing an application
Pass a criminal background check
Provide transcripts from all educational institutions
Submit verification of specialty certification
Complete fingerprinting
North Dakota BSN to DNP Program Options
Of the universities offering DNP programs in the state of North Dakota, one delivers a BSN to DNP pathway to students. North Dakota State University offers both BSN to DNP and post-masters DNP pathways.
Helpful DNP Agencies and Organizations in North Dakota
RELATED EDUCATION PATHS
List of Campus and Online DNP Programs in North Dakota
Fargo, ND
Grand Forks, ND
430 Oxford St Stop 9025
Grand Forks
,
ND
58202
(701) 777-4174
Are we missing your school's program or need to update information listed? Please contact us so we can make the necessary changes.
Find DNP Programs By City: