Nurse Practitioner Schools in North Dakota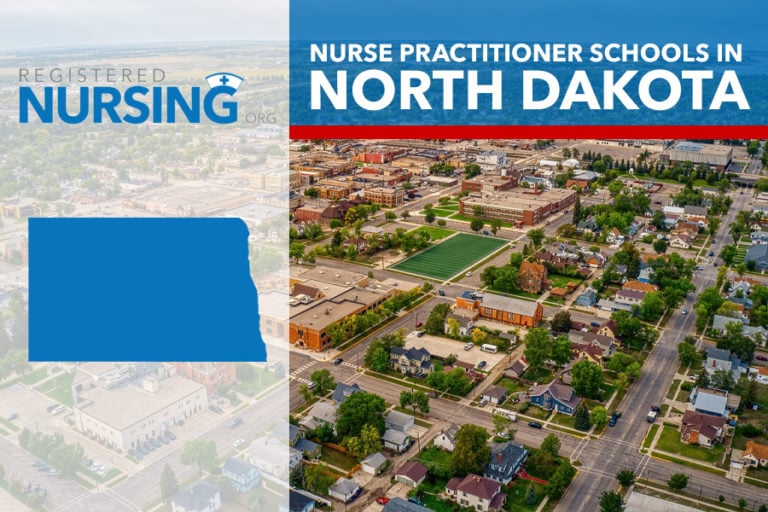 Registered nursing is a career that is rewarding, challenging, and ever-changing. Many registered nurses hope to pursue a higher degree in nursing, to include either a master's degree (MSN) or doctoral degree (DNP) and become nurse practitioners. Nurse practitioners perform many tasks and skills that registered nurses do, but they also can diagnose, treat, and prescribe medications.
In North Dakota, nurse practitioners can practice independently, act as a primary care provider, and prescribe medications without physician involvement.
Choosing a Nurse Practitioner Program
When deciding to return to school for a higher degree in nursing, several factors should be taken into consideration:
Accreditation- Graduate programs should be accredited by the Commission on Collegiate Nursing Education (CCNE) or the Accreditation Commission for Education in Nursing (ACEN) to ensure the school has met or exceeded basic educational standards. North Dakota has three accredited graduate programs available for nurses.
Program Cost-Students in North Dakota can expect to pay an average of $410 per credit hour (for state residents). Out-of-state residents may pay more per credit hours. Students must complete between 35-50 credits to graduate. Books, supplies, living expenses, and other university fees are not included in this average.
Program Length-It can take two to four years to earn a graduate degree, depending on if an MSN or DNP is the goal. This timeline is for full-time students. Additionally, in many cases a bachelor's degree is required, so ADN nurses would need to complete a BSN or bridge program first.
Internship/Externship Opportunities- Nurse practitioner students are required to complete a minimum number of clinical hours in the specialty area of choice. In some states, nurse practitioner "residency" programs are available for graduates to expand their clinical experience further. While North Dakota does not have any of these programs available to date, neighboring Minnesota has four available.
Online/Campus Options- Online or distance learning is beneficial to students who live in rural areas, must work and balance a home life, and who value self-directed and self-paced learning. According to the American Association of Nurse Practitioners, the University of North Dakota offers an MSN with 51-99% distance learning, while North Dakota State University offers a post-master's doctorate of nursing up to 99% distance learning. The University of Mary offers a post-baccalaureate doctorate of nursing at up to 99% distance learning for family nurse practitioners.
Admission and Certification Requirements
Admission requirements to graduate degree programs in North Dakota may include:
A current RN license
Bachelor's degree in nursing
Completion of an interview
GPA of 2.75 or higher (depending on the school)
Submission of transcripts
Completion of a background check
Letters of reference/ recommendations
Submission of a resume/ CV/written letter of statement of purpose
Completion of a statistics course
Minimum of one- year experience as an RN
Meet the school's English language proficiency requirement
Licensing/Certification
Certification in a specialty area can be obtained through the graduate program or from a national certification agency. North Dakota Recognizes the following organization for credentialing:
American Academy of Nurse Practitioners Certification Program
American Association of Critical-Care Nurses (AACN)
American Nurses Credentialing Center
Pediatric Nurse Certification Board
National Certification Corporation
Applicants must meet the following requirements for licensure in North Dakota:
Have a current RN license
Submit evidence of completion of an accredited graduate level APRN program. Transcripts must be sent directly from the APRN program
Provide proof of current specialty certification
Submit a completed "Initial Advanced Practice License with or without Prescriptive Authority Application."
Complete a criminal background check
If applying for prescriptive authority, the NP must complete that section of the application and pay an additional fee
North Dakota Nurse Practitioner Agencies and Organizations
Schools That Offer Nurse Practitioner Programs in North Dakota
North Dakota is a geographically large state. And they only have three graduate programs available for nurses looking to advance their careers. However, the online options available at these schools ensure that nurses in the farthest corners of the state have the opportunity to earn advanced-level degrees and attain their educational and professional goals.
Fargo, ND
Grand Forks, ND
Graduate Certificate ProgramsMSN Programs
430 Oxford St Stop 9025
Grand Forks
,
ND
58202
(701) 777-4174
Are we missing your school's program or need to update information listed? Please contact us so we can make the necessary changes.