Master's in Forensic Nursing (MSN)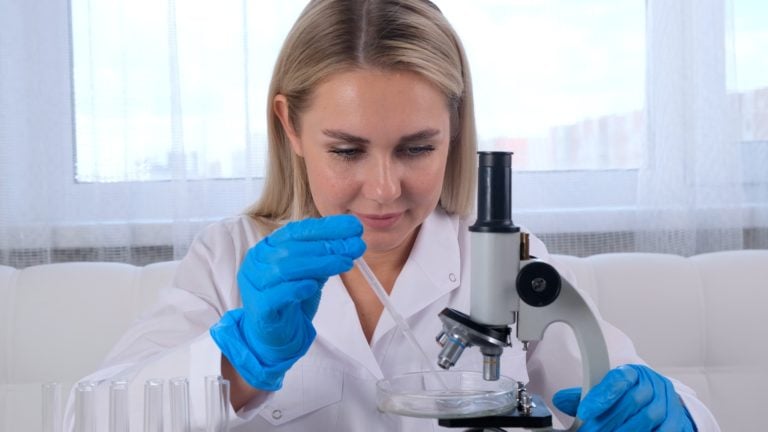 Choosing a Master's in Forensic Nursing Program
Prospective students interested in the forensic nursing pathway have many things to consider when deciding on a program. Paying attention to the following aspects will help to ensure that the right school and program are chosen:
Accreditation
Students should take care to choose a master's in forensic nursing program that is properly accredited. Agencies that approve these types of programs include the Commission on Collegiate Nursing Education (CCNE) and the Accreditation Commission for Education in Nursing (ACEN). Accredited programs must maintain high academic standards, and are regularly re-evaluated, making them trustworthy programs that carry weight on a resume.
Program Cost
Graduate programs in forensic nursing can vary dramatically when it comes to cost. Aside from the main expense of tuition, students will be responsible for school fees, textbooks, and other course materials. To provide an example, Aspen University's RN to MSN bridge program in forensic nursing costs an estimated $18,525 in tuition, not including fees. It's important to remember that costs may differ between full master's degree programs in forensic nursing and shorter certificate programs.
Program Length
Masters-level forensic nursing programs can require anywhere from 36 to 51 credit hours. Generally, students can finish the program in two years of full-time study or three years of part-time study. Some schools also offer forensic nursing certificate programs, which are shorter in length and designed for BSN or MSN educated nurses to specialize in the field. These typically require around 20 credits to complete.
Internship/Externship Opportunities
As hands-on residencies are required as part of the forensic nursing curriculum, students should research which hospitals and facilities their school of choice is affiliated with. Many schools help students find and fulfill any internship/externship requirements, and may be able to assist students who are employed by working them around their schedules.
Online/Campus Options
Students generally have the choice of completing their forensic nursing programs online or in a traditional on-site classroom format. There are often also "hybrid" programs that combine online courses with limited campus visits. Students should inquire with their school of choice to find out all the program delivery options before they enroll.
Learn about post-master's forensic nursing certificate programs.
Forensic Nursing Curriculum & Classes
Since the 1980s when the specialty took root, graduate-level forensic nursing programs have slowly but steadily cropped up across the nation. The popularity of crime shows such as CSI and Law & Order: SVU has introduced many prospective students to the possibility of working in an environment that merges medicine with the legal system. However, the reality of pursuing a career in forensic nursing is much more complex than a television show could ever portray. To get an idea about what kind of coursework is involved in a forensic nursing master's degree, take a look at the classes required as part of Duquesne University's online, 12-course MSN in Forensic Nursing program:
Forensic Science and the Legal System
Criminal Law and the Courts
Advanced Forensic Nursing I: Theory and Practice
Advanced Forensic Nursing II: Program Development, Leadership & Policy
Many MSN-level forensic nursing programs also give students the option to take the necessary courses to obtain the Sexual Assault Nurse Examiner (SANE) certification.
Online Forensic Nursing Programs
With most prospective post-grad students working full-time, schools have had to start offering more online options to keep up with demand. For those who are used to traditional learning environments, this may sound like a dubious option. However, there are many benefits to enrolling in an online forensic nursing program.
Advantages of Online Programs
The sheer convenience and ease of online forensic nursing programs make them very popular with students. With just a computer and internet connection, students can move through the coursework wherever, and whenever, they wish. Those working or with families can make earning a forensic nursing degree work with this option. Online programs can also be less expensive, as commuting and parking expenses are basically eliminated. Those choosing the online pathway should keep in mind, however, that any clinical residencies or internships will need to be completed in person, but are usually able to be arranged in the student's local area.
Admissions and Certification Requirements
While admissions requirements for graduate forensic nursing programs vary by school, most will include the following:
Must have completed a BSN degree
Active RN license in the United States
Minimum cumulative undergrad GPA of 3.0
Submit official transcripts from all colleges attended
Submit an essay/personal statement outlining interest and goals in the field
Professional letters of recommendation
Resume/CV
The following certification options are available to forensic nurses through the International Association of Forensic Nurses, and are recognized by the American Nurses Credentialing Center (ANCC):
Sexual Assault Nurse Examiner-Adult/Adolescent (SANE A)
Sexual Assault Nurse Examiner-Pediatric (SANE P)
These certification examinations are available to those who hold an RN license and preferably have at least two years of working experience. The exams are offered twice a year, in April and September. For more information about the SANE certification exams, including information on renewal, visit the FAQ section of IAFN's certification page.
List of Forensic Nursing Programs
We have compiled a comprehensive list of forensic nursing programs across the nation to help students enter this in-demand subspecialty of nursing.
Jump to Your State Listings
Alabama
Colorado
Florida
Iowa
Michigan
New Jersey
Ohio
Pennsylvania
Texas
Are we missing your school's program or need to update information listed? Please contact us so we can make the necessary changes.