EMT to RN Programs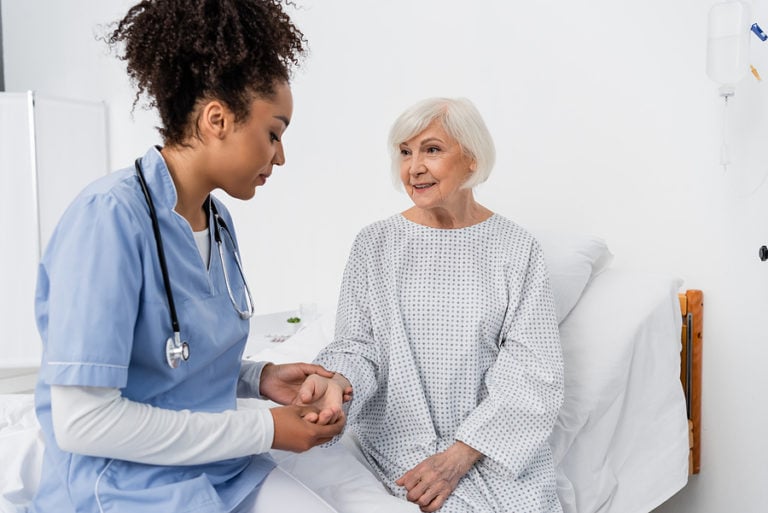 Emergency medical technicians (EMT) and paramedics both serve important roles in their communities. The two terms are often used interchangeably, although they are not the same profession. The EMT may consider their position as a stepping stone in their career, with the goal of becoming a registered nurse (RN). Some schools offer an opportunity for EMTs to complete the requirements to become registered nurses through specialized, accelerated bridge programs.
What Is the Difference Between an EMT and a Paramedic?
Both the EMT and the paramedic work in a variety of healthcare settings. They both complete certification programs in the state where they work and both provide onsite emergency care.
The differences between EMTs and paramedics include the required education, training level, and the scope of practice for people who work in these professions.
The paramedic receives considerably more training and educational hours compared to the education required of the EMT. Like a paramedic, the EMT may use their education and training as a career step towards pursuing their goal of becoming a nurse.
How Does an EMT Become an RN?
Several schools across the country offer programs for EMTs to make the transition to RN careers.
Educational programs offered to EMTs often include the opportunity to complete the nursing program in a shorter time than traditional nursing program students, utilizing the EMT's prior training and education. Many of these programs are similar to the Paramedic to RN bridge program tracks.
Education and Certifications
EMTs can enroll in an educational program designed specifically to advance them into an RN career. The Marian University Accelerated Nursing Program, for example, offers EMTs the opportunity to complete the program at either their Indianapolis or Nashville location. The rigorous program combines both online and onsite curricula and offers students the opportunity to complete the Accelerated Bachelor of Science in Nursing (ABSN) program in as little as 16 months. Students complete the prerequisites in an accelerated online format.
Upon completion of an approved program, EMTs have the same opportunity to sit for the NCLEX-RN exam to become registered nurses (RNs) as traditional students. The NCLEX-RN exam is required in order for an EMT to become licensed as an RN.
Are There Online EMT to RN Programs?
Several colleges offer an associate's degree or bachelor's degree program that allows students to easily transition from an EMT to an RN, usually in a hybrid format. The hands-on clinical and other requirements of individual schools likely mean that there is no 100 percent online EMT to RN programs.
Pellissippi State Community College offers the bridge pathway for students with an EMT-P certification to complete an Associate of Applied Science in Nursing program. EMTs receive credit for some required courses. The students complete lectures online and complete their clinical and labs onsite.
EMT to RN Bridge and Accelerated Program Requirements
Schools likely have similar admissions requirements for EMTs to complete either the ADN or ABSN program.
Utica University offers a 16-month ABSN program for EMTs to transition to a nursing career. Students complete the Prerequisite Priority Program and coursework online and complete labs and clinicals onsite.
Applicants must have a minimum of 2.8 GPA with a 3.0 GPA in the sciences.
Admissions requirements also include at least one of the following:
Completion of a minimum of 65 credit hours of non-nursing college credits
Completion of a non-nursing bachelor's degree from an accredited institution
A conferred associate degree from an accredited institution
Classes and Courses
EMT to RN programs consist of many of the core nursing courses that traditional RN students take, but credit is given for certain prior medical training courses that EMTs have already completed – thus making these programs shorter. South Texas College, for instance, offers an Associate Degree Nursing (ADN) EMT-Paramedic Transition track. Sample courses include:
Professional Nursing Skills for Articulating Students
Mental Health Nursing
Complex Concepts of Adult Health
Professional Nursing: Leadership & Management
Length and Cost of EMT to RN Programs
The length of an EMT to RN program may be similar among different schools, with the exception of whether the EMT pursues an associate's degree or bachelor's degree. The length of the South Texas College program is 60-credit hours, while the Marian University program consists of 64-credit-hours of study. Around 16 months is the typical length of the average accelerated EMT to RN bridge program.
Program costs will also vary among different schools. The total estimated tuition for the Utica College ABSN program is $58,548, while the South Texas College ADN program costs $17,434.
Job Outlook for EMTs Becoming RNs
The Bureau of Labor Statistics (BLS) indicates that the job growth of EMTs through 2030 is 11 percent, or faster than the average for all occupations. The job growth for RNs is 9 percent, which is considered average job growth.
New RNs with EMT experience may be especially well-suited to work in areas such as the emergency department, trauma or critical care, or oncology nursing.
EMT to RN Salary Comparison
The 2020 annual median pay for EMTs was $36,650, while the pay for RNs was $75,330 per year. Salary may vary according to work locations.