How To Become a Paramedic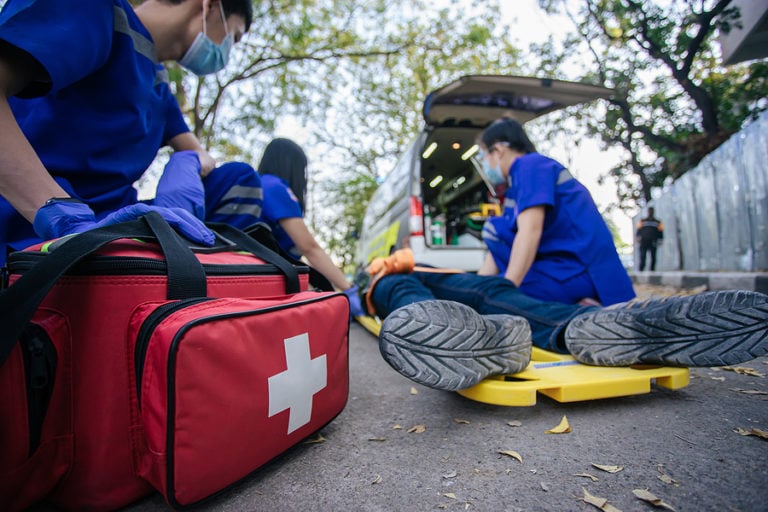 What Is a Paramedic?
If you are interested in medicine and know you have the type of personality to calmly maneuver emergencies, but don't think medical school is the right fit, pursuing a career as a Paramedic may be the perfect route. This type of role allows you to become trained in advanced emergency services and will provide a very different job experience from day to day, depending on the calls you receive.
Becoming a Paramedic
To start, the easiest requirement to "achieve" is that you must be at least 18 years old and have a high school diploma or GED. Then there are required courses, exams, and experiences to fulfill to be able to successfully apply for a job as a paramedic. In addition to the education and certification requirements outlined below, most paramedic jobs will often want to see some work experience as an EMT, but programs and states may vary, so it's good to check ahead of time to see what is needed where you live.
What Are the Education Requirements?
In addition to your high school diploma or GED, paramedic jobs will require that you first complete a state-approved EMT course, as well as a CAAHEP-accredited Paramedic program. EMT courses may take less than six months, but Paramedic courses can take up to a year to complete and typically require 1,200 to 1,800 hours.
RELATED: Paramedic to RN Programs
Are Any Certifications or Licenses Needed?
Paramedics are similar to other clinical jobs in the healthcare arena, as you will need to maintain active licensure in order to operate. Before applying to any jobs, you'll need to have your certification and/or license finalized. To be nationally certified as a paramedic, you will need to already be certified at the EMT level, which means you'll have to pass your state-approved EMT course and exam and possess certification in CPR-Basic Life Support. With these in hand, you can apply to for the National Paramedic Certification through the National Registry for Emergency Medical Technicians. Once certified, you can apply for licensure, which will depend on where you live as requirements vary by state. The best course of action while pursuing certification would be to call the EMS agency within your state to find out more about licensing requirements.
Where Do Paramedics Work?
Since certification and licensure is monitored nationally, paramedics can easily work in nearly any part of the country. While most find work at an ambulance service or a hospital in a traditional role, there are other types of environments that need someone with these types of rapid response/basic life support skills. Fire departments often need paramedics on staff, either riding the fire truck or a separate ambulance, and children's camps or programs may need a paramedic available seasonally. Another option for longer-term career opportunities is providing advice as a consultant on emergency medical services policy at either the state or federal level through departments of transportation.
What Does a Paramedic Do?
Basic job duties for first responders, no matter what level, including responding to emergency calls, providing life-saving interventions to the critically ill and injured, and securely transporting patients to a medical facility. All first responders focus on life-support interventions in scenarios that demand emergency medical care, which could include administering CPR, applying tourniquets, or treating severe wounds. In addition to these basic skills, paramedics are also trained in and can deliver more advanced services such as starting an intravenous line or intubating a patient for invasive respiratory procedures using airway devices. It can be a very stressful and high-stakes job, so those interested in this field will have to be comfortable in a variety of dynamic situations and dealing with occasional loss and uncertainty.
What Are the Roles & Duties of a Paramedic?
Provides life-saving emergency care, to include administering oxygen, opening an airway, controlling bleeding, assisting in childbirth, and managing conditions in an acute state, such as diabetic, allergic, or cardiac emergencies
Delivers advanced care if needed, to include starting an intravenous line, intubating a patient, or ECG monitoring and interpretation
Completes all patient care reports for each response with appropriate and complete documentation and billing information
Monitors mechanical condition of ambulance and inventory to ensure equipment is working and supplies are in order before each call
Must also be able to lift a stretcher (up to 125 lbs.) and place in an ambulance.
Paramedic Salary & Employment
As of May 2018, the average annual salary for EMTs and Paramedics was $34,320. While they are grouped together within the Bureau of Labor Statistics, paramedics typically make more on average than EMTs, with a salary range of between $38,000 and $48,000. Jobs in more urban parts of the country will likely pay more as well. Generally, the job outlook for this category is favorable, projected to grow 7% from 2018 to 2028, slightly faster than other sectors. Many paramedics will often work odd hours, outside of the typical 9-5 window, and may need to work overtime. Since emergencies such as car crashes, violence, and health issues such as heart attacks are sure to continue, there will be an ongoing need for this type of trained emergency personnel.
Helpful Organizations, Societies, Agencies, and Links