RN Interview Tips and Advice
After spending days or weeks perfecting the resume and hours filling out online applications, it will feel exhilarating to get a call to interview for the first nursing position!
As such, it's important to spend some time preparing both mentally and physically for the Big Day. Donning the right attire, getting in a job interview mindset, and preparing for what to say are key factors for a successful nursing job interview.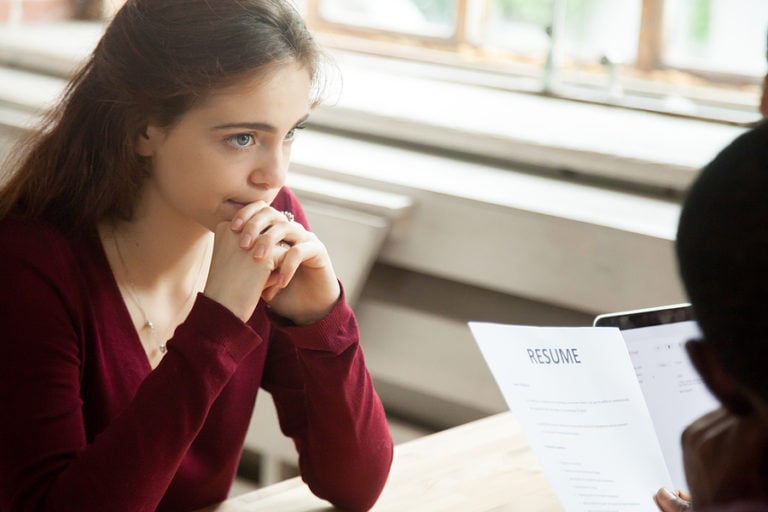 Dressing the Part
The nursing interview is all about leaving a memorable first impression – in a good way. Dressing and behaving in a professional, positive manner will help the new nursing graduate to accomplish this goal.
Guidelines for interview attire:
Dress in professional business attire, such as a matching suit with a jacket and button-down collared shirt or blouse. Ladies can wear a knee-length skirt with optional pantyhose. Ties are generally preferred for men.
Avoid flashy colors or patterns, and choose traditional or neutral colors such as navy blue, tan, beige, or shades of brown and grey.
Don't wear scrubs to the job interview.
Overall dress style should be modest without revealing too much skin or tattoos.
Clothing items should be clean and pressed without stains, tears, or wrinkles. They should fit properly, so try them on in advance.
Clean and scuff-free dress shoes should be worn with no tennis shoes, sneakers, sandals, or open-toed footwear. For men, the color of their socks should match their dress shoes.
Minimal jewelry should be worn; leave the nose ring, dangly earrings, and bulky necklaces at home.
Hair styles should be clean and crisp. Avoid getting a new hairdo or color on the day of the interview.
Wear little to no perfumes, colognes, or aftershave; remember less is more when it comes to fragrances in a medical setting.
Men should be cleanly shaven or have well-groomed facial hair (if relevant).
Nails should be short and clean with neutral-colored polish if any.
Though more employers are adopting a business casual dress code, interviews are still usually business professional. If you're not sure, you can call and ask ahead of time.
As a nurse, you are a care provider, and the way you look and dress should put patients and their families at ease. Blue spikey hair with big flashy jewelry does not make this friendly impression. Err on the side of professionalism if you are not sure.
Gear Up Mentally
Nursing schools have a way of molding students into humble and gracious new graduate nurses. Perhaps it's the intensive schedules, strict instructors, and high GPA demands.
Most nursing students are ecstatic to have finished school and clinicals, but anxious to work as a real nurse! That's okay. Let's be honest, a nursing graduate knows the basics of patient safety, the body, and diseases, but the real learning hasn't even begun.
Attitude Is (Almost) Everything
Interviewers know full well that nursing students (no matter how amazing the GPA, how fantastic the references, and how glorious the school!) are not equipped to work independently. Six months of on-unit training is often needed.
Rather than trying to impress their interviewer with their limited clinical experience, new nursing grads should instead show their ability to adapt, problem-solve and take direction in a fast-paced environment.
The worst kind of new graduate nurse to hire and train is the know-it-all, smarty-pants type. It's one thing to study hard, but it is quite another for new nurses to think they are more knowledgeable than those trying to teach them. A new nurse with a bad attitude simply will not last.
Research, Read, and Review
In addition to conveying an eager-to-learn perspective, the new nurse should conduct research on the hospital where they will be interviewing. What is the hospital known for and what units are most revered? Does it have a religious affiliation? Is it a teaching hospital, a private hospital, or a state-run facility? Research can provide some insight into what the graduate can expect.
Before the interview, the new nurse must check their attitude and demonstrate a willingness to learn. They should also conduct some research about the facility and the department so they are prepared going in.
During the Interview
Once the outfit is chosen, hair is done, and attitude is adjusted, be sure to:
Know exactly where you are going. If you are interviewing at a large medical complex, it can be tough to navigate parking, find the correct building, and then locate the unit where you'll be interviewing. Map this out ahead of time so you're not lost wandering the halls.
Plan to arrive about 10 minutes early. This demonstrates eagerness and punctuality, as well as respect for the interviewer's time.
Once the interviewer arrives, smile, shake their hand, and make and maintain eye contact to show confidence and social skills. Avoid fake smiles and try to be as natural and professional as possible despite feeling a little nervous.
Keep answers on point and focused on the question. Try not to get off track and avoid ums, likes, and other filler words.
Don't use profanity or slang; additionally, fibbing, exaggerating, or boasting about your experiences won't be appreciated.
Bring a few copies of your resume to distribute if asked as well as a small notebook and pen to jot down any notes or questions.
Many types of nursing interviews are possible. The new graduate may sit in a big room with several nursing staff for a panel interview. They might also be interviewed by different nurses or managers one at a time. Some medical centers may have candidates interview with HR first to review basic credentials. The candidate should expect the interviewers to use a notebook or laptop from which to ask questions and take notes.
In some ways, the new graduate nurse has a unique advantage over experienced ones as they aren't expected to have much technical, clinical, patient care, or leadership experience.
Instead, when answering questions, the new grad can show knowledge through examples and relay how they are receptive to on-the-job training. They can also share character traits such as temperance, dedication, thoroughness, and time management.
10 Sample Interview Questions and Answers
Though the possibilities are nearly endless, here are some common questions asked during a new nursing interview and ways of answering them. Prepare some answers and examples ahead of time but try not to sound too rehearsed.
1. Why do you believe you are the best candidate for this role OR why should we hire you?
This is a good opportunity for the new nursing graduate to discuss their skills, traits, and ambitions. Answers should relate to the job description as much as possible and include both clinical and non-clinical responses. For instance, "Wound care is my specialty and I know I would be doing this a lot in this role. In school, I gained comfort relaying to patients how to care for their wounds and look out for infections."
2. Where do you see yourself in 5 years? In 2 years?

This question is all about long and short-term career goals, and if your aspirations fit within the organization's objectives. If you aspire to continue your education and certifications, mention it here and relate it to the position for which you are applying. You can also talk about a specific area in which you'd like to work, such as pediatrics or oncology. Hospitals want to hire nurses they think will stick around.
3. How have clinical rotations prepared you for nursing?
Though the job interview for new nurses is less about clinical experiences, they may ask a few questions to see how ready you are to provide direct patient care. Give an answer or two describing the hands-on experience you performed, the outcome, and what you learned from it. Try to demonstrate that you feel calm rather than overwhelmed in performing such work.
4. Why did you choose to become an RN?

Best to answer this question honestly but avoid saying anything about money or family pressure. Feeling a "soul's calling" can be an appropriate response for those who have cared for a sick family member, though try not to get overly emotional. Discussing how making patients feel better, helping people, or wanting to contribute in a positive way can also be good. Though there's no "right answer," practicing may help provide a clear response without rambling.

5. Tell me about a situation where a family, patient, or colleague was difficult to deal with and how did you respond?
The interviewer wants to understand how frustration affects your behavior, and if you can remain professional. Did you demonstrate good communication skills and respect even if it was hard to do so? Were you able to de-escalate the situation and accomplish the patient's treatment goal? Focus on how you resolved or calmed down the situation, even if that means you asked a senior nurse for help doing so. Avoid disparaging the irate person.
6. Tell me about a time you were greatly challenged and wanted to quit.

The new position will be challenging, and the interviewer wants to understand if you will stick with it or give up. Nursing school likely has good examples of a time you felt like quitting but didn't. Now you feel such a sense of accomplishment that you're glad you stuck it out. Be honest about your situation and talk about how you persevered despite these challenges.
7. What are your strengths?

This question offers a great opportunity to discuss your best qualities. If possible, try to gear them toward the position you are interviewing for. During clinicals, were you great at time management? End-of-life comfort care? Memorizing and applying new information? Being a ray of sunshine for a lonely patient?
8. What are your weaknesses?

Every person has weaknesses, and the interviewers want to understand how this could impact you as a nurse. Make weaknesses sound like strengths, if possible. For example, if you are a perfectionist, you might drive yourself a little nuts being sure tasks are done correctly and beautifully (such as wound care dressings).
9. Do you work best with a team or alone?

Most nursing jobs require teamwork and cooperation. Express how much you gain and learn when working with others on a project and give an example. You can also discuss how working together shares the load so one person is not overly burdened and give an example of how this was the case.
10. What would you do if you saw a colleague do something that violated policy or put a patient at risk?

While this question sounds a little tricky because you're not sure if "tattling" is a good answer, remember that you are obligated to report an employee who is breaking policy or putting someone at risk. Relay to the interviewer how you would report such actions ASAP.
5 Questions to Ask During the Interview
Asking questions during the interview portrays interest and preparation. Remember, you are interviewing them as well. Here are 5 suggested questions to ask during the interview.
1. What is the work culture like at this hospital/unit?
Each medical center and unit has its own informal way of doing things. The past few years have shown hospitals and the world how important nurses are. As such, nurses want to have a voice and say in policy, procedure, and patient care. Does the hospital's culture value nurses' opinions? Do they promote from within, encourage discussion, or just expect veteran nurses to follow orders? This question helps reveal the new grad nurse's values.
2. What are the expectations for new graduate nurses?
Here you're showing that you want to prepare yourself to meet the employer's expectations and that you are forward-looking and a critical thinker. The question also allows the interviewer to share some insight regarding the nursing and leadership team, the reporting hierarchy, and the organizational structure.
3. How is the training for new graduate nurses structured?
If this hasn't been explained already, be sure to ask about orientation or training. How long does it last, what does it entail, and are you allowed a longer preceptorship if needed? What can a new nurse do to ensure their training is a success?
4. Are there opportunities for advancement down the road?
Show the interviewer that you want to work hard and pick up extra shifts to learn as much as possible. Be enthusiastic without appearing as if you are just trying to climb the proverbial ladder. You could also ask about becoming a charge nurse or what is expected of unit leads.
5. Tell me about scheduling requirements.
Employers typically expect that a new graduate is willing to work any shift. Though you can ask about expectations regarding shifts, take care not to sound as if you don't want to work certain shifts (such as weekends or nights). Ask how many nurses work per shift, nurse-to-patient ratios, nurse-to-physician ratios, etc.
5 Questions to Avoid During the Interview
Saying the right thing is just as important as not saying the wrong thing. Here are some questions to avoid during an interview.
1. Will there be a drug test?
This leads the interviewer to think the new graduate may not pass a drug test. The answer, by the way, for any nursing job, is "Yes!"
2. How soon can I put in a request for time off?
Avoid anything like this during the interview. You will find out all these processes and more during orientation. Unless you are getting married or have a funeral you can't miss, plan on working your assigned shift, at least for the orientation and internship.
3. Did I get the job?
The decision to hire a new nurse is usually a joint decision made by managers across a number of different departments. As such, this question is not appropriate as the interviewer doesn't yet know the answer. Be patient. The facility will let you know.
4. Will you hire my nursing school friends?
If you are hired and become an official employee, have your unemployed nursing school friends apply with your name as a reference. Until then, it is too soon to ask this question.
5. Where and when can employees smoke?
Cigarette smoking, including electronic cigarettes, is prohibited on just about every hospital campus. Staff who smoke usually walk across the street. Smoking tends to be unattractive to other healthcare personnel and patients. It's best to avoid smoking before the interview (so there's no smell) and avoid talking about smoking during the interview.
After the Interview
The interview is over and the stress is off! While you wait to hear back from the hiring team, there are a few things you can do to wrap up the experience.
Send a Thank You Note
It seems corny and cliche, but taking the time to send a handwritten thank you note speaks volumes about the nursing graduate's manners and how much the opportunity to interview was appreciated. Write a short blurb about a personal sentiment you may have shared or reference something funny that came up during the interview. This will help differentiate you from other candidates.
Keep Your Head Up
The waiting game after a job interview can be rough, but a new nursing graduate who follows these tips has a great chance of landing the job. Remember to be humble, eager, and ready to learn, and drop any cocky attitude. The interviewers liked the resume enough to call, so show them you're ready to take on the job! But, if it doesn't happen, try not to get discouraged. The right job is waiting for you!