Medical Assistant Programs Online
Medical assisting is a fantastic choice for those looking to begin a career in the medical field. Medical assistants (MAs) not only enjoy taking care of patients directly, but they also help manage medical offices by performing a variety of administrative tasks. Additionally, medical assisting is an in-demand career; according to the U.S. Bureau of Labor Statistics, the demand for medical assistants is expected to increase 23% until 2028 - a higher-than-average increase among all professions.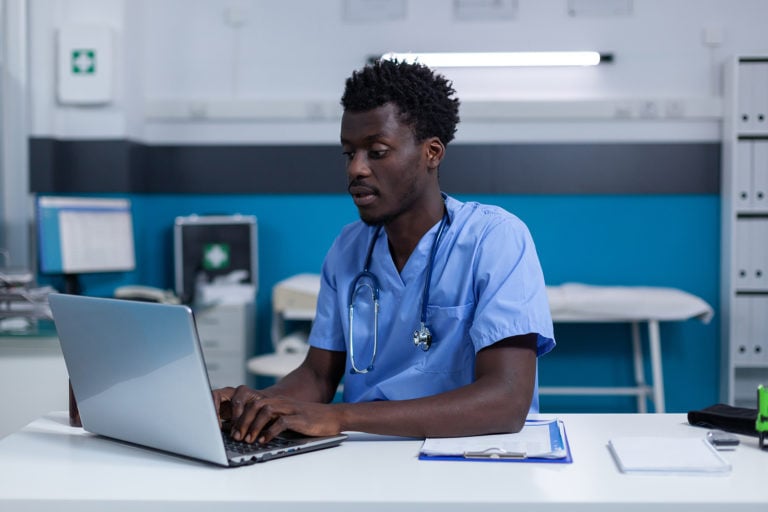 Medical assisting programs are ideal for those looking for an entry-level healthcare career that has room to grow. They are quick, and economical, and pave the way for future advancement to LPN/LVN or registered nurse careers down the line. Online program options have made it even easier to get started on a medical assisting education.
Sponsored Listings
Choosing an Online Medical Assistant Program
More and more colleges, universities, and vocational schools are offering online programs to help support students in their journey to a new career. The following are factors to consider when researching online medical assisting programs:
Advantages of Online Programs
One of the main advantages of an online MA program is the flexibility it offers. Online programs allow students to learn at their own pace and at any time. This is beneficial for those needing to work while attending school, and for those who must balance a family along with school obligations. Additionally, students have a wider range of schools to choose from as they can select an out-of-state school if needed. Moreover, students don't have to worry about taking extra time to commute as well as the extra cost of transportation/gas, parking, etc.
RELATED: Medical Assistant Salary – What To Expect
Program Accreditation
Students should be careful when selecting an online program – more and more online programs are popping up, so students need to ensure the program they choose is properly accredited. The program should be accredited by a reputable agency such as the Accrediting Bureau of Health Education Schools (ABHES) or the Commission on Accreditation of Allied Health Education Programs (CAAHEP). Selecting a program without proper accreditation could jeopardize future employment – a risk not worth taking.
Program Type
Students interested in medical assisting have a few different online educational routes they can choose from, depending on their career goals and needs.
Certificate/Diploma
Medical assistant schools tend to use these terms interchangeably, but they are essentially the same thing. Certificates and diplomas in medical assisting consist of a curriculum of basic medical assisting courses and generally take less than a year to complete. They are commonly found in technical/vocational schools, community colleges, and some universities.
Associate Degree
The associate degree program in medical assisting also offers specialized medical assisting coursework but also includes general education courses. Due to this, associate degree MA programs tend to be a little longer compared to certificate/diploma programs. The advantage of the associate degree program is that some employers may favor this type of degree, leading to more employment opportunities and even higher salaries. .
Medical Administrative Assistant Program
While most traditional medical assistant programs include some training on administrative duties, a more niche program for those interested in the admin side of the profession is the Medical Administrative Assistant program. This type of program focuses more on front-office managerial and administrative duties of healthcare practices rather than back-office patient care. A good medical administrative assistant program will prepare graduates to take the National Healthcare Association's Certified Medical Administrative Assistant (CMAA) exam and possibly even the Certified Electronic Health Records Specialist (CEHRS) exam.
Sponsored Listings
Costs and Length
The cost of an online MA program is usually the same as on-campus options; however, some schools may charge out-of-state tuition. Students are highly encouraged to view the tuition and fees on the school's website. Again, while online programs allow for a broader selection of schools, it's important to understand the total costs, including any state residency requirements. Prospective students should research not just tuition fees, but also additional expenses (such as books, supplies, and mandatory school fees), and financial aid options before enrolling in any MA program.
The length of time it takes to complete an online MA program may be shorter than traditional campus-based programs, depending on the school. Some schools offer accelerated programs and courses which reduces the time it takes to earn a certificate. On average, it can take about nine months to a year to complete an MA certificate or diploma program. Those pursuing an associate degree medical assistant program may need to take additional coursework, thus the program is often around 1.5-2 years in length.
Medical Assistant Classes & Online Coursework
Specific courses in a medical assisting program can vary between schools, but the core concepts remain consistent. Medical assistants must learn both clinical and administrative tasks. Additionally, prerequisite education may also be required. General education requirements that may be required to enroll in an MA program include:
English writing
College-level algebra
Courses in humanities, psychology, anatomy/physiology, or sociology
Computer literacy
Once in the MA program, coursework includes concepts in:
Anatomy (if not completed previously)
Medical terminology
Law and Ethics
General medical assisting concepts (administering injections, taking vital signs, taking a medical history, simple wound care, etc.)
Medical insurance and coding
Telephone procedures
Patient reception
Documentation
Scheduling
It's important to note that online MA programs often still require some hands-on clinical training through externships at healthcare facilities in the student's local area. Inquire with your school of choice for more information regarding clinical requirements.
Medical Assistant Admission Requirements
Admission to medical assistant programs can also vary between schools, but general admission requirements may include:
High school diploma or GED
Minimum age of 18
Proficient English reading and writing skills
Proof of residency
TB clearance
Meet vaccine requirements
Additionally, some schools require certain courses, such as medical terminology, before admission into an MA program, while some incorporate that into the program curriculum. For those seeking an associate's degree MA program, other courses may be required.
RELATED: Medical Assistant (MA) to Registered Nurse (RN)
List of Online Medical Assistant Programs
Ready to get started on your medical assisting journey? Browse the list below to find an accredited online Medical Assistant program and take the first step toward a rewarding healthcare career!
Sponsored Listings
Jump to Your State Listings
Alaska
Arkansas
California
Florida
Georgia
Louisiana
Pennsylvania
Wisconsin
Are we missing your school's program or need to update information listed? Please contact us so we can make the necessary changes.