Nurse Anesthetist (CRNA)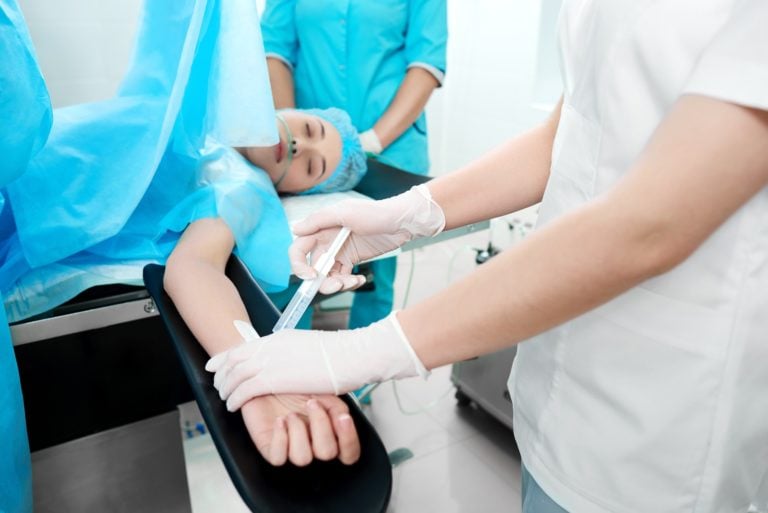 What Is a Nurse Anesthetist?
A certified registered nurse anesthetist (CRNA) is an advanced-practice nurse who is certified in anesthesia. According to the American Association of Nurse Anesthetists (AANA), nurses first gave anesthesia to wounded soldiers during the Civil War. Today, nurse anesthetists work in a variety of settings such as:
Hospitals

Operating rooms
Obstetric care

Outpatient surgery centers
Plastic surgery centers
Dental offices
Pain management centers
Public Health centers
The difference between certified registered nurse anesthetists and anesthesiologists is that CRNAs are graduate degree-level nurses, and anesthesiologists are medical doctors. In many states, CRNAs can practice without physician supervision. According to the AANA, when anesthesia is administered by a certified nurse anesthetist, it is considered nursing practice. If administered by an anesthesiologist, it is considered practicing medicine. However, anesthesia is administered the same way by both professionals.
Why Are Certified Registered Nurse Anesthetists So Important?
Certified registered nurse anesthetists are valuable members of the health care team. Not only do they work in busy hospitals in metropolitan areas, but they can also serve as primary anesthesia providers in rural and underserved communities. Their presence in these communities allows for improved access to treatments while providing competent, quality care.
Nurse anesthetists also help reduce health care costs. Since they do not always require physician supervision, depending on the state in which they practice, they are sometimes the only anesthesia provider available. Organizations compensate CRNAs less than anesthesiologists, which reduces the cost to the organization as well as insurers, thereby reducing the cost to the patients.
Certified registered nurse anesthetists start off as registered nurses. A significant role of the RN is to provide education. CRNAs thoroughly educate patients and families about specific anesthesia and treatments, including side effects and recovery. Comprehensive education can enhance recovery and lead to higher patient satisfaction.
How to Become a Nurse Anesthetist
Nurses interested in becoming nurse anesthetists should value autonomy and independence. They should be able to:
Multitask
Pay close attention to detail
Work well under pressure
Work collaboratively with different personality types
Be flexible, and adapt to changing situations
Prioritize responsibilities
What Are the Education Requirements for Nurse Anesthetists?
CRNAs are advanced practice registered nurses who have completed a Master's of Science in Nursing (MSN) or doctoral degree program (DNP). Currently, the AANA plans to require all CRNA programs to change from MSN to DNP programs by 2025.
To advance to a master's degree, a student must first complete an accredited nursing program and obtain a bachelor's degree in nursing (BSN). Successful completion of the NCLEX-RN is needed for licensure. The length of time to become a Certified Registered Nurse Anesthetist (CRNA) may vary depending on the program. However, these are the minimum requirements:
A Bachelor of Science degree in nursing (BSN) or another related field from an accredited program
An unrestricted license as a registered nurse
A minimum of one year (full-time or part-time equivalent) experience as an RN in a critical care setting
Completion of, at minimum, a master's degree from an accredited nurse anesthesia educational program
Nurse anesthesia programs are accredited by the Council on Accreditation of Nurse Anesthesia Education Programs (COA). There are currently 121 accredited nurse anesthesia programs in the US and Puerto Rico.
A nurse anesthesia program ranges anywhere from 24-51 months, depending on the university, and includes clinical experience as well as didactic classroom hours. On average, it takes a minimum of 7 to 8.5 years of experience and education to become a CRNA.
Recertification and continuing education for CRNA's is different than other APRNs. The recertification program for nurse anesthetists is called the Continued Professional Certification (CPC) Program and is administered by the National Board of Certification and Recertification for Nurse Anesthetists (NBCRNA). The requirement for continuing education (CE) credit is robust; CRNA's must meet 60 general CE credits and an additional 40 CE credits covering four content areas including airway, pharmacology, physiology and pathophysiology, and anesthesia equipment along with a comprehensive certification exam every eight years.
Depending on the school, the curriculum for CRNAs can vary slightly, but core concepts include:
Advanced pathophysiology in anesthesia
Advanced health assessment for nurse anesthesia
Principles of anesthesia
Clinical anesthesia
Research
Are Any Certifications or Credentials Needed?
After graduating from an advanced-degree program, nurses can become credentialed as CRNAs. The National Board of Certification & Recertification of Nurse Anesthetists (NBCRNA) offers certification by examination. The exam is of variable length and designed to ensure the competency of entry-level CRNAs. The NBCRNA provides a handbook outlining detailed eligibility requirements to take the exam. General requirements include:
Hold an active, unrestricted RN license
Hold a graduate degree from an accredited nurse anesthetist program
Submit a record of academic and clinical experience which must:

Be submitted by the nurse anesthesia educational program administrator
Be signed by both the administrator and candidate
Accurately show the minimum requirements have been met
Licensure and certification are different—certification means the CRNA is competent to deliver anesthesia in a health care setting; licensure means they are legally permitted to practice in their state of residence. State nursing boards list the requirements for testing and can vary from state to state. The CRNA can, after meeting the specified requirements, apply to the state board for licensure.
Certified registered nurse anesthetist is a specialty in and of itself. There is no further delineation in practice per se, other than focus areas. For example, there is no specific "Pediatric Certified Registered Nurse Anesthetist" or "Obstetric Certified Registered Nurse Anesthetist" and so on. However, CRNAs can complete clinical rotations in various care areas to gain skills. For example, they may work in:
Children's hospitals
Obstetric/ labor and delivery units
Cardiothoracic care areas
Post-graduate CRNAs can also participate in accredited fellowship programs (Updated Jan 5, 2021) that focus on certain populations, for example:
Trauma/critical care
Acute surgical pain management
Advanced pain management
The NBCRNA offers a voluntary sub-specialty certification in nonsurgical pain management. CRNAs who obtain certification are competent in neural or neuraxial blocks, alternative techniques for the management of acute and chronic pain (pharmacologic and non-pharmacologic). Criteria for examination include:
Unrestricted RN/APRN license
Current CRNA certification
At least two years of nurse anesthetist clinical experience
Attestation of being actively engaged in nurse anesthesia practice
Evidence of completion of the education in specific pain management areas
Provide three letters of support from colleagues who have observed the practitioner's techniques
Successful completion of a simulation course
Successful completion of the certification exam
Nurse Anesthetists FAQs
Nurse Practitioners (NPs) and nurse anesthetists are similar in that they are both advanced-practice nurses. However, they do differ in terms of education, job duties/roles, and salary.
Both NPs and certified registered nurse anesthetists (CRNAs) start off in a master's or doctorate program to earn their advanced-practice degree. After foundation courses are completed, students complete courses pertaining to their specialty "track". For example, NP students focus on adult or pediatric primary or acute care, women's health, psychiatry, etc., while the nurse anesthetist students begin a course of study on anesthesia concepts and research.
The roles and duties of an NP versus a nurse anesthetist are quite different.  While both must take a complete history and complete a full assessment, a nurse practitioner, depending on his or her role, is responsible for the care of the patient in either the acute or primary care setting. They may focus on preventive care, or care for the patient during an acute illness. Nurse anesthetists have a different, highly specialized role. They are responsible for administering anesthesia and sedation, monitoring the patient during a procedure, and inserting central lines and epidurals. They must be knowledgeable about the different types of anesthesia medications and be alert to any adverse reactions.
Because CRNAs are in high demand, it is not uncommon for hospitals to begin recruiting students. Depending on the state, some CRNA students can sign contracts while still in school, and employment is contingent on becoming licensed. In other states, licensing is required first.
Many hospitals offer employment contracts with CRNA students, advertising student loan reimbursement, benefits packages, etc. It's a good idea to read these contracts closely. Sometimes students are dazzled by the loan reimbursement, but realize the pay or benefits aren't that great. Also, sometimes a length of time of employment is outlined in the contract, and the new graduate decides a specific work area or organization is not a good fit for them - and they are stuck. There may be the possibility to "buy out" of a contract, but it would take time and money out of pocket to do so.
CRNA students should read any contract carefully, and possibly have an attorney advise. Identifying the positive and negative aspects of a contract is a must to determine what component is of most value to the individual. Additionally, CRNA students are strongly encouraged to check their state's board of nursing to see if licensing is needed before signing a contract.
Certified Registered Nurse Anesthetists (CRNAs) are advanced-practice nurses who are certified in administering anesthesia. Due to a widespread physician shortage, advanced-practice nurses are taking a more prominent role in healthcare delivery - including the field of anesthesiology.
While healthcare continuously progresses and evolves, there are still remnants of "old-school" hierarchies that exist between physicians and nurses and yes, male and female providers. Some physicians have difficulty coming to grips with a nurse practicing at an advanced level and performing the same work as medical doctors. Additionally, tensions run high during a surgical procedure. Everything must be precise and organized to allow for the best patient care outcome. The strain of this considerable responsibility often brings the worst out in people- and a hierarchical environment doesn't help matters.
In healthcare, new practitioners sometimes must "prove themselves" to experienced staff to earn respect. There are many anecdotes of nurses and APRNs verbally biting back when they are snapped at by a physician, and the hostility stops. However, it's not acceptable for any verbal abuse or harassment to occur in any setting, including the operating room. It doesn't matter if the culture is "old-school" or not. If discussing the issue directly with the surgeon doesn't end the behavior, it should be reported immediately to a supervisor.
What Does a Nurse Anesthetist Do?
Nurse anesthetists have a vital role in the delivery of anesthesia. Medications used for anesthesia can be risky. CRNAs must use their nursing skills and knowledge of the medications to maintain patient safety as well as achieve the desired effect of the drug. Specific duties may include:
Performing a physical assessment
Taking a patient history
Educating patients and families on the anesthetics used: the desired effect, common side effects, and potential adverse reactions
Obtaining informed consent before procedures
Administering the anesthetic, which may be:

Local
Intravenous
Spinal
Sedation

Monitoring patients during administration to include:

Oxygenation
Ventilation
Cardiovascular status (including fluid balance)
Temperature
Neuromuscular status
Positioning

Utilizing adjunctive medications, fluids, and other treatments to maintain cardiorespiratory status and fluid balance if needed
Maintaining/managing patients' airways using intubation, mechanical ventilation, and pharmacological support
Inserting peripheral or central lines
Inserting epidurals for obstetric patients
Recovering patients from anesthesia
What Are the Roles and Duties of a Nurse Anesthetist?
The overall responsibilities of CRNAs include:
Developing, implementing, and evaluating an anesthetic plan of care
Recognizing emergent situations and responding rapidly and appropriately
Implementing and evaluating response to chronic/acute pain management techniques
Discharging patients and educating them on follow up anesthesia care
Acting as a liaison between various departments, such as:

Surgery
Obstetrics
Post-anesthesia care units
Intensive care units
Pharmacy

Collaborating with a physician regarding treatment plans and anesthesia efficacy
Maintaining patient safety during treatment
Following strict infection control policies and procedures
Nurse Anesthetist Working Conditions
The working conditions of CRNAs have positive and negative aspects. There can be a significant amount of stress involved. For example, patients who suffer from chronic pain and who fail to respond to treatments can be emotionally draining to providers. Patients who experience an unexpected adverse reaction to anesthesia can also cause stress. Certified nurse anesthetists must "expect the unexpected" and be able to act quickly. The constant requirement to be on guard can be draining.
However, CRNAs have a rewarding job. They can relieve a patient's pain. Pain relief may seem like it's easily achieved, but for many suffering from chronic pain, that is not always the case. Nurse anesthetists can help patients go from poor quality of life to living life to the fullest. They help new mothers experience childbirth without being distracted by the pain. They help patients through sometimes life-saving surgeries.
CRNAs may work in high-risk areas that may expose them to workplace violence, blood-borne pathogens, and chemicals. Safety precautions and policies and procedures must be followed to maintain the health and safety of the CRNA as well as patients. Additionally, CRNAs sometimes spend a lot of time on their feet, assisting during long surgeries or procedures.
As far as work hours, CRNAs can work in various settings, many times in acute care. Hours vary but may require night, weekend, holiday, and on-call shifts.
Nurse Anesthetist Employment Outlook & Salary
Nurse anesthetists have had a long, robust history that has evolved into a highly respected and in-demand career. They are commonly the only anesthesia providers in less populated communities, which leads to higher access to care and therefore, improved patient outcomes.
Certified registered nurse anesthetists are one of the highest-paid advanced-practice nurses. According to Payscale, the salary can range from $110k to $203k. The median salary is $158k per year. The top-paying states for CRNAs are:
Montana
Wyoming
California
Oregon
Nevada
Salary is dependent on city and state of residence, years of experience, and the organization of employment
According to the Bureau of Labor Statistics, the projected employment of CRNAs is expected to grow 45% by 2029, which is a much faster-than-average growth. Currently, the states with the highest level of employment for CRNAs are:
Texas
Ohio
North Carolina
Pennsylvania
Florida
For a more detailed understanding, check out our breakdown of a nurse anesthetist salary.
Helpful Organizations, Societies, and Agencies