Nurse Anesthetist Salary
The nurse anesthetist pathway has been a growing area of advanced nursing, leading many RNs to consider pursuing a Master's of Science in Nursing (MSN) or a Doctor of Nursing Practice (DNP) in the field. Certified registered nurse anesthetists (CRNAs) enjoy rewarding nursing careers assisting doctors with anesthesia administration, and are paid handsomely as well. CRNAs regularly earn well over $150,000 per year.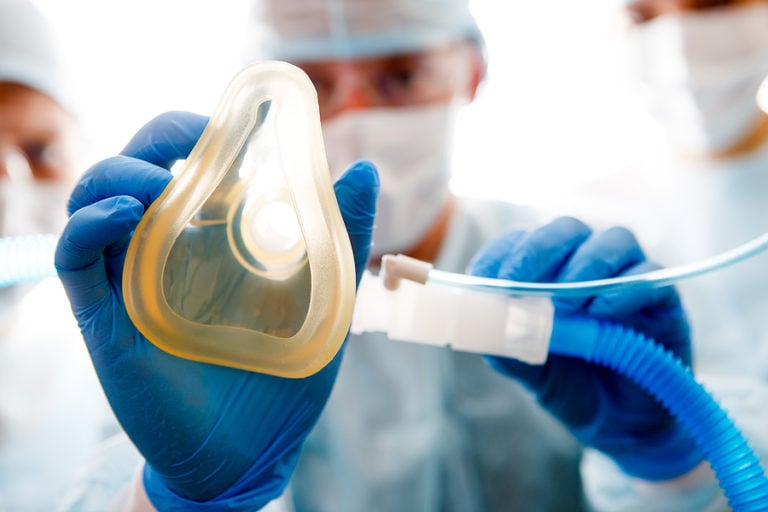 Salary Comparison Tool
This tool will allow you to easily search and compare the average salaries of nurses for many cities and locations across the U.S. You can search by city and state. Salary data is provided through the BLS.
Select Career Type
Select State
Select City
How Much Does a Nurse Anesthetist Make?
There are a few factors that will determine a CRNA's salary:
Type of Employer
Nurse anesthetists can provide their services in a number of different employment settings, including physicians' offices, hospitals, surgery centers, and outpatient care facilities. Salary can vary widely depending on where a CRNA works, but generally speaking, outpatient care centers are one of the highest paying employers, with CRNAs earning an annual mean wage of $181,800.
Location
Where a nurse anesthetist aims to be employed is another huge factor in what kind of salary a CRNA can earn. Bigger cities and areas with great need for nurse anesthetists tend to pay higher salaries than smaller, less populated regions without a lot of demand. Montana is currently the top-paying state for nurse anesthetists, with an average annual CRNA wage of $242,140 annually.
Experience & Degree Level
The minimum amount of education for a nurse anesthetist is a master's degree. Some CRNAs may choose to obtain a doctoral degree in the field. Doctoral CRNA grads may earn more than those with just a master's degree, but many other factors must also be considered. The more certifications and credentials a nurse anesthetist holds, the higher their salary tends to be. The National Board of Certification and Recertification for Nurse Anesthetists offers certification in both CRNA and Nonsurgical Pain Management (NSPM).
Research available CRNA schools and DNP salary.
Nurse Anesthetist Salary Per Hour
While CRNA wages differ from state to state, the national mean salary for a nurse anesthetist is $78.86 per hour, according to the Bureau of Labor Statistics (BLS). This equates to a mean annual salary of $164,030, one of the highest-paying RN specialties in the field. CRNAs may also receive additional compensation through overtime, bonuses, and profit sharing, depending on their place of employment. As you may expect, experienced nurse anesthetists tend to earn more per hour than new grads. Overall, many RNs feel that the increase in salary as a CRNA is worth the additional education costs.
The BLS also lists the top-paying industries for nurse anesthetists, which include:
Outpatient care centers, with a mean hourly wage of $87.41
Specialty hospitals (except psychiatric and substance abuse), with a mean hourly wage of $84.52
General medical and surgical hospitals, with a mean hourly wage of $84.12
Offices of physicians, with a mean hourly wage of $76.56
CRNA Salary Table
| Location | Total Employment | Annual Salary |
| --- | --- | --- |
| United States | 46,540 | $203,090 |
| Alabama | 1,320 | $177,400 |
| Arizona | 290 | $197,360 |
| Arkansas | 380 | * |
| California | 2,000 | $235,120 |
| Colorado | 430 | $184,460 |
| Connecticut | 560 | $217,760 |
| Delaware | 70 | $224,430 |
| Florida | 3,990 | $165,770 |
| Georgia | 1,230 | $178,950 |
| Idaho | 270 | $178,040 |
| Illinois | 1,930 | $230,410 |
| Indiana | 730 | $202,550 |
| Iowa | 350 | $208,140 |
| Kansas | 550 | $166,590 |
| Kentucky | 290 | # |
| Louisiana | 930 | $183,780 |
| Maine | 390 | $207,620 |
| Maryland | 540 | $202,310 |
| Massachusetts | 530 | $214,240 |
| Michigan | 3,590 | $195,840 |
| Minnesota | 2,460 | $222,400 |
| Mississippi | 400 | $180,450 |
| Missouri | 1,040 | $181,140 |
| Montana | 60 | $216,910 |
| Nebraska | 400 | $216,150 |
| New Hampshire | 550 | $212,710 |
| New Jersey | 1,360 | $208,330 |
| New Mexico | 320 | $207,310 |
| New York | 1,690 | $226,340 |
| North Carolina | 2,380 | $206,750 |
| North Dakota | 150 | $227,010 |
| Ohio | 3,490 | $178,500 |
| Oklahoma | - | $179,900 |
| Oregon | 340 | $218,370 |
| Pennsylvania | 2,870 | $190,510 |
| South Carolina | 910 | $192,080 |
| South Dakota | 350 | $197,970 |
| Tennessee | 1,760 | $177,340 |
| Texas | 2,880 | $222,580 |
| Vermont | 60 | $205,150 |
| Virginia | 530 | $181,690 |
| Washington | 430 | $214,800 |
| West Virginia | 320 | $214,360 |
| Wisconsin | 780 | $226,580 |
| Wyoming | 40 | $230,420 |
| Puerto Rico | 250 | $62,530 |
Table data taken from 2022 BLS (http://www.bls.gov/oes/current/oes291151.htm)
Helpful Links