Best Neonatal Nurse Practitioner Programs – 2021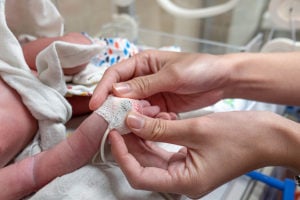 Nurses interested in infant care and looking to enter advanced practice have the option of entering a graduate-level program to become a neonatal nurse practitioner (NNP). A career as a neonatal nurse practitioner is highly rewarding, with opportunities to provide life-saving care to newborn infants who are premature, severely ill, or who suffer from a variety of health conditions. With post-baccalaureate and doctoral programs available, nurses have a wealth of options regarding how they become an NNP.
2021 - Best Neonatal Nurse Practitioner Programs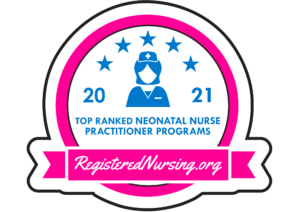 Registered nurses with a passion for caring for newborn infants often choose to further their education with a Neonatal Nurse Practitioner (NNP) program. These advanced-practice RNs must go through extensive specialty training in order to take care of this vulnerable patient population. Selecting the right NNP degree program will be one of the most important decisions in a nurse's life. That's why we've ranked the top hybrid/online Neonatal Nurse Practitioner programs in the country. Check out our rankings below to select the perfect program today.
For more information on our top nursing school rankings, visit our Methodology Page (https://www.registerednursing.org/rankings-methodology/).
Choosing a Neonatal Nurse Practitioner Program
There are many neonatal nurse practitioner programs available, but to pick the right one, students are encouraged to consider the following:
Accreditation
Proper accreditation ensures that a program is held to rigorous academic standards. The Commission on Collegiate Nursing Education (CCNE) and the Accreditation Commission for Education in Nursing (ACEN) are the two main accrediting bodies for neonatal nurse practitioner programs. There may also be local and regional accreditations available as well.
Program Cost
Neonatal nurse practitioner tuition can fluctuate based on location, school, and degree type. Generally, NNP tuition ranges from $700 to $1,000 and over per credit. Doctoral level programs tend to be more expensive than master's degree programs, in part because more credits are required overall. Tuition costs usually do not include any extras, such as program fees, lab fees, course materials, and other associated expenses.
Program Length
For a master's-level NNP education, roughly 40 credit hours are needed to graduate, with part-time and full-time study options typically available. Students can usually finish the degree in 2-3 years. For the doctoral pathway, roughly 80 total credit hours are needed. This type of neonatal nurse practitioner program typically takes 3-4 years for students to complete.
Internship/Externship Opportunities
Due to the hands-on clinical rotation hours required of MSN and DNP-level neonatal nurse practitioner programs, many schools have relationships with nearby hospitals, clinics, and medical facilities. Students are encouraged to inquire with their school of choice about the internship options available to them, or if there are opportunities for them to find their own clinical preceptor sites.
Online/Campus Options
Online options have gained major traction in the last few years, which has resulted in many schools offering both online and campus-based NNP programs. Some schools even offer a "hybrid" program, allowing students to take many courses online but also offering classroom-based lectures and labs.
Neonatal Nurse Practitioner Degree Levels Offered
Nurses can choose from two different educational pathways in order to become a neonatal nurse practitioner: the Master's of Science in Nursing (MSN) or the Doctor of Nursing Practice (DNP). Both programs give students a solid foundation in advanced practice neonatal nursing, but the DNP program goes beyond the master's level to prepare students for NNP leadership.
MSN Programs
Students enrolled in a neonatal nurse practitioner MSN program can plan on taking a mix of advanced core nursing courses as well as specialty NNP courses. Most offer classes such as Advanced Neonatal Nursing Theory, Advanced Neonatal Embryology/Physiology, and Application of Genetics to Health Care. Clinical hours are also required as part of the program. The University of California – San Francisco is an example of a school that offers an MSN-level neonatal nurse practitioner program.
RN to MSN Programs
An additional option for becoming a neonatal nurse practitioner is an RN to MSN bridge program that is designed for registered nurses with an Associate's Degree in Nursing or a non-nursing bachelor's degree. RN to MSN programs build on the experience of working nurses and provide advanced level nursing courses that prepare students for leadership roles as nurse practitioners. As an example of these programs, The College of New Jersey offers an RN to MSN program with a specialty in neonatal nursing that is designed for nurses with a bachelor's degree in a non-nursing subject. Programs that specialize in neonatal nursing include coursework in comprehensive neonatal assessment, general management of the sick neonate, neonatal disease progression as well as clinical practice hours in each level of neonatal intensive care unit.
DNP Programs
Doctoral neonatal nurse practitioner programs offer more in-depth courses in the specialty and place a strong emphasis on leadership. Students will take classes such as Diagnosis and Management, Health Systems and Health Policy, and Translating Evidence to Practice. A minimum number of clinical hours are also required for the DNP. The University of Maryland, for example, offers a DNP-level neonatal nurse practitioner program.
RN to DNP Programs
Another route to becoming a neonatal nurse practitioner for nurses who have completed their bachelor's degree in nursing is a BSN to DNP program that allows the nurse to earn his or her master's degree and doctoral degree in nursing simultaneously. These specialized bridge programs often allow students to complete these two degrees in less time than two separate programs. Some programs, such as the one at the University of Maryland, offer concentrations in neonatal nursing by offering courses in neonatal pathophysiology and assessment, as well as in-depth neonatal diagnoses and management.
Online Neonatal Nurse Practitioner Programs
Online programs have grown in popularity due in great part to their convenience, allowing busy students to take courses from the comfort of their own homes. Students should keep in mind, however, that some online programs may require minimal on-campus visits, and that clinical rotations must be completed in person.
Advantages of an Online Program
The convenience and flexibility of online NNP programs are some of the biggest advantages for students. For those who have chaotic schedules and numerous commitments, being able to move through the coursework when and where they choose is a huge draw. For those in rural areas, online NNP programs provide the option of earning a post-baccalaureate degree without having to commute or relocate. Online students also gain the advantage of eliminating the bulk of transportation costs.
Program Accreditation
Much like their campus-based counterparts, online programs should hold proper accreditations. ACEN and CCNE accredited online programs signify a reputable level of quality, and can provide peace of mind to those who may be new to distance-learning options.
Costs and Length
While online MSN and DNP neonatal nurse practitioner programs require the same number of credits as classroom-based programs, these distance-based options tend to be more flexible, making program length dependent on the student's needs. Tuition costs are also similar to campus programs, although online students don't have to worry about commuting costs such as gas and parking fees. The University of Connecticut, for example, charges tuition of $925 per credit, or $2,775 for a 3-credit course, for its online MSN Neonatal Nurse Practitioner program.
What Are the Admissions and Certification Requirements?
Admissions requirements for most NNP programs include:
BSN or higher from an accredited university
Current, unencumbered RN license
GPA of at 3.0 or above
Personal goal statement
Current resume
Copies of all undergraduate transcripts
Two or more years of professional RN experience in a neonatal intensive care unit may be required
NNP certification is via examination through the National Certification Corporation. Eligibility requirements include:
Must hold a current, U.S. RN license
Successful completion of an accredited graduate neonatal nurse practitioner program and provide verification of graduation and transcripts
Must take the exam within 8 years of graduating from an NNP program
List of Neonatal Nurse Practitioner (NNP) Programs
There are a many neonatal nurse practitioner programs available, including the following schools listed below.
Select Your State:
Alabama
School
Contact Information

University of Alabama at Birmingham

1720 2nd Avenue South

Birmingham

,

AL

35294

(205) 975-7529

University of South Alabama

5721 USA Dr N

Mobile

,

AL

36688

(251) 445-9400
California
School
Contact Information

University of California San Francisco

UCSF Box 0602

San Francisco

,

CA

94143

(415) 476-1435
Colorado
School
Contact Information

Regis University

MSN Programs

3333 Regis Boulevard

Denver

,

CO

80221

(800) 388-2366
Connecticut
School
Contact Information

University of Connecticut

MSN ProgramsGraduate Certificate Programs

231 Glenbrook Rd

Storrs

,

CT

06269

(860) 486-0876
Delaware
School
Contact Information

University of Delaware

MSN Programs

25 North College

Newark

,

DE

19716

(302) 831-1253
Georgia
School
Contact Information

Emory University

1520 Clifton Road NE

Atlanta

,

GA

30322

(404) 727-7980
Illinois
School
Contact Information

Rush University

DNP ProgramsGraduate Certificate Programs

600 S. Paulina St

Chicago

,

IL

60612

(312) 942-7100

Saint Francis Medical Center College of Nursing

MSN Programs

511 NE Greenleaf Street

Peoria

,

IL

61603

(309) 655-2201

University of Illinois Chicago - Rockford

1601 Parkview Ave

Rockford

,

IL

61107

(815) 395-0600
Indiana
School
Contact Information

University of Indianapolis

1400 East Hanna Avenue

Indianapolis

,

IN

46227

(317) 788-3368
Kentucky
School
Contact Information

University Of Louisville

555 South Floyd Street Suite 3019

Louisville

,

KY

40202

(502) 852-5825
Louisiana
School
Contact Information

Louisiana State University New Orleans

DNP Programs

1900 Gravier Street

New Orleans

,

LA

70112

(504) 568-4200
Maryland
School
Contact Information

University of Maryland

DNP Programs

655 W. Lombard St.

Baltimore

,

MD

21201

(410) 706-6109
Massachusetts
School
Contact Information

Northeastern University

MSN Programs

360 Huntington Ave

Boston

,

MA

02115

(617) 373-2000
Michigan
School
Contact Information

Wayne State University

DNP ProgramsMSN Programs

5557 Cass Avenue

Detroit

,

MI

48202

(313) 577-4082
Mississippi
School
Contact Information

University Of Mississippi Medical Center

2500 North State Street

Jackson

,

MS

39216

(601) 984-1000
Missouri
School
Contact Information

University Of Missouri Kansas City

MSN Programs

5100 Rockhill Rd

Kansas City

,

MO

64110

(816) 235-1000
Nebraska
New Jersey
School
Contact Information

The College of New Jersey

MSN Programs

2000 Pennington Rd.

Ewing

,

NJ

08628

(609) 771-2591
New York
School
Contact Information

Stony Brook University

Graduate Certificate ProgramsMSN Programs

101 Nicolls Road

Stony Brook

,

NY

11794

(631) 689-8333
North Carolina
Ohio
School
Contact Information

Case Western Reserve University

Graduate Certificate ProgramsMSN Programs

10900 Euclid Ave

Cleveland

,

OH

44106

(216) 368-2000

The Ohio State University

1585 Neil Avenue

Columbus

,

OH

43210

(614) 292-4041

University of Cincinnati

Graduate Certificate ProgramsMSN Programs

2600 Clifton Ave.

Cincinnati

,

OH

45220

(151) 355-8550 x0

Wright State University

3640 Colonel Glenn Hwy

Dayton

,

OH

45431

(937) 775-3333
Pennsylvania
School
Contact Information

Thomas Jefferson University

MSN Programs

111 S 11th Street

Philadelphia

,

PA

19107

(215) 503-8890

University of Pennsylvania School of Nursing

418 Curie Boulevard

Philadelphia

,

PA

19104

(215) 898-8281

University of Pittsburgh

3500 Victoria Street

Pittsburgh

,

PA

15261

(412) 624-4586
Tennessee
School
Contact Information

The University of Tennessee Health Science Center- Memphis

910 Madison Ave

Memphis

,

TN

38163

(901) 448-5500
Texas
School
Contact Information

Baylor University

DNP Programs

1301 S University Parks Dr

Waco

,

TX

76798

(800) 229-5678

The University of Texas at Arlington

MSN Programs

411 S. Nedderman Drive

Arlington

,

TX

76019

(817) 272-2776

The University of Texas Medical Branch at Galveston

301 University Blvd

Galveston

,

TX

77555

(409) 772-1011
Utah
School
Contact Information

University of Utah

DNP Programs

10 South 2000 East

Salt Lake City

,

UT

84112

(801) 581-3414
Virginia
School
Contact Information

Old Dominion University

5115 Hampton Blvd

Norfolk

,

VA

23529

(757) 683-3000

University of Virginia

225 Jeanette Lancaster Way

Charlottesville

,

VA

22903-3388

(434) 924-0141
Are we missing your school's program or need to update information listed? Please contact us so we can make the necessary changes.