Nurse Practitioner Schools in Maine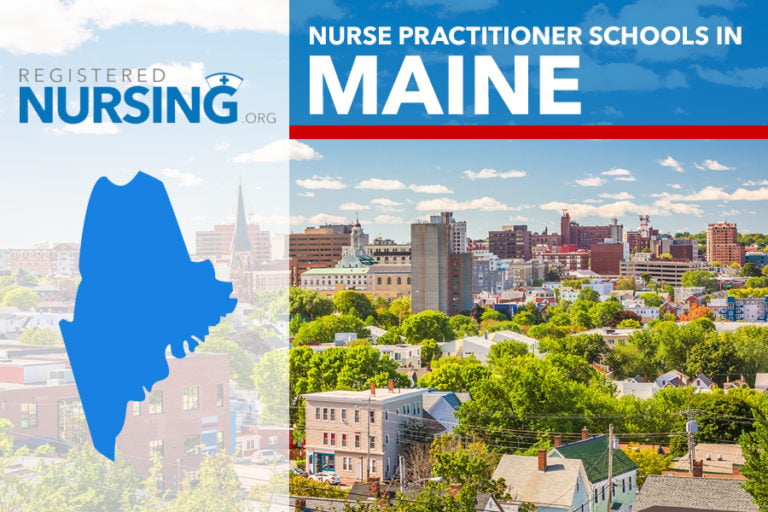 Registered nursing who are interested in expanding their practice to include diagnosing, prescribing, and managing acute and chronic conditions often choose to become nurse practitioners. It is a very enriching yet challenging career-and is currently in high demand.
In Maine, nurse practitioners can independently practice and prescribe medications. They can also act as a patient's primary care provider.
Choosing a Nurse Practitioner Program
It is important for prospective nurse practitioner students to ensure components of the chosen graduate program is considered, such as:
Accreditation-According to the Commission on Collegiate Nursing Education (CCNE), Maine has four accredited graduate-degree programs for nurses. National accreditation ensures the school has met the high educational standards set forth by the U.S. Department of Education. Another accreditation agency to look for is the Accreditation Commission for Education in Nursing (ACEN).
Program Cost-Graduate program cost can vary depending on the school. The average cost per credit is about $400 for in-state residents, $700 for out-of-state residents. Cost can exceed $1000 per credit in many programs, and tuition continues to rise. It's important for prospective students to research schools and plan financially, and take into consideration the extra cost of books, supplies, and other fees.
Program Length- many graduate programs require a minimum of a BSN. BSN to MSN can take about two years if attending full-time, and DNP programs can take about three to four years. For nurses who need to obtain their BSN, the path to advanced-practice nursing will take a little longer.
Internship/Externship Opportunities-student nurse practitioners receive robust clinical training during the MSN/DNP program. However, nurse practitioners are advocating to expand formal nurse practitioner residency programs to help build upon their clinical knowledge base. There is one formal nurse residency program in Maine at Penobscot Community Health Care
Online/Campus Options-Maine has two accredited nursing programs that have more than 50% distance learning- Husson University and Saint Joseph's College of Maine. The online option benefits students who must balance work, school, and family as learning is self-directed and self-paced.
Admission and Certification Requirements
Entry requirements for MSN/ DNP programs may vary between institutions, but applicants may be required to:
Provide proof of RN licensure
Have a BSN degree
Submit transcripts from previous college coursework
Send letters of recommendation
Interview with program faculty
Meet GPA requirements (may vary between schools)
Complete the GRE
Have prior clinical experience as an RN
Licensing/Certification
Specialty certification can be obtained in the MSN/ DNP program, or obtained from a nationally recognized agency such as the American Nurses Credentialing Center (ANCC). The ANCC offers certification in:
Adult-Gerontology Acute Care
Adult-Gerontology Primary Care
Family NP
Pediatric Primary Care
Psychiatric-Mental Health
Emergency
Informatics Nursing
Public Health
Nurse Executive
Additionally, nurses can get certification from:
The National Certification Corporation (NCC) -Women's Health
American Midwifery Certification Board (AMCB) -Nurse Midwives
American Association of Critical Care Nurses (AACN)
Additional certification is usually not necessary for MSN-DNP but may be required for nurses in the BSN-DNP track.
For APRNs to obtained licensure in Maine, the following requirements must be met:
Verification of certification
Transcripts from the graduate program must be submitted by the school
Registration of supervision with a licensed physician or nurse practitioner in the same practice category (included in the Maine State Board application)
Securing a testing date, and submitting a receipt with the testing date to the board
Complete a background check
Complete the application for licensure, which includes a section for prescriptive practice
Maine Nurse Practitioner Agencies and Organizations
Schools That Offer Nurse Practitioner Programs in Maine
Nurse Practitioners enjoy independent practice in Maine. With the availability of advanced-practice graduate programs (campus and online), Maine nurses have the opportunity to advance their practice and further their autonomy and independence.
Bangor, ME
Orono, ME
Portland, ME
Standish, ME
Are we missing your school's program or need to update information listed? Please contact us so we can make the necessary changes.