Nurse Practitioner Schools in Massachusetts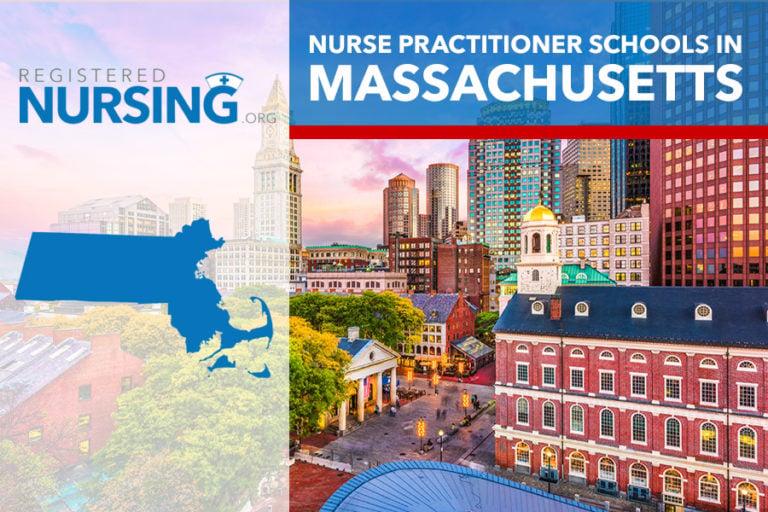 Nurses who value the autonomous, independent and leadership aspects of nursing often choose to extend their roles and become nurse practitioners. Incorporating patient care management with the education and holistic medicine focus in nursing allows nurse practitioners to provide comprehensive care to the patients they serve.
In Massachusetts, nurse practitioners can act as a primary care provider but must establish a collaborative agreement with a physician to diagnose, treat, and prescribe medications.
Choosing a Nurse Practitioner Program
It can be daunting when selecting a nurse practitioner program–many students don't know where to start. While each students' needs differ, students should consider the following:
Accreditation- The graduate program should be accredited by the American Association of Colleges of Nursing (AACN), the Commission on Collegiate Nursing Education (CCNE), or the Accreditation Commission for Education in Nursing (ACEN). According to the CCNE, there are eighteen accredited graduate programs for nursing in the state of Massachusetts.
Program Cost-In Massachusetts, many of the MSN programs averaged around $1000 per credit for in-state residents. Out of state residents can expect a higher tuition cost. Graduate nursing students must complete between 30-55 credits to earn an MSN/DNP. Student fees, supplies, and living expenses are an additional cost. Since tuition cost can change yearly, students are encouraged to visit the school websites for the most up-to-date tuition information.
Program Length- For the RN to MSN track, nurses can expect to spend around two years in school, if attending full time. For RN to DNP, it can take three to four years if attending full time. Many schools require a BSN degree for admission- ADN nurses can expect a slightly longer educational path as they may need to complete an RN to BSN bridge program
Internship/Externship opportunities- While graduate programs incorporate clinical practicum in the program, many nurse practitioners find it beneficial to extend their clinical learning via nurse practitioner residency programs. NP residency programs are a relatively new concept, yet Massachusetts has several NP residency/fellowship programs available in many specialties.
Online/Campus Options-According to the American Academy of Nurse Practitioners (AANP), Massachusetts has three schools with more than 50% of the curriculum online*. Online learning is beneficial for students who must work and go to school, as well as maintain family obligations. It allows for self-paced learning and flexibility. Prospective students are encouraged to check each school's website for specific requirements, as campus visitation is required for some aspects of the program.
*Data last updated Fall of 2015
Admission and Certification Requirements
For admission into an MSN/DNP program, the following may be required:
A BSN degree
Current RN/APRN license
Minimum GPA of 3.0 (specific GPA requirements vary between institutions)
Letters of recommendation
A written statement of purpose
Documentation of clinical experience/ practicum hours
Submission of transcripts from previous collegiate coursework
Graduate Record Exam (GRE)
Prior clinical experience as an RN/ APRN
Since each graduate program differs slightly, students are encouraged to identify specific admission criteria before applying.
Licensing/ Certification
Specialty certification is sometimes obtained upon completion of the graduate program; however, nurse practitioners can also become credentialed by a nationally recognized certification agency. In Massachusetts, the certifying agencies officially recognized by the board of nursing for nurse practitioners are:
For licensure in Massachusetts, requirements include:
A valid RN/APRN license in good standing
Good moral character (as per board policy)
Completion of a nationally accredited graduate program
Completion of core content in advanced assessment, pathophysiology, and pharmacotherapeutics
Completion of application
Massachusetts Nurse Practitioner Agencies and Organizations
Schools That Offer Nurse Practitioner Programs in Massachusetts
For a relatively small state, Massachusetts has an abundance of advanced-practice nursing programs. The many choices available to Massachusetts residents allow nurses to flourish and grow in their career.
Amherst, MA
Beverly, MA
Boston, MA
Chestnut Hill, MA
Chicopee, MA
Lowell, MA
North Worcester, MA
Weston, MA
Are we missing your school's program or need to update information listed? Please contact us so we can make the necessary changes.