Nurse Practitioner Schools in North Carolina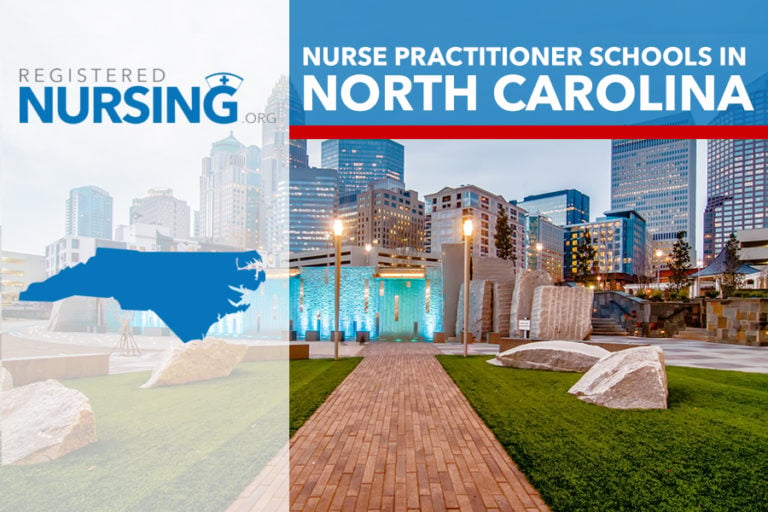 Registered nurses who choose to advance their practice to nurse practitioners not only enjoy a higher level of independence and autonomy, they are selecting a career that is in high demand. The Bureau of Labor statistics reports a steady growth of job opportunities projected to increase 31% by the year 2024. Additionally, nurse practitioners earn a comfortable living, with a reported median income of $100,910 annually.
In North Carolina, nurse practitioners can act as primary care providers but are required to be supervised by a physician to diagnose and treat patients. They must also establish a collaborative agreement with physicians to prescribe medications.
Choosing a Nurse Practitioner Program
When choosing a nurse practitioner program, many students first look at cost. However, many other essential factors need to be considered, such as:
Accreditation- Graduate programs should be accredited by the Accreditation Commission for Education in Nursing (ACEN) or the Commission on Collegiate Nursing Education (CCNE) to ensure educational standards are met. North Carolina has fourteen graduate schools for nurses accredited by either the ACEN or CCNE.
Program Cost- The cost to attend graduate school is commonly a deciding factor when choosing a school. Tuition varies between schools and by degree level, but students in North Carolina can expect to pay an average of $800 per credit. Tuition can vary greatly- from around $500 to $1700 per credit. Students are encouraged to visit the schools' websites to determine the exact and most up-to-date tuition information. The average listed above does not include the additional costs of books, supplies, living expenses, and other fees.
Program Length- Earning a master's degree (MSN) in nursing can take two to three years if attending full time. Earning a doctoral degree (DNP) can take three to four years. In many cases, a bachelor's degree is required for entry. ADN nurses can expect an additional one to two years on their educational path.
Internship/Externship Opportunities-Nurse practitioner students must complete a required number of clinical practicum hours before graduation. This requirement ensures the nurse practitioner has gained the necessary on-the-job experience needed to practice independently in the specialty area of choice. There is a relatively new movement for nurse practitioner graduates to attend nurse practitioner "residency" programs to further their clinical experience, the argument being that physicians and physician's assistants must complete residencies before independent practice, and nurse practitioners shouldn't be any different. North Carolina has fifteen nurse practitioner residency programs available in many specialty areas.
Online/ Campus Options- North Carolina has two graduate-level programs that have 50-99% of the curriculum online. Others have up to 50% online. Distance learning is beneficial for those who live in more rural areas, and who need the flexibility of online learning for various reasons. Students are urged to visit each school's website to determine online options and campus visitation requirements.
Admission and Certification Requirements
Admission to graduate nursing programs may vary slightly between institutions, but students may be required to:
Have a BSN from an accredited school
Have an active, unrestricted RN license
Submit official transcripts from previous collegiate coursework
Have maintained a GPA of 3.0 or higher (specific GPA requirements may vary)
Have at least one year of clinical experience as an RN
Provide references
Submit a resume/ CV
Have completed a statistics course
Complete a criminal background check
Licensing/Certification
Many graduate programs offer specialty certification upon graduation. Otherwise, nurse practitioners can obtain certification from a nationally recognized credentialing agency. The North Carolina Board of Nursing specifies the approved agencies include:
American Nurses Credentialing Center (ANCC).
American Academy of Nurse Practitioners (AANP).
American Association of Critical Care Nurses Certification Corporation (AACN).
National Certification Corporation of the Obstetric Gynecological and Neonatal Nursing Specialties (NCC).
Pediatric Nursing Certification Board (PNCB)
Along with national specialty certification, licensing requirements involve obtaining an initial NP Registration and Approval to Practice. NPs need the following to apply:
Current RN license
Supervising physician name, license number, and email address
Submit official transcripts from the graduate program
Licensure verification from other states, if applicable
Completion of online application
North Carolina Nurse Practitioner Agencies and Organizations
Schools That Offer Nurse Practitioner Programs in North Carolina
North Carolina has many educational opportunities for nurses to advance their degree. The abundance of nurse practitioner residency programs in North Carolina to include different specialty areas also ensures nurse practitioners have the resources they need to practice efficiently and to provide high-quality care.
Chapel Hill, NC
Charlotte, NC
Cullowhee, NC
Durham, NC
Greenville, NC
Wilmington, NC
Winston-Salem, NC
Are we missing your school's program or need to update information listed? Please contact us so we can make the necessary changes.