Nurse Practitioner Schools in Oregon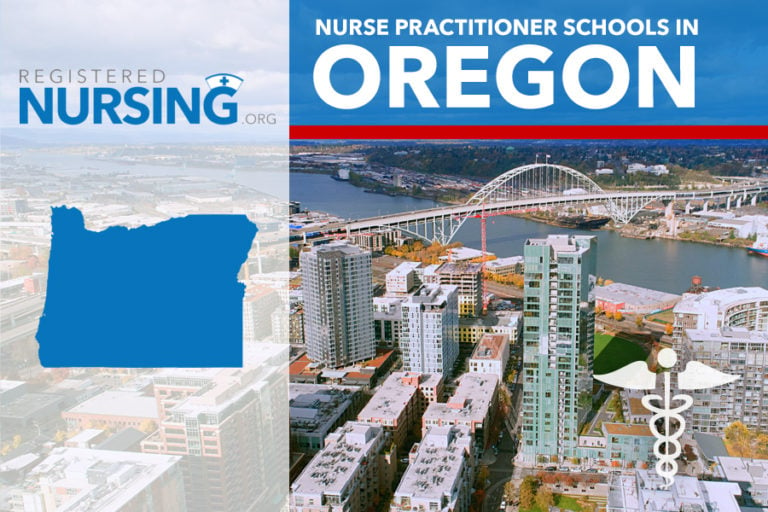 Registered nurses looking to expand their practice can choose to earn a master's degree (MSN) or doctoral degree (DNP) in nursing. Graduate programs allow nurses to become a certified nurse midwife, certified registered nurse anesthetist, clinical nurse specialist, or nurse practitioner.
Nurse practitioners combine traditional nursing skills with more specialized skills including diagnosing and prescribing. In Oregon, nurse practitioners can diagnose, treat, and prescribe without physician involvement, and can act as a primary care provider.
Choosing a Nurse Practitioner Program
When selecting a nurse practitioner program, nurses should consider the following:
Accreditation- Nurses should look for the Commission on Collegiate Nursing Education (CCNE) or the Accreditation Commission for Education in Nursing (ACEN) accreditation. This ensures the programs meet specific requirements with faculty and curriculum. Oregon has two accredited graduate nursing programs, but they have extensions to other regions of the state.
Program Cost- The cost to attend graduate school in nursing can vary widely. Many schools have financial aid options for those needing assistance with cost. In Oregon, the average cost per credit for MSN/DNP programs is between $600 and $1200 depending on the school. This does not include the cost of books, additional fees, or supplies.
Program length-It can take three to four years to become a nurse practitioner in Oregon, depending on the degree sought (MSN or DNP) as well as the school. This time frame is if the student is attending full-time. For students who do not have their bachelor's degree, more time is needed to obtain a graduate degree. However, schools offer accelerated BSN programs to assist students on their educational journey.
Internship/Externship Opportunities- Nurse practitioner students must complete a specific number of supervised clinical hours before graduation to ensure they are competent to practice upon graduation. A relatively new concept has taken root and has become popular among nurse practitioners- formal nurse practitioner residency programs. Physicians and physician assistants must complete residency programs to practice independently, and a growing school of thought is that nurse practitioners should as well. Oregon has one formal nurse practitioner residency program in the Family Nurse Practitioner specialty.
Online/Campus Options- Both advanced-degree schools in Oregon offer online learning options. Students are encouraged to visit each schools' website to determine the specific courses available as well as campus visitation requirements.
Admission and Certification Requirements
Admission requirements to graduate programs in Oregon may include:
A current RN or NP (if applying for a DNP program) license
A BSN or MSN degree (for DNP students)
Provide a current resume
Submit a writing sample (for DNP admissions)
Send letters of recommendation
Submit official transcripts from all previously attended academic institutions
Completion of a college-level statistics course
GPA of 3.0 or higher
Students are highly encouraged to visit the schools' website to determine specific admission requirements, as well as to review examples/ suggestions for the letters of recommendation and writing samples.
Licensing/ Certification
Graduates of nurse practitioner programs are prepared to take certification exams for their specialty of choice. Specialties include:
Adult-Gerontology-acute or primary care
Pediatrics-acute or primary care
Women's Health
Family Nurse Practitioner
Psychiatric-Mental Health
The certification exams can be taken through the American Academy of Nurse Practitioners (AANP) or the American Nurses Credentialing Center (ANCC). Certification is required for licensure as an NP in Oregon.
Other licensing requirements include:
Current RN license
Minimum of a master's degree in nursing from an accredited university
Completion of graduate level courses in physical assessment, pathophysiology, and pharmacology. Official transcripts must be submitted to the board
Completion of the NP program must be within two years of the date of application
Apply for prescriptive authority (all NPs in Oregon must apply for prescriptive authority- it is not optional)
Complete a criminal background check
Oregon Nurse Practitioner Agencies and Organizations
Nurse Practitioner Programs
Nurse practitioners are currently in demand. Nurses who value independent practice, as well as direct patient care, would thrive as nurse practitioners. Advanced-level nursing programs have many learning and financial options for students which set them up for successful careers.
Portland, OR
3147 SW Sam Jackson Park Rd
Portland
,
OR
97239
(503) 494-8311
5000 N. Willamette Blvd.
Portland
,
OR
97203
(503) 943-8000
Are we missing your school's program or need to update information listed? Please contact us so we can make the necessary changes.