Nurse Practitioner Schools in Pennsylvania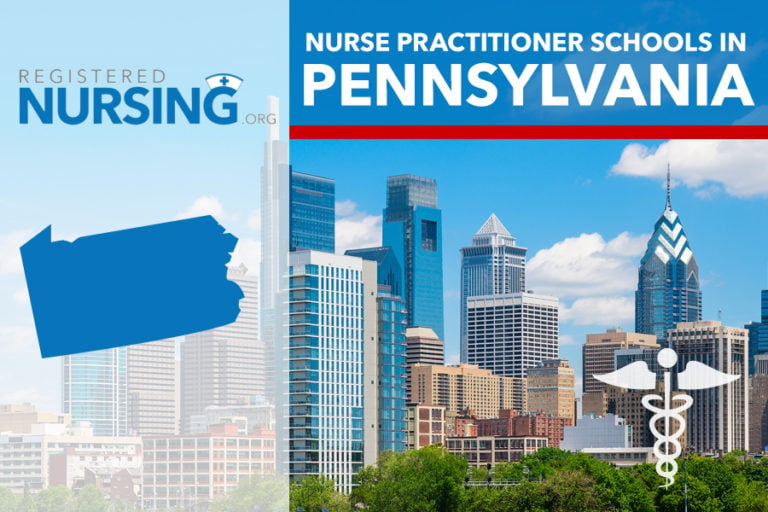 Advanced-practice nursing is a rewarding option for nurses who wish to expand their practice. Nurses can choose to become nurse anesthetists, nurse midwives, clinical nurse specialists, or nurse practitioners. They are also in high demand- with a projected job growth of 31% through 2024.
Nurse practitioners are also included in this demand. Combining the nursing process with more specialized practitioner skills such as treating and prescribing, nurse practitioners enjoy a productive and fulfilling career.
In Pennsylvania, nurse practitioners can act as a primary care provider but must establish a collaborative agreement with a physician to diagnose and treat.
Choosing a Nurse Practitioner Program
Taking the step to pursue graduate education in nursing, whether a master's degree or doctoral degree, is a momentous decision in one's life. As such, certain factors should be considered when choosing a school:
Accreditation- Nurse practitioner education must meet certain standards for safe and independent practice. Students should look for accreditation by the Commission on Collegiate Nursing Education (CCNE) or the Accreditation Commission on Education in Nursing (ACEN). Pennsylvania has many accredited programs to choose from- thirty- five across the state!
Program Cost-With thirty schools that offer advanced degrees for nurses, tuition can vary widely- from $500 to over $1000 per credit, not including books, additional fees, supplies, and living expenses. Depending on the degree, students must complete at least 40 credits (more credits are required for DNP). Financial aid is offered through most schools; students are encouraged to review the school of interest's website to determine exact tuition, fees, and available financial aid.
Program length- Assuming the nurse already possesses a bachelor's degree, nurse practitioner programs can take three to four years to complete depending on if it's a master's or doctoral program. If students need to obtain their BSN first, the educational path can extend an additional one-to-two years. Many schools offer accelerated BSN programs, however.
Internship/Externship Opportunities- While a specific number of supervised clinical areas are required for graduation, many nurse practitioners consider residency programs to further build on their clinical skills.
Online/Campus Options- With thirty-five graduate nursing programs, online options are readily available. Pennsylvania has over seventeen programs with distance education possible- which results in flexibility and self-directed learning.
Admission and Certification Requirements
Admission to a graduate nursing program may vary between schools, but students may be required to:
Have an RN/ APRN license (for DNP programs)
Have a BSN from an accredited university
Maintain a GPA of 3.0 or higher (specific GPAs may vary between institutions)
Provide letters of recommendation
Submit a resume/ CV
Complete a written statement of purpose
Interview with faculty
Have completed a college-level statistics course
GRE may be required
Since schools have variable admission requirements, prospective students are encouraged to thoroughly research schools before applying.
Licensing/ Certification
Graduating from a nurse practitioner program enables NPs to take the certification exam for their specialty focus area. Pennsylvania requires NPs to be certified by a nationally-recognized credentialing agency such as:
In addition to certification in a specialty area, licensing requirements include:
Current, unrestricted RN license
Submission of official transcripts sent from educational institution
Verification of completion of an advanced-degree program
Completion of application and criminal background check
Completion of Board-approved education in pain management and prescribing/dispensing opioids (this requirement may be met within the MSN/DNP program)
Pennsylvania Nurse Practitioner Agencies and Organizations
Schools That Offer Nurse Practitioner Programs in Pennsylvania
Pennsylvania is a state with rural farmlands as well as thriving metropolitan areas. The abundance of nurse practitioner programs throughout the state ensures registered nurses are provided ample opportunity to advance their degree as well as their practice.
Aston, PA
Bethlehem, PA
Center Valley, PA
Clarion, PA
Edinboro, PA
Erie, PA
Mechanicsburg, PA
Millersville, PA
Moon Township, PA
Philadelphia, PA
Pittsburgh, PA
Scranton, PA
York, PA
Are we missing your school's program or need to update information listed? Please contact us so we can make the necessary changes.