Post-Master's Pediatric Nurse Practitioner Certificate Programs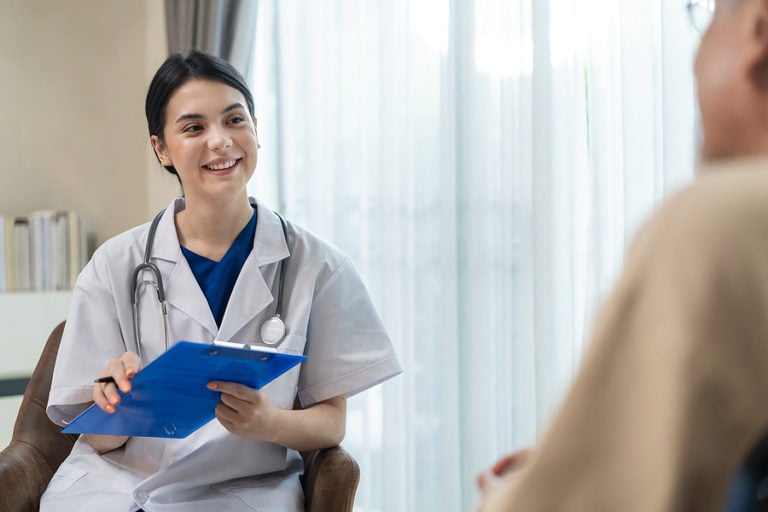 Some advanced-practice registered nurses wonder whether it's possible to specialize or even change specializations without pursuing a doctoral-level nursing degree. Luckily, the answer is a resounding yes, as MSN-prepared nurses have the option to obtain a post-master's certificate. For those interested in going into pediatrics, there are even post-master's pediatric nurse practitioner certificate programs. For instance, if an adult-gerontology nurse practitioner wants to focus solely on treating children, all he or she would need to do is complete the post-master's pediatric nurse practitioner (NP) certificate to switch specialties, which is a shorter and more affordable pathway than obtaining another full degree.
Choosing a Post-Master's PNP Certificate Program
Specializing or switching specialties can be a big change for nurse practitioners. It may have been years since the NP took university courses, and finding the right certificate program can be nerve-wracking. Luckily, options abound for those wanting to earn a post-master's pediatric nurse practitioner certificate. Keeping the following in mind while researching programs will help to ensure success in finding the right fit.
Accreditation– Finding a legitimate post-master's certificate program should be at the top of any prospective student's list. Accredited programs signify quality and consistency, giving students peace of mind. The Accreditation Commission for Education in Nursing (ACEN) and the Commission on Collegiate Nursing Education (CCNE) are the accrediting agencies that students will commonly see, though other local agencies do exist.
Cost– Tuition and other program expenses are a major factor for most students. Post-master's pediatric NP programs can fluctuate in price based on things like city/state, residency, type of institution, and more. Furthermore, students must account for additional costs such as course materials. Instead of blindly choosing the "cheapest" program, students should take care to thoroughly research the program's curriculum, faculty, and completion rates before they make any decisions. Sometimes the best overall value is not the cheapest option.
Program Length– The time it takes to complete a post-master's pediatric certificate program depends on things like part-time of full-time study, online or classroom attendance, and more. Generally, students will need approximately 30-45 credits to complete the program. Curriculum plans are often available on the school's program page for students to get an idea of how quickly they will be able to move through the program.
Online Options– Students with an interest in distance-learning may wish to see if their program of choice is offered in an online format. In addition to this, "hybrid" options are increasingly available, allowing students to take a mixture of online courses and classroom lectures. In either case, students should be aware that the clinical portion of the certificate program will need to be completed in-person at an approved medical facility.
Internship/Externship Options– As the clinical portion of the certificate program is of great importance, students should find out what kind of hospital and healthcare center partnerships their school has in place. Many schools help place students in their clinical preceptorships, while others require students to find their own. Finding out these requirements and the available options ahead of time can ensure that students get the clinical experience they desire.
Online Post-Master's Pediatric Certificate Programs
Due to high demand, online programs are growing in popularity. For students used to traditional campus learning, this pathway may seem tempting and perhaps even a little scary. There are many advantages to this self-paced option, but it's not a one-size-fits-all learning solution. Read on to learn more about online post-master's pediatric NP certificate programs to decide if it's the right choice for you.
Online vs. Classroom-Based Post-Master's Pediatric NP Certificate Programs
Online or 'distance-learning' programs can be lifesavers for those with hectic schedules. Students can take courses and study when and where they see fit. This is particularly appealing to master's-educated NPs who may be working full-time, often untraditional hours. The flexibility and convenience of online programs simply can't be beat. Students enrolled in these programs often save on commuting expenses, as gas, public transportation, and parking fees can easily add up. Many schools are also offering hybrid options, allowing students to take some courses online and the rest in a regular classroom setting on-campus. For those needing an education that fits into an already busy lifestyle, online and hybrid programs can help make that work. Students should keep in mind, however, that regardless of what kind of program delivery they choose, the clinical portion of the program will need to be completed onsite at an approved medical facility.
Traditional on-campus offerings can also be very advantageous. For students who crave in-person contact with professors and other students, or who need more structure in their education, classroom programs are the way to go. Procrastinators and those who aren't necessarily self-starters might find online programs a bit too loose to keep them on track. The predictable nature of on-campus programs can be a plus for those who need more external motivation to stay with the program. Students should seriously consider their learning style, lifestyle, and personality traits before deciding which type of program pathway to choose for their post-master's pediatric nurse practitioner certificate program.
Post-Master's Pediatric NP Certificate Admissions Requirements
Prospective students should take care to ensure that they meet all the requirements for a post-master's pediatric NP certificate program. While these will fluctuate depending on the school, they will generally consist of the following:
MSN degree from an accredited university
Minimum graduate GPA of 3.0
Current unrestricted United States RN license
At least one year of pediatrics experience preferred before clinicals
Official transcripts
At least two letters of recommendation
Personal statement/essay
Resume/CV
Post-Master's Pediatric NP Certificate Curriculum
The post-master's pediatric nurse practitioner certificate program consists of a mix of courses that focus on physical and behavioral pediatric health topics, along with a number of clinical hours where students gain hands-on experience. Course titles may include:
Pharmacology for the Pediatric Nurse Practitioner
Primary Care of Infants, Children and Adolescents
Management and Care of Adolescents in the Primary Care Setting
Primary Care of Children with Special Health Care Needs
Health Promotion of the Growing Child
Helpful Resources
Other Degree Programs
List of Post Master's Certificate Pediatric Nurse Practitioner Programs
Jump to Your State Listings
Arizona
California
Colorado
Connecticut
Florida
Georgia
Illinois
Iowa
Kentucky
Maryland
Massachusetts
Michigan
Minnesota
Missouri
Nebraska
New Jersey
New Mexico
New York
Ohio
Pennsylvania
Tennessee
Texas
Virginia
Washington
West Virginia
Wisconsin
Are we missing your school's program or need to update information listed? Please contact us so we can make the necessary changes.