Trauma Nurse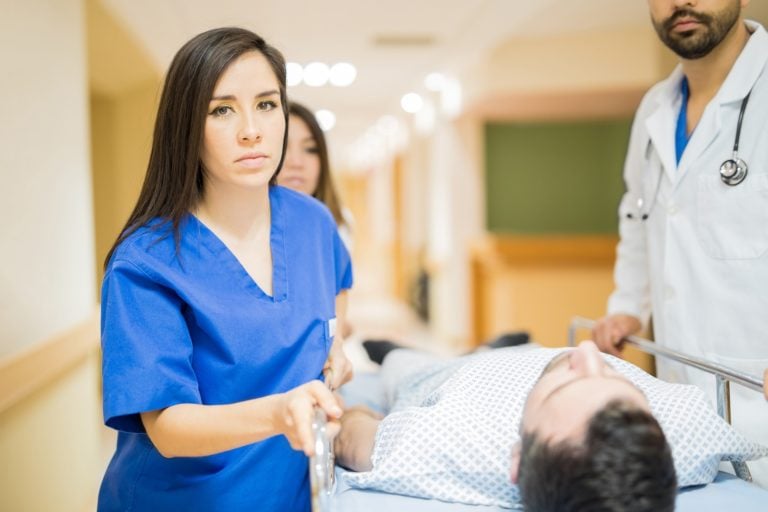 What Is a Trauma Nurse?
A trauma nurse is a nurse who specializes in the care of patients who suffer an acute injury or illness, whether it is accidental or intentional. Trauma nurses are skilled in caring for patients of all ages—from newborn to the elderly. Examples of cases that trauma nurses may be involved in are:
Motor vehicle accidents
Assault
Gunshot wounds
Stab wounds
Environmental injuries such as a crush or penetrating injury
Head injuries
Physical or emotional abuse/neglect
Becoming a Trauma Nurse
Trauma nurses need to be able to function in a high-stress, chaotic environment while maintaining an outwardly calm demeanor. They must also be able to think and intervene quickly as trauma patients often arrive without easily identifiable diagnoses. Trauma patients can be critically unstable, so nurses in this specialty need to be able to intervene as rapidly as possible.
Effective communication is also essential in trauma nursing. Nurses must be able to multitask, often performing life-saving care while reporting to physicians and other members of the medical team. Communication is crucial in preventing errors during emergencies.
Trauma nurses also need to be able to handle the emotional strain that is involved with caring for trauma patients, as sometimes there are poor outcomes. Having a healthy support system and an outlet for stress is crucial to combat caregiver burnout.
What Are the Education Requirements for a Trauma Nurse?
Those interested in trauma nursing should first pursue a nursing degree through a two or four-year university. The trauma specialty houses nurses of all levels – from vocational nursing to nurse practitioners. For those pursuing registered nursing, obtaining an associate's degree (ADN) or bachelor's degree (BSN) in nursing is required. After completion of an accredited nursing program, successful completion of the NCLEX-RN is required for licensure.
Are Any Certifications or Credentials Needed?
Since trauma nursing involves caring for patients who can be critically ill, trauma nurses must not only be certified in basic life support (BLS) but advanced cardiac life support (ACLS) as well. Pediatric advanced life support (PALS) may also be required. These courses are available through the American Heart Association, but most workplaces arrange and cover the cost of required courses.
Additional certifications may also be required based on the place of employment. There is a great deal of overlap between emergency and trauma nursing, and some emergency medicine training is required for trauma nurses. The Trauma Nursing Core Course (TNCC) is a two-day certification course that prepares nurses for caring for trauma patients. It provides hands-on learning as well as classroom and online learning. Certification is valid for four years.
The Emergency Nursing Pediatric Course (ENPC) may also be required depending on the workplace. Students learn medical and pharmacological interventions as well as how to recognize medical emergencies in children. Certification is valid for four years.
Trauma nurses can also become certified in flight nursing—responding to medical emergencies from the air and participating in evacuation/disaster relief. The Board of Certification for Emergency Nursing (BCEN) offers a Certified Flight Registered Nurse (CFRN) credential for nursing. Eligibility for certification include:
Must possess an active, unrestricted RN license
Two years of experience as a flight nurse recommended, but not required
The CFRN credential is valid for four years. A BSN is not required.
Trauma nurses can also obtain Trauma Certified Registered Nurse (TCRN) Certification. The TCRN is the first nationally recognized certification available to trauma nurses. According to the BCEN, requirements for testing include:
Possess an active, unrestricted RN license
Two years or 1,000 practice hours in trauma nursing, to include direct and indirect patient care
Twenty to thirty hours of trauma-specific coursework across the trauma continuum
The TCRN certification is valid for four years. Read more for further clarify on trauma nurse certifications.
Trauma Nurse FAQs
Trauma nurses must observe certain precautions to preserve their safety and well-being. They often don't know anything about the patient when they are first brought in to the Emergency Department - only a basic assessment of their injury. They must treat all patients as though they carry bloodborne pathogens. Trauma patients commonly arrive bleeding, so personal Protective Equipment should be readily available to include gloves, gowns, masks, goggles, etc.
Trauma patients can also experience behavioral disturbances. The shock from the trauma or substance abuse can make patients confused and agitated - nurses should be aware of their surroundings at all times, and avoid wearing long or dangling accessories such as earrings or lanyards. Chemical or mechanical restraints may be necessary until the patient is stabilized.
Some trauma patients arrive due to gunshot wounds, assault, or battery. Many facilities employ "lockdowns" on suspected or confirmed gang-related injuries, so trauma nurses should know and follow the organization's workflows surrounding this. For example, visitors are restricted, and nurses should know how to deter attempts to reach patients and maintain patient privacy.
Nurses working in trauma units may also care for patients requiring total care with extremely limited mobility. Nurses should be cognizant of ergonomics when moving or mobilizing patients. Using a team approach helps reduce the physical strain of moving patients.
Where Do Trauma Nurses Work?
Trauma nurses can work in care areas such as:
Emergency rooms
Intensive care units
Trauma step-down units
Trauma Med/Surg units
Ambulance transport/flight nursing
What Does a Trauma Nurse Do?
Trauma nurses have a tremendous responsibility – they are often the front-line staff when patients present to emergency rooms, or when responding to emergency calls. They must be able to quickly triage patients based on acuity and must be able to work in high-pressure environments.
What Are the Roles & Duties of a Trauma Nurse?
The primary role of trauma nurses is to stabilize patients. Specifically, trauma nurses:
Triage patients based on acuity
Recognize signs and symptoms of deterioration in clinically unstable patients
Administer first aid or CPR if needed
Administer emergency medications, such as those given during a Code Blue
Administer IV fluids or blood products
Perform wound care
Communicate and collaborate with physicians throughout the hospital stay
Provide reassurance to patients and families during traumatic events
Provide resources to patients who have suffered a traumatic injury or event, including abuse and assault
Report cases of abuse and neglect to adult/child protective services
Work with law enforcement in trauma cases resulting from criminal activity
Maintain thorough documentation of the care of trauma patients
What Does a Trauma Nurse Practitioner Do?
As with any nurse practitioner, trauma NPs can perform extensive physical exams, diagnose patients, order medications, treatments, and procedures, monitor progress and healing, and more. For example, if a patient comes in to the emergency department following a car accident, a trauma NP can perform a rapid assessment, order pain medications and imaging tests, and determine the recommended disposition.
In order to work in the field of trauma, nurse practitioners should have several personality traits. They must be able to work well under pressure, as some trauma cases come in quickly and require fast thinking. Similarly, they need to be able to rapidly assess a situation and order pertinent treatments. They must also keep calm in the face of severe trauma cases, which is imperative when deciding which courses of action are needed.
Trauma Nurse Salary & Employment
According to Payscale, trauma nurses with a TNCC credential can earn a median salary of $66,544-$96,109, depending on the job. Nurses with this certification can work as a staff nurse, in emergency rooms, as nurse managers, emergency room directors, or nurse supervisors and therefore salaries can differ. Salary is also dependent on city/state, additional certifications/degrees held, and the organization of employment.
While the Bureau of Labor Statistics does not have published information on trauma nurses specifically, it does outline the projected growth of RNs in general—16% by the year 2024. This rate is considered much faster than average for all occupations.
Helpful Organizations, Societies, & Agencies