Surgical Tech to RN
Surgical technologists, also referred to as surgical techs or operating room technicians, are important members of the surgical team. Surgical techs work in hospitals and surgery centers and assist with surgeries of all types. According to the U.S. Bureau of Labor Statistics (BLS), surgical techs earn an average annual salary of around $47,000. Their typical duties include: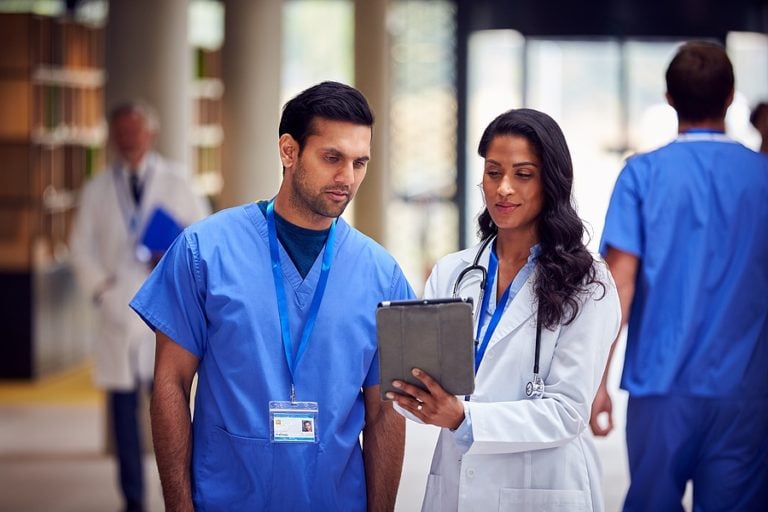 Preparing operating rooms for surgery
Sterilizing medical equipment and ensuring operating room supplies are fully stocked prior to surgery
Preparing patients for surgery by disinfecting incision sites
Passing surgical instruments and other supplies to surgeons during procedures
Maintaining a sterile operating room environment to prevent infection
Many surgical techs who are passionate about clinical care decide to pursue their registered nursing license in order to take on additional patient care responsibilities and earn higher salaries.
Differences Between Surgical Tech and RN Roles
A surgical tech's duties are primarily confined to the operating room, helping prepare ORs and patients before and during surgery. A registered nurse's duties, however, extend beyond the operating room to include additional patient care tasks including, but not limited to, administering medications, monitoring a patient's vital signs during their hospital stays, providing emotional support and home care instructions, assisting with diagnostic tests and operating medical equipment. RNs may work in operating rooms alongside surgeons in addition to a large number of other healthcare settings, and take on leadership and supervisory duties that are unavailable to surgical techs. For example, RNs may oversee a team of licensed practical nurses and nursing assistants to ensure patient needs are met.
Why Should a Surgical Tech Pursue an RN Degree?
There are several reasons a surgical tech may want to consider becoming an RN. One primary reason for many is the increase in career opportunities afforded to RNs compared with surgical techs. RNs can work in a variety of healthcare settings, including private practice doctor's offices, outpatient care facilities and various areas of hospitals, whereas surgical techs work exclusively in operating rooms and surgical centers. Surgical techs who want to become registered nurses to expand their scope of practice in operating rooms can choose from many surgical RN specializations, including OR nursing, CVOR nursing, medical-surgical nursing, and more. However, RNs may specialize in a number of areas of healthcare beyond surgical care, which may be interesting to a surgical tech looking to experience patient care outside of an operating room.
In addition, RNs earn higher salaries on average than surgical techs. According to the BLS, registered nurses on average earned more than $71,000 per year in 2018, compared with $47,000 per year for surgical techs. Individual salary levels can fluctuate depending on professional experience and specialty area, but in general registered nurses earn higher salaries commensurate with their wider range of duties.
How Does a Surgical Tech Become an RN?
Becoming an RN requires additional training and certification beyond what is required of surgical techs. There are a few pathways to becoming an RN, including associate's degree programs that generally take around two years to complete, as well as bachelor's degree programs that take around four years to complete. In both cases, program graduates will need to pass the NCLEX-RN licensing exam for their state in order to begin a professional nursing career.
There are no direct Surgical Tech to RN bridge programs available that create a clear pathway to RN licensing for surgical techs. However, in some cases, surgical tech course credits may transfer toward a nursing degree as there is some overlap in curriculum in the areas of anatomy, physiology and nursing care. Whether credits transfer and how many are accepted, will depend on your school, so it's a good idea to discuss this with your nursing school of choice before applying.
Surgical Tech to ADN Pathway
The fastest route to a new career as an RN is by earning an associate's degree in nursing (ADN), which generally takes two to three years to complete depending on the school. ADN programs require a high school diploma or GED as prerequisites and are offered at many community colleges and vocational schools. In addition to classroom instruction, students will also complete hands-on clinical experience in order to earn their degree. In some cases, schools may accept surgical tech coursework toward earning the associate's degree. It is a good idea to ask in advance if an RN program will accept past coursework before applying.
Surgical Tech to BSN Pathway
A longer pathway to RN licensure, but one that may lead to higher-paying job opportunities upon graduation, is the Bachelor of Science in Nursing (BSN) degree. BSN programs take four years to complete and provide additional training and coursework beyond what is offered in an associate's degree program. This additional investment of time and tuition often leads to a competitive edge in job searches and higher starting salaries. As with ADN programs, in some cases, select surgical tech coursework may transfer toward a degree program, but you should inquire with your school of choice about transfer credits.
Surgical Tech to LPN/LVN to RN Pathway
Less direct than an associate's degree or bachelor's degree, surgical techs may consider completing a licensed practical/vocational nurse training program to ensure they are interested in a career in patient care nursing. LPN/LVNs gain experience providing basic patient care services and earn around the same pay as a surgical tech on average ($46,000 per year). LPN/LVN training programs are quick to complete (around one year), and once an LPN/LVN has gained nursing experience, there are many direct LPN/LVN to RN bridge programs that make it easy to convert LPN/LVN experience into an RN license in around 12-18 months of additional study.
Learn more about other entry-level nursing options.
"Testing Out"
Another option for surgical techs interested in pursuing their RN training is to "test out" of certain prerequisite courses, thereby shortening the length of their nursing training. For example, Achieve Test Prep offers surgery techs the opportunity to test out of certain nursing prerequisites by offering shortened hybrid online/in-person courses that prepare students to take exams that satisfy certain course requirements. Prior to choosing a "test out" option, students should ensure their nursing program of choice will accept "testing out" in place of required courses.
How Long Is an RN Program?
The length of time it takes to complete a nursing training program will depend on the type of degree chosen (ADN vs. BSN), the individual school, and whether any prior surgical tech coursework is transferrable. In general, associate's degree programs take around two years to complete, while BSN programs take four years to complete. If a student is able to transfer several credits and/or tests out of multiple prerequisites, they will be able to complete their degree and take the NCLEX exam in a shorter amount of time.
What Types of Schools Offer This Program?
A variety of school types offer RN training programs, including vocational schools, community colleges, and four-year colleges and universities. It is important when researching schools to make sure you select a program that is accredited by a third-party accrediting association that ensures you will receive a high-quality education, in addition to being recognized and approved by your state's board of nursing. It is also a good idea to select a school with a high NCLEX pass rate, which proves the school excels at preparing students to pass the licensing exam and start their careers as registered nurses.
OTHER RN BRIDGE PROGRAMS