MSN to DNP Programs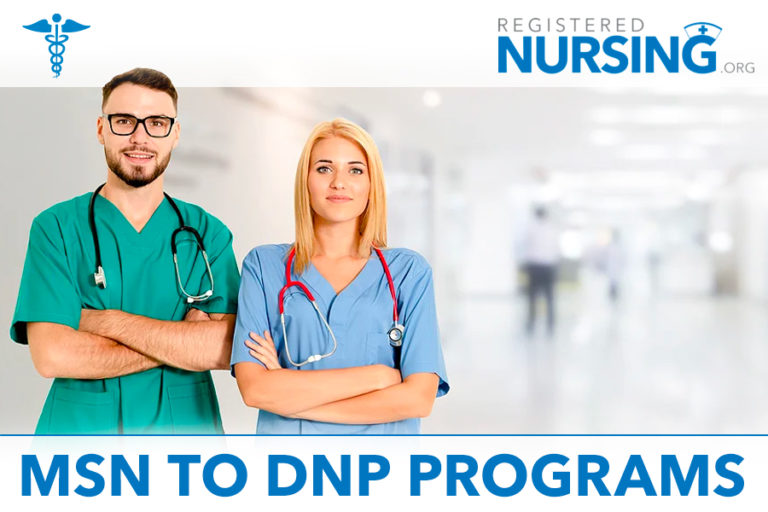 The Doctor of Nursing Practice degree (DNP) is considered a "terminal" degree for nurses – which means it is one of the highest degrees a nurse can earn in the field of nursing. Many choose to earn a DNP to be able to work in leadership roles and to demonstrate they are considered experts in their field.
Is an MSN to DNP Program Right for Me?
Nurses who hold a Master's of Science in Nursing (MSN) may choose to advance their career by earning a DNP. They may wish to expand their practice by becoming certified in a new population-specific focus, become certified as a nurse specialist, educator, or nurse administrator, or completely change their career focus. For example, an adult-gerontology nurse practitioner may wish to become certified in women's health or psych/mental health to be able to care for a broader range of patients. A pediatric nurse practitioner may choose to become a clinical nurse specialist in the field and utilize their knowledge base to educate other nurses.
One may wonder why a nurse would choose a DNP degree over a post-graduate certificate or a dual MSN degree. The decision to earn a DNP over other options is entirely individualized based on the nurse's career and academic goals. Some nurses prefer more theoretical-based education, have a desire to complete a capstone or thesis project, or simply desire the sense of accomplishment that comes from earning the highest degree in nursing. Whatever reason nurses have to choose a DNP over other degree/certificate options, there are many schools and programs to help nurses meet their goals.
Types of MSN to DNP Programs
MSN to DNP programs are offered both online and on-campus, depending on the school. The specialty options differ between schools, but may include:
What Are the Prerequisites for an MSN to DNP Program?
Each school determines specific admission requirements and prerequisites for entry into a DNP program. General requirements may include:
Hold an MSN from a nationally accredited school or university
Hold specialty certification as an APRN
Current licensure as a registered nurse or APRN
Have maintained a GPA of 3.0 or higher in an MSN program (specific GPA requirements vary between schools)
Have completed a statistics course
Provide transcripts from all educational institutions attended
Provide a statement of purpose, resume, and/or CV
Provide letters of recommendation
Complete an interview process with faculty
The above list includes examples of what an MSN to DNP program may require for admission. Prospective students are urged to determine specific admission criteria before applying.
Are Clinical Hours Required for the MSN to DNP Program?
MSN to DNP students are typically required to complete a set number of clinical hours to earn their DNP. Usually, 1,000 hours is the requirement following a BSN. Most DNP candidates have completed part of this 1,000-hour requirement during their MSN program, and many DNP schools allow those hours to count toward the DNP requirement. MSN to DNP students usually have to complete around 500 or so remaining hours to graduate.
Are Online MSN to DNP Programs Available?
Many, if not most, nurses with an MSN are already practicing in various fields. Those wishing to earn a DNP must be able to find a program that is flexible enough for them to continue to work while pursuing a higher degree.
DNP programs are offered on-campus, online, or a hybrid of the two. Some programs are 100% online, and some are almost fully online with the exception of a possible mandatory orientation campus visit or admission interview. It's important to remember that clinical hours are usually required, depending on the nurse's degree focus.
How Long Do MSN to DNP Programs Take to Complete?
The quick answer to how long an MSN to DNP program takes to complete is about one to two years on average. However, there are various factors that come in to play when estimating the time to complete a DNP, which makes calculating an exact timeline a little more complicated. Some nurses may need to attend part-time, which extends the time it takes to complete. Some programs or specialties may be longer or shorter, depending on the focus. A capstone or thesis project may be required, which can cause fluctuations in length as well.
Thankfully, most schools are transparent on their websites and will list the exact credit hours required, any thesis requirements, and whether part-time attendance is a possibility.
What Is the Cost to Complete an MSN to DNP Program?
The cost to complete an MSN to DNP program is variable. The cost depends on the school, city/state, specialties offered, and even whether it's an online or on-campus program. University fees, supplies, and the cost to commute and park are also separate. Schools that offer an MSN to DNP program usually have detailed breakdowns of cost on their websites.
As an example, Duke University School of Nursing's DNP program lists an average cost of $13,417 per semester. However, there are additional fees required such as a technology fee, transcript and graduation fee, a health fee, and a few other mandatory expenses. Most schools do offer various financial aid options that can help MSN nurses afford the cost of these programs.
What Is the MSN to DNP Curriculum Like?
The MSN to DNP curriculum can vary between schools and on the chosen specialty. Vanderbilt University's website lists a sample curriculum, with courses such as:
Evidenced-base practice
Informatics
Statistics
Quality improvement
Epidemiology
Organizations and systems management
Healthcare economics
Health policy
Ethics
Additionally, a DNP project is required to demonstrate that the student can apply theoretical nursing concepts to real-life healthcare delivery.
Are Any Exams Required Before I Can Practice?
An exam is required if the DNP graduate changes specialties. For example, if a family NP with an MSN earns a DNP in the pediatric specialty, he or she would need to re-certify as a pediatric NP through a certifying agency such as the American Nurses Credentialing Center (ANCC). Certification is a requirement for licensure as an NP, Clinical Nurse Specialist, Nurse Anesthetist, or Nurse Midwife.
Where Can I Work With a DNP?
DNP-prepared nurses can work just about anywhere! Common environments where DNP nurses work include:
Hospitals
Clinics
Surgery Centers
Birthing centers
Private physician's offices
How Much Money Will I Earn as a DNP?
According to PayScale, the average salary of a DNP-prepared nurse is around $102,000 annually. PayScale also breaks down the average by listing the average cost per NP specialty, which ranges from $89,241 (Pediatric NP) to $105,564 (Psychiatric NP). According to Salary.com, the average salary for a nurse anesthetist (one of the highest-paid APRN specialties) is $183,121.
However, when it comes to salary, it's important to recognize that there are many factors involved. DNP salary is based on location (city and state), organization, and sometimes by years of experience. Additional specialty certifications may also result in higher compensation.
Helpful Links
OTHER GRADUATE NURSING BRIDGE PROGRAMS