CNA Classes & Programs in Delaware
Due to a sizable senior population, nursing homes and assisted living facilities in Delaware have many job openings for Certified Nursing Assistants (CNAs). Because these healthcare professionals play an essential role in patient care, Delaware has qualified training programs to train people to become CNAs. These nurse aides in Delaware make $29,700 a year on average per the U.S. Bureau of Labor Statistics.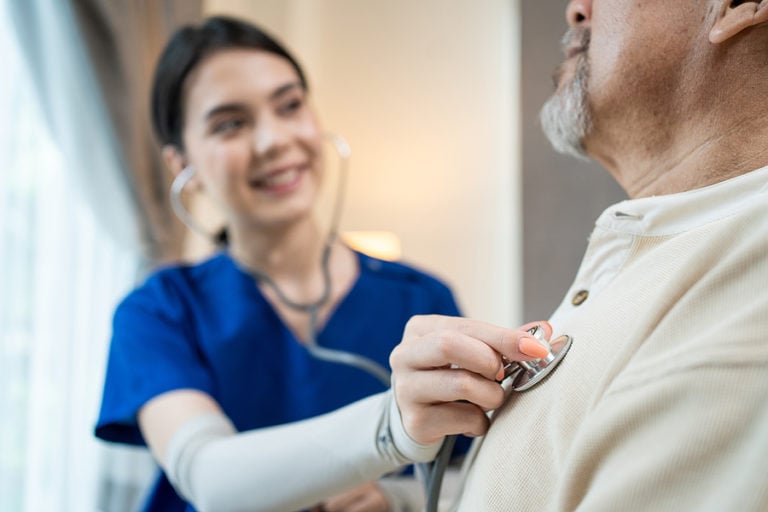 Choosing the Best CNA Programs in Delaware
More than a dozen vocational schools, community colleges and career institutes throughout Delaware offer CNA trainings. Class size, cost of tuition, student-to-instructor ratio and pace of learning are variables applicants can compare to narrow their CNA institute choice. Interested applicants can learn more about what is required when applying by reading our CNA Training Programs Admissions page.
Program Length: Students completing their Certified Nursing Assistants (CNAs) training can finish their program in 6 weeks for accelerated formats and 10 weeks for non-accelerated formats. Classroom learning and on-site learning at a healthcare facility are included.
Program Cost: Each institution prices their CNA training programs accordingly but most cost between $2,000 to $3,000. Non-profit organizations such as the American Red Cross and Job Corps of Delaware offer free CNA courses; students may still need to pay for testing, supplies and other fees.
Board Approved Programs: The Division of Health Care Quality of the State of Delaware oversees licensing for Certified Nursing Assistants (CNAs) and Home Healthcare Aides. When selecting a training, ensure it is compliant with state certification requirements. Check out the CNA certification requirements for Delaware to learn more.
Online/In-Person Options: Certified Nursing Assistants in Delaware typically train for their career by completing courses and clinical work in a supervised on-site facility. Online courses are limited. Most programs offer flexibility and accelerated formats to accommodate the hectic schedules of busy students.
2023 List of CNA Classes in Delaware
To get a feel for the CNA curriculum in Delaware, see our list of classes and courses available in the state:
Bear, DE
Dover, DE
Newark, DE
Newport, DE
Seaford, DE
Wilmington, DE
Are we missing your school's program or need to update information listed? Please contact us so we can make the necessary changes.