CNA Classes & Programs in Maryland
Certified nursing assistants (CNAs), also known as nursing aides or nursing assistants, play a vital role on the patient care team, helping patients with their daily activities, taking vital signs, answering call lights, and sanitizing rooms. As an entry-level position that requires a relatively short training period, many nursing assistants begin their careers as CNAs and then move into more senior nursing roles such as registered nursing or practical nursing. In Maryland, CNAs also have the opportunity to earn additional nursing assistant certifications, including geriatric nursing assistant (GNA), home health aide (HHA), certified medicine aide (CMA), and dialysis technician. CNAs earn an average annual salary of $30,470 in Maryland, according to the U.S. Bureau of Labor Statistics.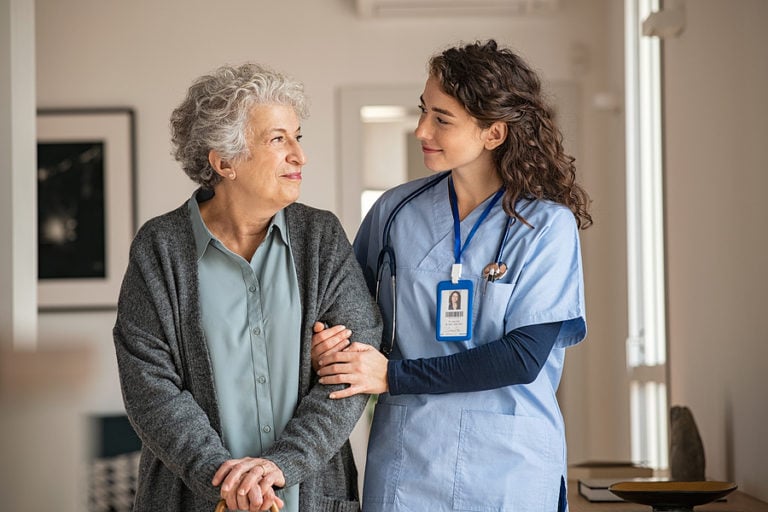 Choosing the Best CNA Programs in Maryland
The first step in becoming a CNA in Maryland is completing a state-approved training program and passing a certification exam. Additional nursing certifications are available as stand-alone programs or offered in conjunction with the baseline CNA training, and require additional certification exams. CNA training programs are offered at many community colleges and technical schools in Baltimore and throughout the state. For more information about admissions requirements for CNA programs in Maryland, visit our CNA Training Programs Admissions page.
Program Length: CNA training programs vary in length and can take anywhere from 4 to 12 weeks to complete. In Maryland, CNA training programs must include a minimum of 100 hours of total training, with a minimum of 40 hours allocated to clinical practice. For programs that combine the baseline CNA training with a specialization such as GNA training, they take longer than 100 hours of training to complete.
Program Cost: The cost of CNA training varies from school to school. As one example of program costs, the CNA/GNA training program at Stein Academy in Baltimore costs $995 in 2019 which includes tuition and lab fees for the program. Students will also incur additional costs for books, uniform, certification exams, and fingerprinting and background check.
Online/In-Person Options: All CNA training programs include classroom instruction, lab instruction, and hands-on clinical practice components. In some cases, there may be an opportunity to satisfy the classroom learning component online, which offers flexibility and convenience to working students or those with personal obligations that make commuting to campus difficult or even impossible.
2023 List of CNA Classes in Maryland
To get a feel for the CNA curriculum in Maryland, see our list of classes and courses available in the state:
Arnold, MD
Baltimore, MD
Bel Air, MD
Chillum, MD
Columbia, MD
Cumberland, MD
Frederick, MD
Gaithersburg, MD
Glen Burnie, MD
Hagerstown, MD
Hyattsville, MD
La Plata, MD
Lanham, MD
Largo, MD
Leonardtown, MD
North East, MD
Owings Mills, MD
Pikesville, MD
Prince Frederick, MD
Riverdale Park, MD
Severn, MD
Silver Spring, MD
Westminster, MD
Windsor Mill, MD
Woodstock, MD
Wye Mills, MD
Are we missing your school's program or need to update information listed? Please contact us so we can make the necessary changes.