CNA Classes & Programs in Minnesota
The certified nursing assistant (CNA) job is an entry-level position on the nursing team that performs a variety of patient care tasks under the supervision of a licensed practical nurse or registered nurse. CNAs, also known as nursing aides or nursing assistants, check patient vital signs, report changes to a patient's condition, and assist with range-of-motion exercises and daily activities such as eating, bathing, and using the bathroom. CNA training programs are quick to complete and relatively inexpensive compared to LPN and RN training programs, making this an attractive entry point to the nursing profession.  In Minnesota, CNAs earn an average annual salary of $32,560, according to the U.S. Bureau of Labor Statistics.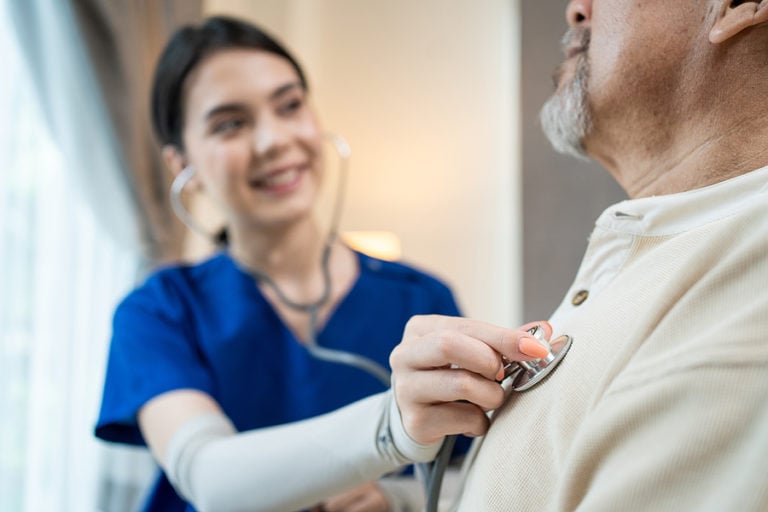 Choosing the Best CNA Programs in Minnesota
In order to become a CNA, aspiring nursing assistants must complete a state-approved training program and pass the state's certification exam administered by Pearson VUE. In Minnesota, CNA training programs are offered at many community colleges, vocational schools, medical centers, nursing homes, and the American Red Cross. For more information about admissions requirements for CNA programs in Minnesota, please visit our CNA Training Programs Admissions page.
Program Length: CNA training programs vary in length, and generally take between 4 and 12 weeks to complete. In Minnesota, CNA training programs must include a minimum of 75 hours of instruction, including 59 hours of classroom instruction and 16 hours of clinical practice. Some schools in Minnesota offer CNA training programs that also include home health aide training and certification in addition to the nursing assistant curriculum.
Program Cost: The cost of CNA training varies from school to school. As one example of program costs, the Nursing Assistant Program at American Nursing & Technical Institute in Minneapolis is $1,500 in 2019. When researching programs, be sure to factor in the cost of textbooks, supplies/uniforms, certification exam fees, and background check fees if not included in your school's total tuition price.
Online/In-Person Options: While most CNA programs are classroom-based programs, in some cases there may be an opportunity to take a portion of the classroom curriculum online and the clinical practice portion of the program in person in a nursing home or medical facility. Online courses offer students the flexibility of taking classes on their own schedules and the convenience of completing assignments from home.
2023 List of CNA Classes in Minnesota
To get a feel for the CNA curriculum in Minnesota, see our list of classes and courses available in the state:
Ada, MN
Alexandria, MN
Anoka, MN
Bemidji, MN
Bloomington, MN
Brooklyn Park, MN
Duluth, MN
Fergus Falls, MN
International Falls, MN
Inver Grove Heights, MN
Minneapolis, MN
North Mankato, MN
St Cloud, MN
St Paul, MN
St. Paul, MN
Thief River Falls, MN
Virginia, MN
White Bear Lake, MN
Willmar, MN
Are we missing your school's program or need to update information listed? Please contact us so we can make the necessary changes.