CNA Classes & Programs in New York
Certified nursing assistants, also commonly referred to as nursing assistants or nurse aides, perform a number of important patient care duties including taking patient vital signs, assisting patients with daily activities including answering call lights, bathing and feeding, as well as sanitizing patient rooms. An entry-level position that requires a brief training program, the CNA role is an excellent first step to a career in nursing. In New York, CNAs earn an average annual salary of $35,080, according to the U.S. Bureau of Labor Statistics.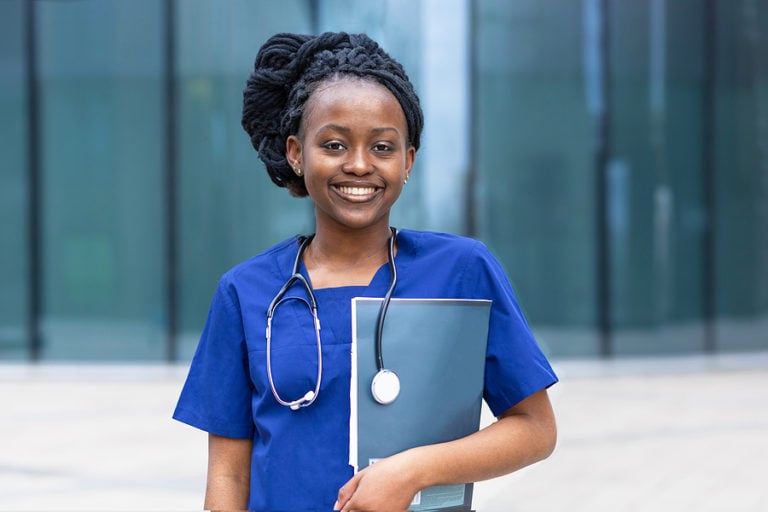 Choosing the Best CNA Programs in New York
Beginning a career as a CNA requires completion of a state-approved training program, which often takes only a matter of weeks to complete. After completing training, aspiring nursing assistants must pass their state's certification exam and become registered with their state. For additional details on admissions requirements for CNA training programs in New York, please visit our CNA Training Programs Admissions page.
Program Length: CNA training program length can vary, with some taking as little as 4 weeks to complete. In New York, training programs are offered in many community colleges, vocational schools as well as a number of medical facilities and nursing homes. CNA training programs in New York consist of at least 100 hours of training, including at least 30 hours of hands-on clinical training.
Program Cost: The cost of a CNA training program varies from school to school. In some cases, nursing homes or other medical facilities may offer free CNA training to those who agree to an employment contract with the organization. When researching training programs, be sure to determine the cost of additional fees, textbooks, uniform/supplies, exam costs, etc. as these need to be factored in alongside tuition.
Online/In-Person Options: In some cases, the classroom portion of CNA training may be available in an online format. Online coursework is then accompanied by in-person lab work and clinical training hours in a local healthcare facility. This is an ideal situation for students who live in rural areas or who have otherwise busy schedules. Traditional classroom-based programs are always an option as well.
2023 List of CNA Classes in New York
To get a feel for the CNA curriculum in New York, see our list of classes and courses available in the state:
Brentwood, NY
Bronx, NY
Brooklyn, NY
Buffalo, NY
Canandaigua, NY
Cassadaga, NY
Corning, NY
Farmingdale, NY
Fonda, NY
Garden City, NY
Glenmont, NY
Hempstead, NY
Jamaica, NY
Johnstown, NY
Medina, NY
New York, NY
Oneonta, NY
Ossining, NY
Rochester, NY
Schenectady, NY
Utica, NY
Valhalla, NY
Yonkers, NY
Are we missing your school's program or need to update information listed? Please contact us so we can make the necessary changes.