CNA Classes & Programs in Oklahoma
The certified nursing assistant (CNA) role, also known as a nursing aide, is an entry-level position in the nursing field. After completing a brief training program and passing a certification exam, CNAs can begin working under the supervision of licensed practical nurses (LPNs) and registered nurses (RNs) in nursing homes, long-term care facilities, retirement communities, and hospitals. Typical job duties for CNAs include assisting patients with activities of daily living such as eating, dressing, taking and recording patient vital signs, preparing patient rooms, and transferring patients. In Oklahoma, CNAs can expect an average annual salary of $24,770, according to the U.S. Bureau of Labor Statistics. After gaining experience as a CNA, many nursing assistants complete additional training required to become LPNs or RNs.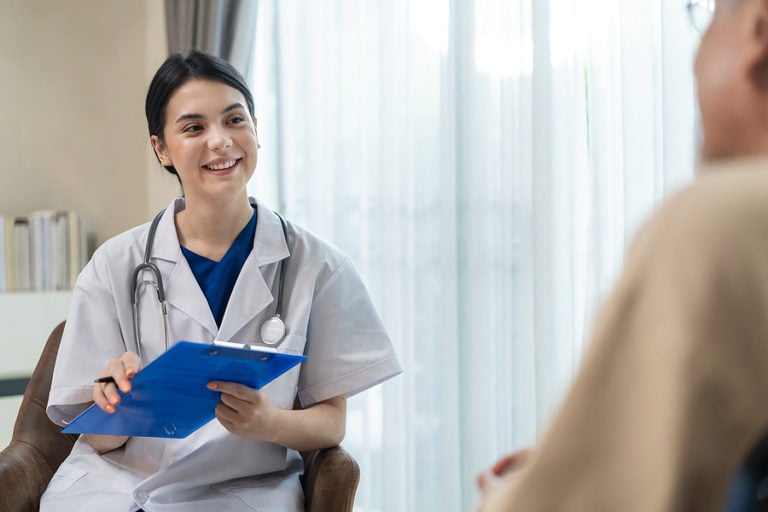 Choosing the Best CNA Programs in Oklahoma
The first step in becoming a CNA is to complete a training program and pass the state certification exam. In Oklahoma, there are six distinct categories of nursing assistants certified by the state, which determine which work environment an aide is qualified to work in. The long-term care aide is the equivalent of CNAs in other states, but students can choose to take additional training beyond the long-term aide training to become certified as home health aides, adult day care aides, developmentally disabled care aides, certified medication aides, and residential care aides. CNA training programs are relatively quick to complete and are offered in many community colleges, vocational schools as well as in some medical facilities. For more information about admissions requirements for CNA programs in Oklahoma, please visit our CNA Training Programs Admissions page.
Program Length: CNA training programs can vary in length depending on the type of certification. The base-level long-term care aide training in Oklahoma must include 75 hours of instruction, including 16 hours of supervised practical training. These programs generally take around 2 to 4 weeks to complete. Additional CNA certifications require an additional 16 hours of training each beyond the long-term care aide training.
Program Cost: The cost of CNA training programs varies from school to school. As one example of program costs, the long-term care aide program at MedNoc Training is $755, which includes tuition, textbook loan, state certification exam, TB test fee and BLS certification. In addition, students need to purchase the proper uniform for the program. When researching training programs, make sure to factor in the cost of additional fees like uniforms, textbooks, lab fees and criminal background check fees in addition to the stated tuition cost.
Board Approved Programs: Each state sets its own requirements for CNA certification, so aspiring nursing aides should make sure they choose a state-approved training program. The Oklahoma State Department of Health maintains the Nurse Aide Registry for the state and offers a listing of approved training programs on its website. To learn more, check out the CNA certification requirements for Oklahoma.
Online/In-Person Options: CNA training programs are generally offered in person, but may be offered on nights and weekends to accommodate working students. In some cases, the classroom instruction portion of a program may be offered in an online format, while the laboratory work and clinical practice hours take place in-person on campus and/or in a healthcare facility.
2023 List of CNA Classes in Oklahoma
To get a feel for the CNA curriculum in Oklahoma, see our list of classes and courses available in the state:
Ada, OK
Afton, OK
Altus, OK
Alva, OK
Ardmore, OK
Bartlesville, OK
Broken Arrow, OK
Burns Flat, OK
Chickasha, OK
Choctaw, OK
Drumright, OK
Duncan, OK
El Reno, OK
Elk City, OK
Fairview, OK
Fort Cobb, OK
Guthrie, OK
Hobart, OK
Norman, OK
Oklahoma City, OK
Omega, OK
Ponca City, OK
Pryor, OK
Sapulpa, OK
Stillwater, OK
Tulsa, OK
Warner, OK
Weatherford, OK
Wetumka, OK
Yukon, OK
Are we missing your school's program or need to update information listed? Please contact us so we can make the necessary changes.