DNP Programs in Connecticut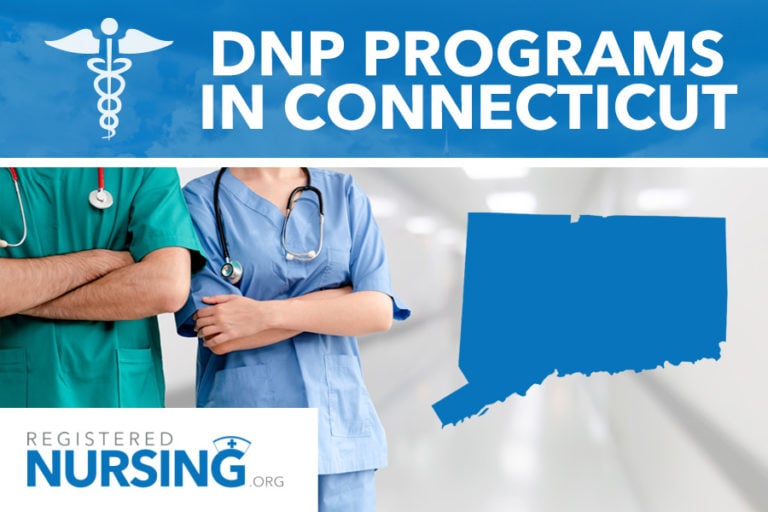 Registered nurses and advanced practice nurses sometimes prefer to take on a more leadership role. A doctoral degree in nursing is the terminal degree for nurses and indicates the nurse has become an expert in the field and specialty of choice. DNP nurses may become:
Nurse executives
Advanced practice RNs
Directors
Clinical educators/faculty
DNP students spend time in the clinical setting as well as work on research projects. Core concepts of DNP programs may include:
Policy-making
Organizational systems
Business management
Clinical practice
Choosing a DNP program
Deciding to enroll in a DNP program is a significant choice in a nurse's career. Connecticut has six DNP programs. Choosing a program is similar to selecting an MSN program, and a few things should be taken into consideration.
What to Consider When Choosing a DNP Program
Cost – the average cost of a DNP program in Connecticut is about $1000 per credit. This figure does not include additional university fees, books, supplies, or living expenses. Additionally, out-of-state residents may have to pay higher tuition. Many schools have financial aid options available and offer part-time attendance which helps with managing the cost.
Accreditation – Ensuring the DNP program is accredited by either the Commission on Collegiate Nursing Education (CCNE) or the Accreditation Commission for Education in Nursing (ACEN) is critical. Accreditation by these bodies means the program has met or exceeded strict educational standards in nursing. As stated earlier, Connecticut has six DNP programs, all of which are accredited by the CCNE.
Online Options – Most DNP programs in Connecticut offer online curriculum. However, some are in-person, and some are hybrid programs. Campus visitation may be required, even for online-only programs, but it would be minimal. Online programs are especially helpful for those who are already working as RNs or APRNs.
Residency Options – Students enrolled in DNP programs must find a mentor in the clinical setting or within the area of interest (i.e., executive leadership). Students must complete projects that pertain to their specialty area and must spend a certain number of hours to do so. For those in nurse practitioner, CRNA, or midwifery programs, 1000 to 2000 hours of supervised clinicals may be required. In some cases, hours completed during an MSN program may count toward the DNP requirement. Additionally, Connecticut has one residency program for NP students. This program helps build upon skills learned during the DNP program.
Fairfield University has several DNP tracks for nurses, such as:
Post-Masters DNP
FNP
Nurse Anesthesia
Psychiatric NP
Nurse Midwifery
Additionally, both BSN and MSN to DNP tracks are available. Students on the BSN to DNP FNP track must complete 72 credits, with a total of 1000 hour of supervised clinical practice. The website breaks down each specialty area and describes the tracks in detail, including admission requirements.
Admission & State Licensing or Certification Requirements
Admission
Each school outlines specific admission requirements. Students are encouraged to research all admission criteria thoroughly. General admission requirements for DNP programs may include:
Current RN or APRN license
MSN or BSN degree
Specialty certification (for APRN applicants)
GPA of 3.0 or higher
Transcripts from all educational institutions attended
Resume/CV/Written statement of purpose
Completion of a faculty interview
Certification
BSN to DNP tracks prepare students to sit for certification exams in their specialty area. The American Nurses Credentialing Center (ANCC), for example, certifies APRNs in specialty areas such as:
Adult/Gerontology NP
FNP
Pediatric NP
Psychiatric NP
Acute care NP
Adult/Gerontology CNS
Licensing
The Connecticut Board of Nursing outlines the APRN licensing requirements and provides links to helpful resources (i.e., nationally recognized specialty certification agencies). Requirements for licensure include:
Current RN license in the state of Connecticut
Hold current specialty certification and provide official verification of certification
Complete 30 hours of pharmacology education
Hold a master's degree (or higher)
Submit official transcripts from educational institution
Complete the application and pay required fees
Connecticut BSN to DNP Options
Obtaining a DNP might seem like it's a long road for RNs who hold a BSN. However, three of the six DNP programs in Connecticut offer BSN to DNP tracks. For the most part, the BSN to DNP tracks are for the nurse practitioner or CRNA role. For example, Quinnipiac University offers post-bachelor's DNP in:
Adult/ Gerontology NP
FNP
Nurse Anesthesia
For NP tracks. students can attend full or part-time, and it takes from three to four years to complete. The nurse anesthesia track is offered for full-time students only, and clinicals end with full-time hours plus a call rotation.
BSN to DNP program curriculum may vary between schools, but coursework may include:
Advanced pathophysiology
Advanced Pharmacology
Biostatistics
Advanced health assessment
Additionally, supervised clinical hours are required, as is a DNP project. Examples of DNP projects can include quality improvement, performance management, and evidence-based practice model change.
Related Education Paths
Helpful DNP Agencies and Organizations in Connecticut
List of Campus and Online DNP Programs in Connecticut
Fairfield, CT
Orange, CT
Storrs, CT
West Hartford, CT
Are we missing your school's program or need to update information listed? Please contact us so we can make the necessary changes.
Find DNP Programs By City: