DNP Programs in Idaho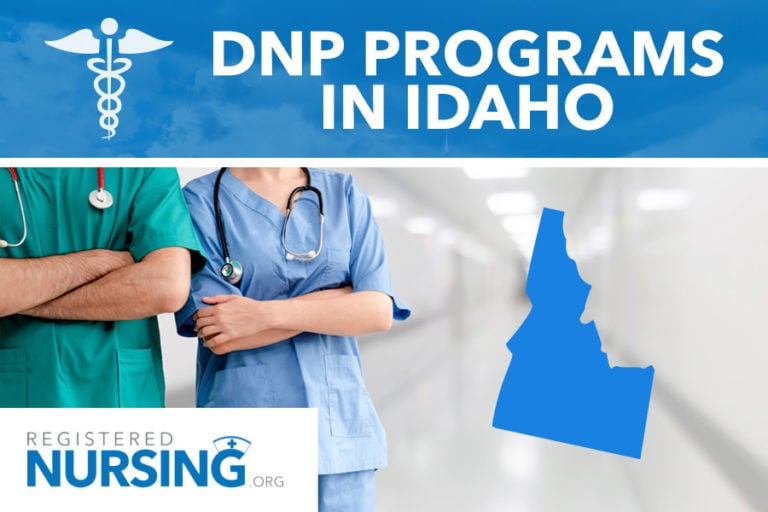 In the nursing field, the doctor of nursing practice (DNP) degree is a high-level, post-master's degree type. This means that the DNP degree is the highest level of education available within the field of nursing. The DNP degree is superior to a master's degree in nursing, and prepares nursing students to work in either a clinical settings and organizational/educational settings. Nurses who have earned DNPs are able to work in executive leadership roles like nursing or hospital administration, and in various disciplines as advanced practice registered nurses (APRNs).
Universities with DNP programs exist nationwide. Although it varies from program to program, typically these programs require students to complete 65 to 95 unit hours in addition to a number of supervised clinical hours in order to be awarded the degree. The amount of time it takes to successfully complete a DNP program will depend on the degree type held by the prospective student prior to matriculating (i.e. BSN or MSN).
Core competencies to be mastered by students during DNP programs will include:
Advanced health and physical assessment
Advanced physiology and pathophysiology
Advanced quantitative research methods and evidence based practice
Leadership
Advanced Pharmacology
Healthcare policy
Population-specific studies
Choosing a Doctor of Nursing Practice Program
Idaho offers two DNP programs (Boise State University & Idaho State University). Before making the decision to apply and enroll in one of these programs, there are a few key factors to consider.
What to Consider When Choosing a DNP Program
Program Cost—Boise State graduate courses in the doctoral nursing program are assessed at $750 per unit hour. The program consists of 40 unit hours, so in total the tuition will cost students $30,000. The tuition rate is the same for out-of-state (non-Idaho) residents. Idaho State graduate courses in the doctoral nursing program costs $3,583/semester for full-time in-state residents while out-of-state residents pay $881 per unit hour.
Online/Campus options— Boise State graduate level DNP courses are delivered online; students attend three to four Executive Sessions on the Boise State campus. Executive Sessions include an orientation and the delivery of scholarly project proposals and final reports. In addition, these on campus sessions provide a valuable opportunity to engage and interact with both faculty and fellow students. Idaho State does not offer DNP courses in an online format. 
Accreditation—Prior to enrollment, it's important for prospective students to consider the accreditation of the programs which they're looking into. DNP programs in the state Idaho are accredited by the Commission on Collegiate Nursing Education (CCNE) and approved by the Idaho Board of Nursing.
Residency—There is no current information on residencies in the state; however, students are highly encouraged to inquire with their university of choice for more information on residency or fellowship opportunities, as these are valuable experiences for students.  
Admission & State Licensing or Certification Requirements
Admission
Admission to the DNP programs in the state of Idaho will inevitably differ between universities; however, students will likely be required to:
Hold a current BSN or MSN degree from a CCNE or ACEN accredited School of Nursing.
A cumulative GPA of 3.0 (on a 4.0 scale) in their undergraduate nursing coursework
A cumulative GPA of 3.0 in their Master's program (based on a scale of 4.0)
English proficiency (written & spoken) is mandatory
Evidence of completing a descriptive or inferential statistics course with a C grade or higher within five years prior to start of the academic year of admission to the program
Have a current, unencumbered RN or APN license
Maintain certification as an APN (for MSN applicants)
Interview with faculty
Transcripts of all education institutions attended must be sent to the school of choice
Certification
DNP programs in Idaho allow students to sit for certification testing. DNP tracks offered by Idaho State University allow students to become certified as Family Nurse Practitioners and Psychiatric Mental Health Nurse Practitioners.
The DNP program at Boise State is leadership focused and does not prepare you for an APRN role.
Licensing
For Idaho nursing students who have successfully completed the DNP track, they will need to be licensed by the Idaho Board of Nursing. Requirements for licensure as an APRN include:
Completing an application
Background checks
Provide transcripts from all educational institutions
Submit verification of specialty certification
Complete fingerprinting
Idaho BSN to DNP Program Options
Depending on the respective DNP program, these degrees can be obtained by those with BSNs or MSNs.
Of the two DNP programs in Idaho, one of them offers BSN to DNP pathways to students. General curriculum in the BSN to DNP pathway will include but not be limited to the following:
Human Pathophysiology
Theoretical Foundations for Nursing Practice
Informational Technology in Health Care
Statistical Analysis in Evidence-Based Practice
Related Education Paths 
Helpful DNP Agencies and Organizations in Idaho
List of Campus and Online DNP Programs in Idaho
Boise, ID
Pocatello, ID
921 South 8th Avenue
Pocatello
,
ID
83209
(208) 282-2102
Are we missing your school's program or need to update information listed? Please contact us so we can make the necessary changes.
Find DNP Programs By City: