DNP Programs in Indiana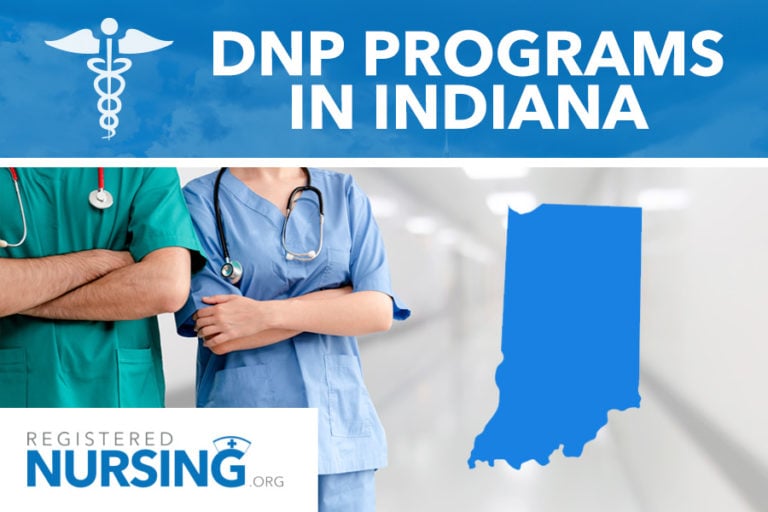 The doctor of nursing practice (DNP) is the terminal, or highest, degree someone can obtain in the nursing field. It is considered superior to the master's of science in nursing (MSN), which is the minimum degree requirement for advanced-practice nurses (APRNs). Nurses who have earned DNP degrees are able to work as certified nurse anesthetists (CRNAs), nurse practitioners, and as nurse midwives. Additionally, those who have obtained their DNPs can work in executive leadership roles like nursing or hospital administration, and as directors.
Universities with DNP programs exist throughout the entire country. The number of credits needed will differ from place to place; however, BSN to DNP students are expected to complete 65 to 95 unit hours in addition to a number of supervised clinical clerkship hours. Typically, students enrolled in full-time BSN to DNP programs will take three to four years to finish. Most MSN to DNP programs will require students to complete at minimum 39 unit hours, and will take students taking a full load about two years to complete
Core concepts taught to students during DNP programs will likely include:
Advanced assessment
Population-specific studies
Advanced physiology and pathophysiology
Advanced Pharmacology
Leadership Skills & Behavior
Healthcare policy
Quantitative Research Methods
Evidence-based practice
Healthcare policy
Choosing a Doctor of Nursing Practice Program
The state of Indiana has a total nine different DNP programs. Before applying, there are a few things to consider.
What to Consider When Choosing a DNP Program
Program Cost— Tuition prices for DNP programs in the state of Indiana vary widely. Tuition prices will significantly depend on whether you're an out-of-state or in-state student, and whether your planning to attend a public or private university. If you're an in-state or out-of-state student attending a public university, expect to pay around $400-450 per unit hour and $500-600 per unit hour, respectively. Conversely, if you're an in-state or out-of-state student attending a private university plan on paying $800-900 per unit hour and $1,800-2,200, respectively.
Online/Campus options— Six of Indiana's nine DNP programs are delivered either completely online or in a hybrid online-campus format.
Accreditation— DNP programs in the state of Indiana are accredited by the Commission on Nursing Education (CCNE).
Residencies— Fellowships or residencies are a stage in an advanced practice nurse's clinical education they provide patient care under the supervision of either a physician or another nurse practitioner while being paid a salary. The following are residency/fellowship opportunities offered within the state of Indiana.

Health Linc— Family Nurse Practitioner Residency Program
Admission & State Licensing or Certification Requirements
Admission
Requirements for admission into DNP programs in Indiana deviate from program to program. The following are the more common requirements for entry into most of the programs in the state:
Complete an application
Provide curriculum vitae (CV) or resume
Possess a BSN or MSN from a nationally accredited program
Have maintained a 3.0 grade point average, based on a 4.0 system in either undergraduate or graduate degree programs
Posses a valid, unrestricted RN license
For students with foreign transcripts, an evaluation is required with GPA equivalency and TOEFL score.
Documentation of clinical hours performed in MSN program
GRE scores required for applicants with an undergraduate GPA under 3.0, recommended for all other applicant.
Personal statement of goals for doctoral education and subsequent career plans
Complete an in-person interview with university program faculty
Satisfactory criminal background check
Certification
In the state of Indiana, after a nursing student finishes their DNP degree they are able to sit for the state certification exam. Once this is exam is passed, given everything else is in order, individuals can then become certified in the following advanced nursing specialties:
Psych/Mental Health Nurse Practitioner
Family Nurse Practitioner
Neonatal Nurse Practitioner
Adult-Gerontology Acute Care Nurse Practitioner
Nurse Anesthesia
Pediatric Primary Care Nurse Practitioner
Licensing
Indiana requirements for licensure as an APRN include:
Completing an application
Background checks
Provide transcripts from all educational institutions
Submit verification of specialty certification
Complete fingerprinting
Indiana BSN to DNP Program Options
There are three universities that have BSN to DNP programs in the state of Indiana. Valparaiso University, Saint Mary's College and Purdue University all offer BSN to DNP pathways.
Related Education Paths
Helpful DNP Agencies and Organizations in Indiana
List of Campus and Online DNP Programs in Indiana
Evansville, IN
Fort Wayne, IN
Hammond, IN
Indianapolis, IN
Marion, IN
Notre Dame, IN
Terre Haute, IN
Are we missing your school's program or need to update information listed? Please contact us so we can make the necessary changes.
Find DNP Programs By City: