Nurse Practitioner Schools in Indiana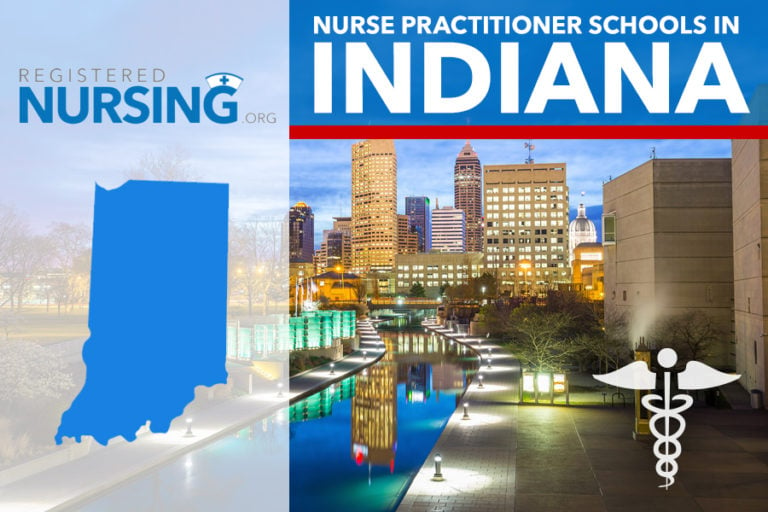 Advanced-practice nurses are currently in high demand in the United States. Registered nurses who are interested in expanding their clinical practice can earn a master's degree in nursing (MSN) or doctoral degree in nursing (DNP) and work as a nurse practitioner. Nurse practitioners can choose a career path in the following areas:
Adult-gerontological acute and primary care
Pediatric acute and primary care
Women's health/ Midwifery
Family practice primary care
In Indiana, nurse practitioners may prescribe medications, and physicians do not need to be on-site with them.
Choosing a Nurse Practitioner Program
Registered nurses looking to further their careers to advanced-practice nursing should consider the following when selecting a graduate program:
Accreditation-According to the Indiana Board of Nursing, advanced-practice nurses must complete a graduate program that is accredited by the Commission on Recognition of Postsecondary Accreditation. The Commission on Collegiate Nursing Education also provides lists of accredited programs in the state of Indiana.
Program Cost-The minimum degree requirement for nurse practitioners is an MSN. Master's programs can range from 30 to 55 credits, with an average cost of $400 per credit for Indiana state residents (more for out-of-state residents). Online MSN program cost is similar, about $400-$800 per credit. Additional costs are required for books, fees, supplies and living and travel expenses.
Program Length-A bachelor of science degree in nursing is required for entry into a graduate program. A BSN to MSN can take two years to complete if attending full-time, and BSN to DNP can take three to four years.
Internship/ Externship Opportunities-Nurse practitioners need clinical experience to be able to practice independently. Indiana has one program available- the Health Linc Family Nurse Practitioner Residency Program. It is a full time, salaried, twelve- month program that allows NPs to learn the complexities of family-practice settings.
Online/ Campus Options- The American Association of Nurse Practitioners (AANP) has a search function in which potential student can research NP programs by state, degree offered, and sort by available online options. Indiana has eight schools listed with over 50% of the education online.
Admission and Certification Requirements
Entry requirements for MSN programs in Indiana may vary slightly. Requirements may include:
A BSN degree from an accredited program
Have an undergraduate GPA of 3.0 or higher
Hold an unrestricted RN license
May need prior work experience as an RN
May be required to complete a Graduate Record Examination (GRE)
Provide letters of recommendation
In addition to the MSN requirements above, the following may be required for DNP students:
Hold a master's degree or equivalent
Earned a GPA of at least 3.0 during the master's program (GPA requirements may vary from school to school)
Provide transcripts of all previous college course work
GRE may be required
Submit letters of recommendation
Since specific requirements may vary between institutions, students are encouraged to research individual schools thoroughly before applying. Additionally, some programs require prior work experience as an RN or APRN, while some schools allow for a concurrent clinical experience.
Licensing/ Certification
Many nurse practitioner programs provide specialty certification within the graduate program. The American Nurses Credentialing Center (ANCC) offers certification for nurse practitioners in about nine clinical focus areas. However, Indiana does not require proof of national certification before licensure.
Additional certification for DNP is not required unless the student is in a BSN-DNP pathway, or if dual certification is the academic goal.
For NP licensure in the state of Indiana, applicants must:
Hold an active RN license
Have the graduate program submit official transcripts demonstrating successful completion of the program
Submit proof of completing a graduate-level pharmacology course consisting of at least two-semester hours of credit by an accredited school. The course must have been completed no more than five years before application, or be completed within five years of application. If completed more than five years before application:

proof of at least 30 continuing education units with a minimum of eight actual contact hours of pharmacology must be submitted OR
Proof of prescriptive experience in another jurisdiction within five years preceding application must be furnished. This requirement is usually met via a letter from a physician verifying prescriptive experience.

Agree to a background check/ license verification
Provide a written collaborative agreement indicating the APRN will collaborate with a licensed practitioner in the provision of health care to patients.
Complete a controlled substance registration if job duties require prescribing controlled drugs.
Indiana Nurse Practitioner Agencies and Organizations
Schools That Offer Nurse Practitioner Programs in Indiana
Indiana has thirteen graduate programs for nurses that are accredited by the Commission on Collegiate Nursing Education. Many of these schools offer distance learning as well. Several of these schools offer BSN to DNP tracks as well. Students are encouraged to research the program that best fits their needs.
Evansville, IN
Fort Wayne, IN
Gary, IN
Indianapolis, IN
Kokomo, IN
Marion, IN
Muncie, IN
Notre Dame, IN
Richmond, IN
Terre Haute, IN
Are we missing your school's program or need to update information listed? Please contact us so we can make the necessary changes.