DNP Programs in Iowa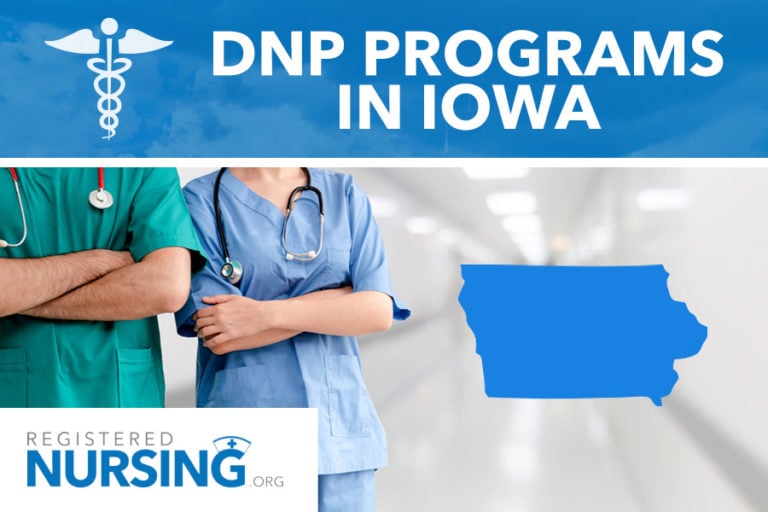 In the discipline of nursing, the "terminal" degree type, or highest possible degree in nursing is the doctor of nursing practice (DNP) degree. Depending on the specific program and coursework students complete, DNPs will help to prepare advanced practice nurses to work in both organizational/educational and clinical settings.
BSN to DNP students will be expected to complete 65 to 95 unit hours along with a number of supervised clinical clerkship hours to be awarded the degree. Typically, students enrolled in a full-time BSN to DNP program will take three to four years to finish. Most MSN to DNP programs will require students to complete at minimum 39 unit hours to earn the degree, and will generally take full-time students about two years to complete.
Critical disciplines that must be mastered by students during DNPs will include, but not be limited to:
Advanced pharmacology
Research Methods and Evidence Based Medicine
Health and Physical Assessment
Public Policy
Choosing a Doctor of Nursing Practice Program
The state of Iowa offers nursing students six DNP programs. Prior to applying, there are some factors to consider.
What to Consider When Choosing a DNP Program
Admission & State Licensing or Certification Requirements
Admission
Requirements for admission into DNP programs in Iowa differ from program to program. The following is a rough outline of requirements which admitted students fulfilled:
Complete an online Doctor of Nursing Practice application
Provide curriculum vitae (CV) or resume
Possess an unencumbered RN license
Possess a BSN or MSN from an NLNAC or CCNE accredited program
Documentation of clinical hours performed in MSN program
Have maintained a 3.0 grade point average, based on a 4.0 system in either undergraduate or graduate degree programs
GRE scores required for applicants with an undergraduate GPA under 3.0, recommended for all other applicants
Personal statement of goals for doctoral education and subsequent career plans
Personal interview with faculty
Photocopy of current professional license(s)
Satisfactory criminal background check after acceptance
Certification
DNP programs in the state of Iowa permit students to sit for state certification upon successful completion of programs. Iowa DNP program graduates can become certified in the following disciplines:
Adult-Gerontology Acute Care Nurse Practitioner
Family Nurse Practitioner
Neonatal Nurse Practitioner
Nurse Anesthesia
Pediatric Primary Care Nurse Practitioner
Psych/Mental Health Nurse Practitioner
Family Nurse Practitioner (DNP – FNP)
Nurse Educator/Organizational Leadership (DNP – NEOL)
Licensing
DNPs in the state of Iowa are licensed by the Iowa Board of Nursing, and must meet the following criteria:
Complete an APRN application
Pass a criminal background check
Provide transcripts from pertinent educational institutions
Submit proof of all clinical hours worked during your graduate studies, as well as any other clinical experiences acquired
Submit verification of specialty certification
Complete fingerprinting
Apply for prescriptive authority
Iowa BSN to DNP Program Options
Within the state of Iowa, both Kaplan University and Clarke University offer programs with BSN to DNP pathways.
Related Education Paths
Helpful DNP Agencies and Organizations in Iowa
List of Campus and Online DNP Programs in Iowa
Dubuque, IA
Iowa City, IA
Lamoni, IA
Sioux City, IA
Waterloo, IA
Are we missing your school's program or need to update information listed? Please contact us so we can make the necessary changes.
Find DNP Programs By City: