Nurse Practitioner Schools in Iowa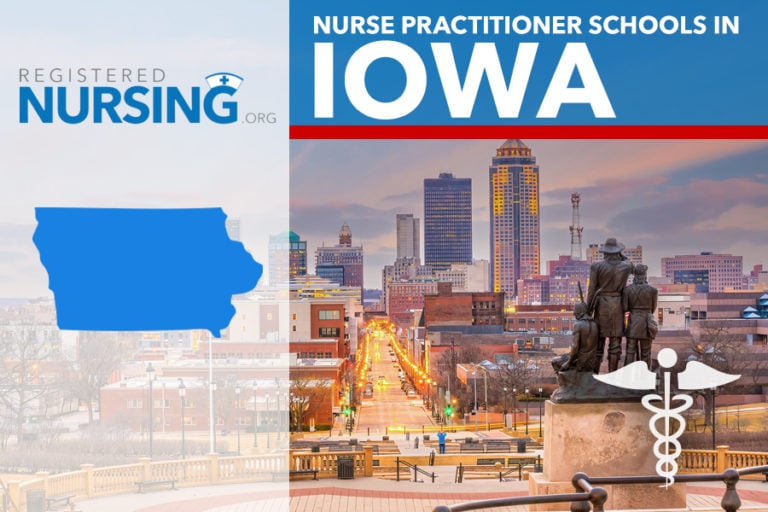 Registered nursing is a rewarding career. Many nurses seek to advance their practice by becoming nurse practitioners- wherein nurses can practice independently, diagnose, and prescribe, while still providing nursing care.
Advanced-Practice nurses can work in specialties such as adult and pediatric primary care, adult and pediatric acute care, Family Practice, Psychiatric-Mental Health, and Women's Health. Further study can lead to working in clinical focus areas such as oncology, orthopedics, neurology, etc.
In Iowa, nurse practitioners can:
Practice independently without physician involvement
Act as primary care providers
Prescribe medications
Choosing a Nurse Practitioner Program
When selecting a nurse practitioner program, prospective students must take the following into consideration:
Accreditation- The Iowa state board of nursing has a list of accredited master's degree (MSN) and doctoral degree (DNP) programs on their website. The schools listed ensure the future nurse practitioner is competent in the standards of care set forth by the state board.
Program Cost-Most nurse practitioner programs require an average of 45 credits to earn an MSN. More credits are required for DNP or if pursuing additional specialties. The cost per credit averages $400 per credit. Out-of-state tuition can cost an average of $700 per credit. Online programs can cost around the same, but tuition is also variable between online programs. Private universities can cost more as well. It's important to recognize that this only is the cost of tuition-books, supplies, fees, and living/travel expenses add to the overall cost.
Program Length-BSN to MSN can take about two years to complete if attending full-time. BSN to DNP can take three to four years. The length of time is extended if students must work and go to school, or if choosing an online, self-paced program.
Internship/Externship Opportunities-Also known as "residency" programs, these allow nurse practitioners to gain valuable on-the-job experience that will strengthen their future practice. Iowa has one residency program at the University of Iowa Health Care.
Online/Campus Options-Iowa has five accredited schools which offer online learning, depending on the degree sought. The American Association of Nurse Practitioners has a search feature that allows prospective nurse practitioner students to find programs based on degree and specialty of interest.
Admission and Certification Requirements
Graduate programs may have slightly different requirements for entry, but students may be required to:
Hold a minimum of a BSN
Hold a current, unrestricted RN license
Have a GPA of at least 3.0 (specific GPAs may vary slightly between schools) in the BSN program
Have a determined number of clinical experience as an RN
Prospective DNP students may be required to meet the above prerequisites, plus:
Hold a master's degree from an accredited program
Furnish proof of a GPA of 3.0 (specific GPAs may vary slightly between schools)
Complete a determined number of clinical experience hours in an MSN program
Provide evidence of national certification
Due to the variable requirements for different graduate programs, students are encouraged to research each school to determine the prerequisites for entry. Additionally, some schools may require prior clinical experience, while some allow for concurrent clinical exposure.
Licensing/ Certification
Depending on the nurse practitioner "track" in the graduate program, certification may be offered upon graduation, or it can be obtained outside the program via the American Nurses Credentialing Center (ANCC) or another accredited certification program. The ANCC offers certification in nine focus areas. Other certification, specifically women's health and its sub-specialties, can be obtained via the National Certification Corporation (NCC). Midwives can earn certification through the American Midwifery Certification Board (AMCB).
After graduating and obtaining certification in the specialty of choice, nurse practitioners must apply to the Iowa state board of nursing for licensure. Requirements include:
Current licensure as an RN
Graduation from an MSN program-Transcripts must be submitted by the school
Hold advanced-level certification by a national certifying body (approved by the Iowa State Board)
Register with the Federal Drug Enforcement Administration (DEA) as well as the Board of Pharmacy Examiners, if prescribing controlled substances
Iowa Nurse Practitioner Agencies and Organizations
Schools That Offer Nurse Practitioner Programs in Iowa
According to the Commission on Collegiate Nursing Education (CCNE), Iowa has seven accredited advanced-practice nursing schools, with either MSN, DNP, or both offered. Several of those offer distance learning as well. Although Iowa is a relatively small state, there are still opportunities for nurses to expand their practice to a higher level.
Dubuque, IA
Iowa City, IA
Lamoni, IA
Sioux City, IA
Waterloo, IA
Are we missing your school's program or need to update information listed? Please contact us so we can make the necessary changes.