DNP Programs in Louisiana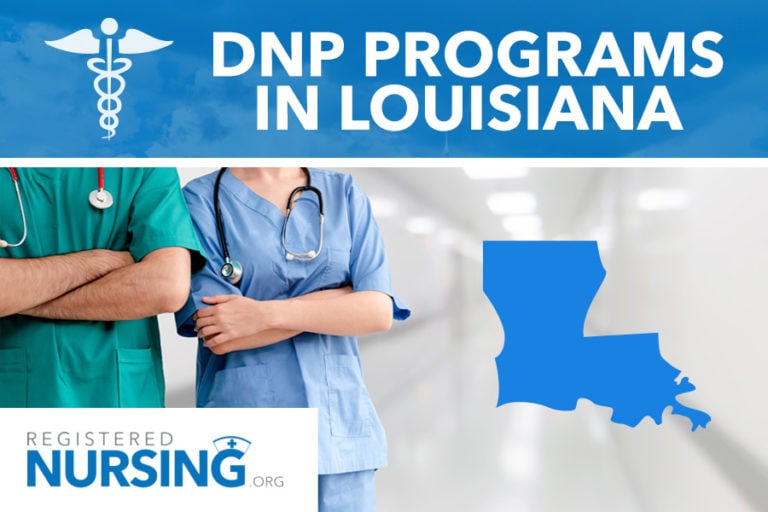 The Doctor of Nursing Practice (DNP) is the highest degree for clinical nursing practice. Nurses that graduate from a DNP program with an executive leadership track have a number of options ranging from clinical leadership to hospital administration.
T the number of unit hours required to complete a program will differ from place to place; however, BSN to DNP students are usually expected to complete between 65 and 95 unit hours with a number of supervised clinical clerkship hours. Most MSN to DNP programs will require students to complete between 28 and 39 unit hours.
Core competencies students are expected to master during DNP programs will likely include:
Advanced nursing practice.
Health care policy for advocacy in health care.
Scientific underpinning for practice.
Organizational and systems leadership for quality improvement and systems thinking.
Clinical scholarship and analytical methods for evidence-based practice.
Information systems/technology and patient care technology for the improvement and transformation of health care.
Inter-professional collaboration for improving patient and population health outcomes.
Clinical prevention and population health for improving the nation's health.
Choosing a Doctor of Nursing Practice Program
The state of Louisiana has five DNP programs. Before enrolling into one of these programs, there are a few crucial factors to consider.
What to Consider When Choosing a DNP Program
Program Cost— Tuition for DNP programs in the state of Louisiana will vary depending on factors like whether you are a resident of Louisiana, coming from out-of-state, or if you're pursing your degree online. For post-master's DNP students, residents of Louisiana can expect to pay anywhere from $666 to $1,184 per unit hour. On the other hand, non-residents can expect their tuition costs to range from $1,184 to $1,697 per unit hour. Students taking DNP courses online will generally pay around $818 per credit hour.
Online Options— Three out of the five DNP programs in the state of Louisiana are delivered in an online or semi-online format. They include the following:

University of Louisiana at Lafayette—Both BSN to DNP and MSN to DNP tracks are offered to students. Both programs are designed as cohorts, with a majority of the coursework available online. Students are, however, required to attend on-campus activities prior to starting the program and again at the conclusion of the program, to present their DNP synthesis project.
Southeastern Louisiana University—The post-master's program is offered almost entirely online with only two required on-campus visits – a one-day DNP orientation and another session for the defense of the DNP Project.
Loyola University-New Orleans—Both BSN to DNP and MSN to DNP pathways are offered online and only require students to attend a one-week campus orientation each year, as well as a campus visit at the conclusion of the program to defend the capstone project.

Accreditation— Prior to enrollment in any university program it's important to consider accreditation. DNP programs in the state of Louisiana are accredited by the Commission on Collegiate Nursing Education (CCNE) and approved by the Louisiana State Board of Nursing.
Clinical Residencies— Fellowships and clinical residencies are an important part of the DNP training process. Inquire with your school of choice to see what kind of clinical experience partnerships it has.
Admission & State Licensing or Certification Requirements
Admission
Standards for admission to DNP programs in the state of Louisiana will vary from university to university. Prospective nursing students who will be most successful will need to have fulfilled the following prerequisite requirements:
Be in possession of an unencumbered RN license
Possess a BSN or MSN degree
Have maintained a 3.0 grade point average, based on a 4.0 system in either their undergraduate or graduate degree program (depending on the degree point from which they're entering from)
Provide academic transcripts
Pass a drug and background test
Provide resume or curriculum vitae (CV)
Verification/documentation of clinical hours
Provide GRE Scores
Provide two letters of recommendation
Personal statement of goals
Complete an in-person interview with university program faculty
Certification
In the state of Louisiana, upon completion of their DNP degree nursing students are able to sit for the state certification exam. Once passed, if all else is in order, graduates can then become certified in advanced nursing specialties including, but not limited to the following:
Executive Nurse Leader
Integrated behavioral health
Public/Community Health Nursing
Adult Gerontology Clinical Nurse Specialist
Neonatal Nurse Practitioner
Nurse Anesthesia
Primary Care Family Nurse Practitioner
Licensing
Licensing requirements in the state of Louisiana for APRNs include:
Complete an application
Background checks
Provide transcripts from all educational institutions
Submit verification of specialty certification
Complete fingerprinting
Louisiana BSN to DNP Program Options
There are four universities that offers programs with BSN to DNP pathways in the state of Louisiana. They include:
Louisiana State University, New Orleans—Post-MSN and BSN-DNP
Loyola University, New Orleans—Post-MSN and BSN-DNP
Southeastern Louisiana University, Baton Rouge—BSN-DNP in Family Nurse Practitioner
University of Louisiana, Lafayette—Post MSN and BSN-DNP
Related Education Paths
Helpful DNP Agencies and Organizations in Louisiana
List of Campus and Online DNP Programs in Louisiana
Baton Rouge, LA
Hammond, LA
Natchitoches, LA
New Orleans, LA
Are we missing your school's program or need to update information listed? Please contact us so we can make the necessary changes.
Find DNP Programs By City: