DNP Programs in Mississippi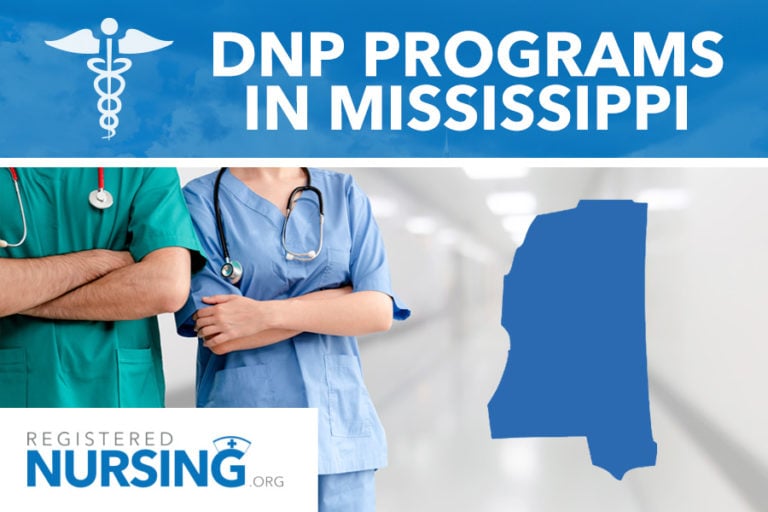 Nurses looking to expand their practice as well as their clinical knowledge base would benefit from earning a Doctor of Nursing Practice (DNP) degree. The DNP differs from a Ph.D. in that it prepares nurses in a more clinical leadership role, as opposed to an educational focus.
DNP programs can take between two and four years to complete, depending on a nurse's entry point. MSN-prepared nurses may complete the program in as little as two years, while a BSN-prepared nurse should expect three to four years of study. Additionally, attending full or part-time will affect the length of time it takes to complete the program.
The DNP curriculum usually involves courses in advanced nursing and diagnostic concepts as well as courses in leadership, healthcare and organizational policy, evidenced-based outcomes, and informatics. Clinical practicums may be required, as well as a final DNP project which involves identifying a healthcare-related problem and proposing evidenced-based solutions.
Choosing a DNP Program
Deciding to return to school is a momentous one. Prospective students should weigh the pros and cons, and research school to find the ones that will best work with their busy lives and financial needs. Mississippi has four accredited DNP programs to choose from.
What to Consider When Choosing a DNP program
Cost– The average cost to attend a DNP program in Mississippi is around $400 per credit hour. This figure does not represent the full cost of attending-university fees, supplies, and living expenses are an added expense. Many schools offer financial aid, as well as offering part-time status which helps offset the cost.
Online options– Three of the four DNP programs in Mississippi offer online or hybrid options. These options are beneficial as many nurses must continue to work while attending school. In some cases, campus visitation is required, but it is minimal – only one or two visits per semester are required.
Accreditation– To ensure the highest educational standards are met, nursing programs must be accredited by either the Accreditation Commission for Education in Nursing (ACEN) or the Commission for Collegiate Nursing Education (CCNE). There are four DNP programs in Mississippi that are accredited by the CCNE.
Residency Options– DNP students must pair up with a preceptor or mentor and complete a specified number of supervised clinical hours, as well as complete a DNP project. The requirements are usually around 1,000 hours and the projects between 400-500 hours. MSN-prepared students may be granted the option to apply clinical hours from their MSN program to the DNP program. Additionally, DNP graduates who wish to expand their clinical experience further may look into residency programs, for example, the Advanced Practice Clinician Fellowship at North Mississippi Medical Center.
Delta State University offers four program options for DNP students:
RN-DNP
BSN-DNP
MSN-DNP (non-FNP)
MSN-DNP (FNP)
This institution offers options for nurses at all levels of education, including those who do not hold a BSN. The program may take between a year and a half to four and a half years to complete depending on the entry point, and between 31 and 114 credit hours are required to graduate. Graduates are prepared to take the Family Nurse Practitioner Certification Exam.
Admission & State Licensing or Certification Requirements
Admission
Admission requirements may vary between the schools and are dependent on the nurse's point of entry. Prospective students may be required to:
Hold a valid, unencumbered RN or APRN license
Hold a BSN or MSN degree
Maintain a GPA of 3.0 or higher (depending on the school)
Submit letters of professional or academic reference
Complete the Graduate Record Exam (GRE)
Have at least one year of nursing experience (years of experience required may vary between schools)
Submit a resume/CV
Provide proof of liability insurance
Provide a writing sample
Interview with faculty
Certification
Graduates of DNP programs in Mississippi are eligible to sit for national certification in their specialty upon graduation. Examples of specialty certification include:
Nurse practitioner

FNP
Adult/Gerontology (acute and primary care)
Pediatrics (acute and primary care)
Women's Health
Psychiatric/Mental Health

Clinical Nurse Specialist
Nurse Midwife
Certified Registered Nurse Anesthetist
Licensing
DNP students who transition to an APRN role for the first time must apply for licensure in their specialty (i.e., NP, CRNA, Midwife, etc.) in Mississippi. Licensing requirements include:
Graduate from a nationally accredited MSN or DNP program
Pass a national certification exam in a specialty area
Complete 720 hours of residency monitored by either a physician or APRN and evidence must be submitted directly to the board
Complete the application and pay any required fees
Additional requirements must be met if the APRN will be prescribing controlled substances:
Complete the required 720 hours of monitored practice
Request Mississippi Board of Nursing Controlled Substance Prescriptive Authority
Register with the U.S Drug Enforcement Administration, and have received a Uniform Controlled Substances Registration Certificate
Pay applicable fees
Mississippi BSN to DNP Program Options
All four accredited DNP programs in Mississippi offer BSN-DNP options. The University of Southern Mississippi's DNP program provides BSN students several options which include both clinical and leadership roles. Tracks include:
FNP
Psychiatric/Mental Health NP
Nurse Anesthesia
Leadership in Nursing
The foundation of the DNP program can be from 42-45 hours (about two years) and includes courses in:
Role development
Ethics in nursing
Evaluating evidence-based practice
Population health
Research
Epidemiology
Organizational leadership
Economics and finance
DNP capstone inquiry
The university's website has a more detailed description of core courses, as well as links to the different tracks available.
Related Education Paths
Helpful DNP Agencies and Organizations in Mississippi
List of Campus and Online DNP Programs in Mississippi
Cleveland, MS
Columbus, MS
Hattiesburg, MS
Jackson, MS
Are we missing your school's program or need to update information listed? Please contact us so we can make the necessary changes.
Find DNP Programs By City: