Nurse Practitioner Schools in Mississippi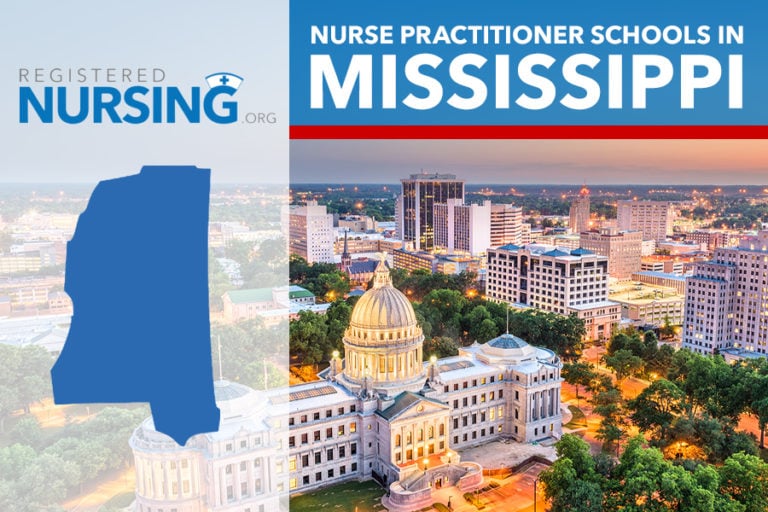 In pursuit of career opportunities, a nurse may decide to obtain his/her Masters of Science in Nursing (MSN) or a Doctorate of Nursing Practice (DNP). The Nurse Practitioner (NP) scope of practice in Mississippi is slightly restricted in comparison to some states though is not as restricted as others. NPs in Mississippi are allowed to prescribe medications if specific criteria are met. The board of nursing website provides in detail the requirements; an example of which is completion of a full pharmacology course.
Choosing a Nurse Practitioner Program
Selecting the right program is a process. Applicants must ensure they meet the requirements to enter the program. At times, this may require taking additional courses prior to acceptance in the program or obtaining additional experience.
Admission Requirements
To enter a MSN program in the state of Mississippi, the requirements are as follows:
Undergraduate cumulative GPA of 3.0
May have non-nursing baccalaureate degree for some programs
Active, unrestricted RN license in the state of Mississippi
GRE test scores
Writing sample, resume or CV, three professional references and interview
To enter a DNP program in the state of Mississippi, the requirements are as follows:
Active, unrestricted RN in the state of Mississippi (or in the state in which clinicals will be completed for online programs)
Cumulative GPA of 3.0 or higher
GRE test score
Minimum one year of continuous clinical nursing experience as an RN
BSN or MSN from accredited nursing program
Writing sample, resume or CV, professional references and interview
Listed below are some of the specialties that are offered at Mississippi programs.
Acute Care Adult/Gerontology Nurse Practitioner (AGACNP)
Primary care Adult/Gerontology Nurse Practitioner (AGPCNP).
Family Nurse Practitioner (FNP)
Psychiatric/Mental Health Nurse Practitioner (PMHNP)
Nursing and Healthcare Administrator
Nurse Educator
Clinical Nurse Leader
Accreditation
Many programs in Mississippi are accredited by the Collegiate Nursing Education (CCNE) or the Accreditation Commission on Education in Nursing (ACEN). These accreditations are imperative as they set standards of excellence in academics and nursing.
Program Length
It can be expected that the program length for BSN-MSN will be approximately two years for a full-time student. BSN-DNP average is four years and MSN-DNP is two to three years. Part time options are lengthier.
Program Cost and Credits
The average cost for nurse practitioner programs in Mississippi is $450 per credit for Mississippi residents and averages to be closer to $880 per credit for out of state tuition. Not included are institution fees that are in addition to credit hours; the fees vary from program to program.
MSN total credits: average 35 credits
BSN-DNP total credits: average 75 credits
Associate degree RN credits average 100+
Online options
There are many options for being a full-time student as well as options for part-time student status. Delta University offers an online program with nontraditional class and clinical schedules. Per semester the campus visit requirement is low at 1-3 visits per semester. There are many options for online schooling, each program has variations in what is offered.
Mississippi Nurse Practitioner Agencies and Organizations
Schools That Offer Nurse Practitioner Programs in Mississippi
The state of Mississippi offers many excellent programs to choose from. Find more information below.
Cleveland, MS
Columbus, MS
Hattiesburg, MS
Jackson, MS
Lorman, MS
Are we missing your school's program or need to update information listed? Please contact us so we can make the necessary changes.