DNP Programs in Montana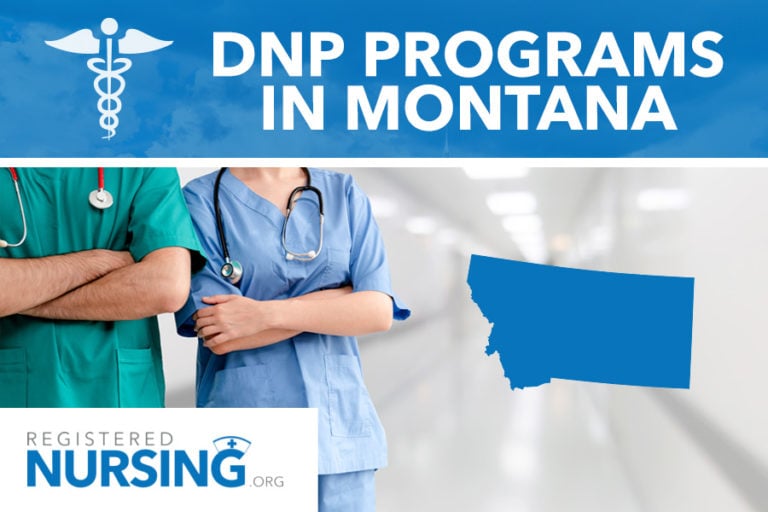 Doctor of Nursing Practice (DNPs) are 'terminal' degrees which prepare students for clinical nursing education and advance practice nursing. DNPs are the highest degrees for clinical nursing practice. Registered nurses seeking DNP degrees are able to focus their studies on either advanced practice nursing and systems or organizational/educational leadership.
Montana BSN to DNP students will be expected to successfully complete 83 unit hours along with a number of supervised clinical clerkship hours to be awarded the degree. MSN to DNP program expects students to complete 41 unit hours to earn the degree.
Core competencies to be mastered by students during DNP programs will include:
Advanced pharmacology
Health and Physical Assessment
Clinical Research for Advanced Practice Nursing
Quantitative Research Methods and Evidence Based Practice
Public Policy
Choosing a DNP Program
Choosing a DNP program may seem daunting, but paying attention to a few key items can make the decision a lot less stressful.
What to Consider When Choosing a DNP Program
Program Cost— Because there's only one DNP program in the state Montana, the tuition costs for DNP programs are uniform.

Montana residents: $2,700 per semester
Non-residents: $8,150

Online/Campus options— Montana State University does offer distance education as part of its DNP offerings, in addition to classroom learning.
Accreditation— DNP programs in the state of Nebraska are accredited by the Commission on Nursing Education (CCNE).
Residency— Fellowships and clinical residencies provide necessary hands-on education for DNP students. Schools often have affiliations with area healthcare centers and hospitals; students are encouraged to inquire with the school.
Admission & State Licensing or Certification Requirements
Admission
To be considered for acceptance in the Doctor of Nursing Practice (DNP) degree program, applicants should meet the following:
Minimum undergraduate GPA of 3.0
A baccalaureate degree in nursing from a nationally accredited upper division program, which included supervised clinical practice in a variety of nursing settings, including community/public health and management
Successful completion of undergraduate courses in physical assessment, community/public health, research, statistics (which included inferential statistics), and an undergraduate psych/mental health course for the Psych/Mental Health option
Current unencumbered licensure as a registered nurse. If clinical educational experiences are to be completed in Montana, licensure in Montana is required
Favorable recommendation from the College of Nursing admissions committee
TOEFL score of 580 or computer equivalent, if applicable
Certification
Accredited DNP programs in the state of Montana allow successful students to sit for certification upon completion of programs. DNP tracks offered at universities in Montana allow students to become certified in in the following specialties.
Psych/Mental Health
Family/Individual Health
Licensing
For Montana nursing students who have successfully completed the DNP track, they will need to be licensed by the Montana Board of Nursing. Requirements for licensure include:
Completing an application
Background checks
Provide transcripts from all educational institutions
Submit verification of specialty certification
Complete fingerprinting
Montana BSN to DNP Program Options
Currently there's only one university in the state of Montana that offers a BSN to DNP track. That university is the only university in the state which offers a DNP program.
Montana State University—offers both BSN to DNP and post-master's DNP programs
Related Education Paths
Helpful DNP Agencies and Organizations in Montana
List of Campus and Online DNP Programs in Montana
Bozeman, MT
P.O. Box 173560
Bozeman
,
MT
59717
(406) 994-3783
Are we missing your school's program or need to update information listed? Please contact us so we can make the necessary changes.
Find DNP Programs By City: