Nurse Practitioner Schools in Montana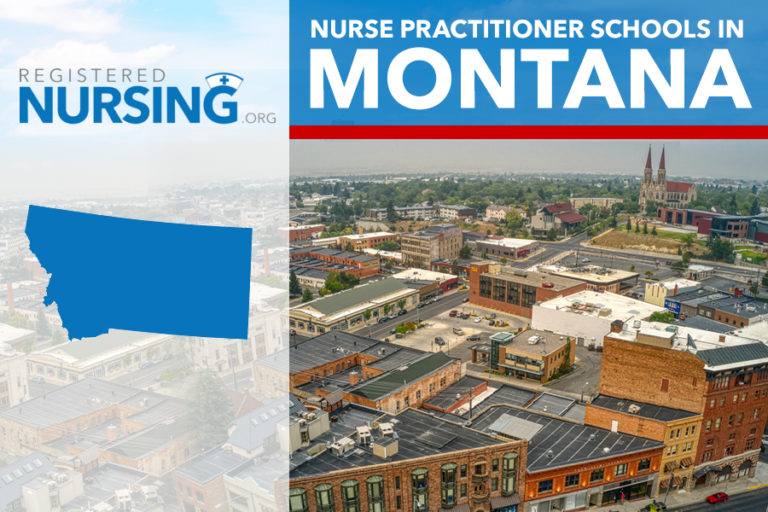 Registered nurses perform many tasks on a daily basis- from administering medications to educating patients on various aspects of their health. Nurses who wish to expand their practice to include more independent work can advance their degree to a master's or doctoral in nursing and become nurse practitioners.
In Montana, nurse practitioners not only perform essential RN functions, but can diagnose, treat, prescribe medications, and act as a patient's primary care provider without physician involvement. This level of autonomy makes advanced-practice nursing an excellent career choice.
Choosing a Nurse Practitioner Program
Many nurses wonder where to begin when looking for a graduate nursing program. When considering graduate school, the following points should be considered:
Accreditation- National accreditation is required for licensure. Accreditation agencies include the Commission on Collegiate Nursing Education (CCNE) or the Accreditation Commission for Education in Nursing (ACEN). National accreditation ensures the school meets educational standards necessary for advanced-practice nurses to practice independently. Montana has one graduate program for prospective nurse practitioners.
Program Cost-The average cost to attend graduate school in Montana is around $275 per credit for state residents. Additional fees can be expected such as university fees, books, and supplies. Many schools have financial aid options available such as payment plans, scholarships, grants, and loans which helps students attain their academic goals.
Program Length- BSN to MSN can take around three to four years (if attending full-time). BSN to DNP takes about four years, as more credits are required. The accredited NP program in Montana requires completion of a DNP. For ADN nurses, obtaining a BSN can add an additional year or so on their educational path.
Internship/Externship Opportunities-Nurse practitioner students must complete supervised clinical hours as part of the program. This requirement allows them to gain critical on-the-job experience to be able to practice independently. The required number of hours can range from 500-1000 hours based on the program. In addition to school requirements, there are nurse practitioner residency programs that allow NPs to further their real-world experience. Since these programs are a relatively new concept, Montana does not yet have a program available.
Online/Campus Options- Online/distance learning is a great option for students who need flexibility in their schedule. Montana State University's DNP is primarily distance- learning, using video/teleconference.
Admission and Certification Requirements
Admission requirements for graduate program in Montana include:
A BSN from an accredited school
Successful completion of undergraduate courses in physical assessment, community health, statistics/research, and psychiatric/ mental health
Active RN license
Letters of recommendation
Previous clinical experience as an RN is preferred
Students are highly encouraged to review the particular school's website to determine current admission requirements.
Licensing/ Certification
Specialty certification is required for licensure in Montana, and the Board of Nursing provides a list of approved certifying agencies. Specialty certification is granted after completing an exam pertaining to the graduate's specialty track in the NP program. Certification may be in the area of:
Adult acute or primary care
Geriatrics
Pediatric acute or primary care
Women's Health
Psychiatric/Mental Health
Other requirements for licensing include:
Active RN license
Transcripts from the APRN program must be sent directly to the Board
Completion of fingerprinting/background check
Complete a separate Prescriptive Authority Application
Montana Nurse Practitioner Agencies and Organizations
Schools That Offer Nurse Practitioner Programs in Montana
Nation-wide, nurse practitioners have a promising future. Montana is no different- a projected 32.3% increase in employment opportunities is expected for Montana nurse practitioners. Those choosing advanced-practice nursing as a career can expect a bright and stable future.
Bozeman, MT
P.O. Box 173560
Bozeman
,
MT
59717
(406) 994-3783
Are we missing your school's program or need to update information listed? Please contact us so we can make the necessary changes.